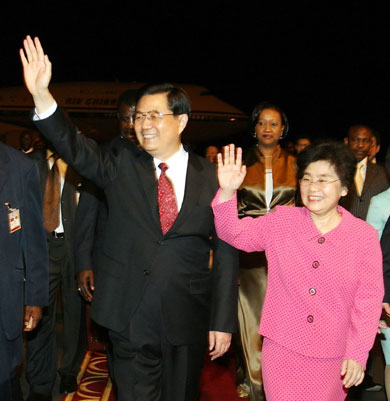 Chinese President Hu Jintao (L) and his wife Liu Yongqing wave well-wishers upon their arrival in the Cameroonian capital of Yaounde January 30, 2007, kicking off his eight-nation Africa tour. Hu will also visit Liberia, Sudan, Zambia, Namibia, South Africa, Mozambique and Seychelles. [Xinhua]


Visiting Chinese President Hu Jintao met his Cameroonian counterpart Paul Biya Wednesday morning in Yaounde for talks on closer bilateral ties.

During their talks, President Hu will exchange views with Biya on the development of China-Cameroon ties and discuss other important issues of common concern, according to a Chinese official.

President Hu was accorded a red-carpet welcome by Biya before they started talks.

Later in the day, the two presidents are expected to attend a get-together with performances by Chinese and Cameroonians.

President Hu is also scheduled to visit China-aid projects during his stay in the Cameroonian capital.

In recent years, the China-Cameroon relations have become increasingly mature, with bilateral political friendship enhanced, economic and trade cooperation expanded and human resources exchanges deepened.

In the first 11 months of 2006, trade volume between China and Cameroon amounted to US$338 million, or a 101 percent increase over the corresponding period of the previous year.

Hu is on an eight-nation Africa tour that will also take him to Liberia, Sudan, Zambia, Namibia, South Africa, Mozambique and Seychelles.

In a written statement issued upon his arrival at the Yaounde International Airport Tuesday, President Hu described his Africa trip as "a journey of friendship and cooperation."

He said that his current visit to the eight African countries is aimed at consolidating the traditional friendship between China and Africa, carrying out the agreements reached at the Beijing summit of the Forum on China-Africa Cooperation last November, enlarging substantial cooperation and promoting common development.

At the Beijing summit, leaders of China and 48 African countries agreed to establish and develop a new type of strategic partnership, featuring political equality and mutual trust, economic win-win cooperation and cultural exchange.