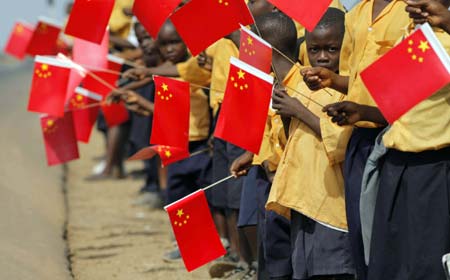 Liberian children hold Chinese flags before the arrival of China's President Hu Jintao in Monrovia February 1, 2007. President Hu Jintao and Ellen Johnson-Sirleaf will discuss ways of expanding friendly cooperation between China and Liberia,Xinhua reported.[Reuters]

MONROVIA -- Visiting Chinese President Hu Jintao on Thursday said that solidarity and cooperation with African countries always serve as a major foundation stone for China's diplomatic work.

Speaking at a banquet given by Liberian President Ellen Johnson-Sirleaf in his honor, Hu said that the Chinese government, in line with the actual need of African countries and its own capacity, announced a series of measures to enhance practical cooperation with Africa and support the development of African countries at the Beijing summit of the Forum on China-Africa Cooperation (FOCAC) held last November.

"The purpose is to support African countries in their economic and social development, help African countries build the ability to develop on their own and push forward the Sino-African cooperation," the Chinese president said.

He said that China will place as a top priority the implementation of these measures within the FOCAC framework and inline with the principles of mutual benefit, friendly consultation, pragmatism and high efficiency.

The eight commitments made by China include writing off debts owed by some African countries that have diplomatic ties with China, building in Africa 30 hospitals in addition to 30 centers for malaria prevention and treatment, and providing 300 million RMB (about 38.5 million U.S. dollars) in grants to provide artemisinin over the coming three years.

China would start with debt write-off, tariff exemption, construction of a number of schools in rural areas of Africa, establishment of agriculture technology centers as well as centers for malaria prevention and treatment, Hu said.

"We hope the African people would benefit from the measures as soon as possible," the Chinese president said.

He said that the implementation of the measures will certainly play a positive role in developing a new type of the Sino-African strategic partnership and achieving the goal of common development.

Earlier in the day, Hu held talks with Ellen Johnson-Sirleaf on consolidating friendship and cooperation between China and Liberia.

He also attended the inauguration of a malaria prevention and treatment center and visited Chinese soldiers and officers serving in the UN peacekeeping force there.

The Chinese president arrived in Monrovia on Thursday morning from Cameroon for a one-day state visit to Liberia, the second leg of his eight-nation Africa tour which will also take him to Sudan, Zambia, Namibia, South Africa, Mozambique and Seychelles.

In a written statement upon his arrival at the airport, Hu said that "I am here to deepen the traditional friendship, enhance mutual understanding and trust and expand mutually beneficial and pragmatic cooperation to further develop China's relations with Liberia."