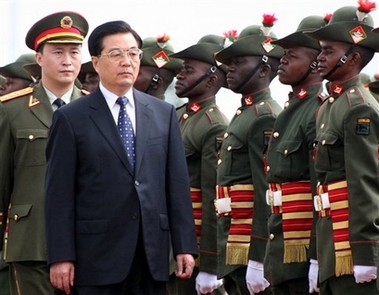 Chinese President Hu Jintao inspects the guard of honour before his departure from Lusaka, Zambia, Monday, Feb, 5, 2007. Namibia is the fifth leg on Hu's eight-nation tour to the African continent. [AP]


WINDHOEK -- Chinese President Hu Jintao arrived in Namibia's capital Windhoek Monday, kicking off his state visit to the southern African country.

In Windhoek, President Hu is expected to hold talks with his Namibian counterpart Hifikepunye Pohamba on strengthening bilateral ties.

In a written statement released at the airport upon his arrival, Hu said that Namibia is one of the youngest countries in Africa. The Namibian people, hardworking, talented and full of vitality, won national independence in 1990 through arduous struggles and have since achieved great success in national development.

"From the very beginning of Namibia's national liberation struggle, the Chinese and Namibian peoples have sympathized with and supported each other, forging a profound friendship," he said.

Since the establishment of diplomatic ties 17 years ago, the relationship between China and Namibia has been growing steadily, with fruitful cooperation in the political, economic, education, public health, cultural and other fields, he said.

"I look forward to having an in-depth exchange of views with the Namibian leaders on the bilateral relationship, the Forum on China-Africa Cooperation and other major issues of mutual interest," he said.

Since China and Namibia forged diplomatic relations in 1990, the two countries have witnessed steady development of friendly cooperation with bilateral trade growing constantly.

According to figures from the Chinese embassy in Namibia, two-way trade hit 240 million U.S. dollars during the first 11 months of 2006.

Namibia is willing to strengthen cooperation with China in the fields of industry, human resources and infrastructure construction.

President Hu flew into Namibia from the Zambian capital of Lusaka where he had paid a state visit.

Hu is on an eight-nation Africa tour that has already brought him to Cameroon, Liberia, Sudan and Zambia, and he will continue to visit South Africa, Mozambique and Seychelles after Namibia.