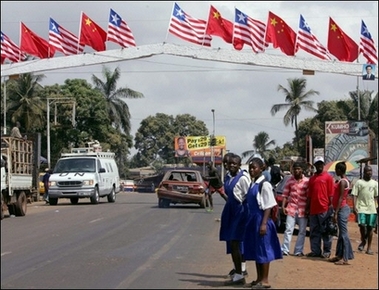 People stand in a street of the Liberian capital Monrovia, on the eve of the visit by Chinese President Hu Jintao. Hu is on a 12-day tour of AfricaĦ£ [AFP]


YAOUNDE - Chinese President Hu Jintao began a 12-day tour of Africa, his third to the continent, stepping up China's campaign to strengthen relations with the continent.

Hu launched the eight-nation trip by approving grants and loans to Cameroon worth more than 54 million dollars (41.5 million euros), the west African country's national radio reported.

The deals -- for financial and infrastructure projects -- were signed by Hu and his Cameroonian counterpart, Paul Biya, at a ceremony at the presidential palace in Yaounde, where Biya urged China to invest in his country's natural resources and increase quotas for imports of Cameroonian basic commodities.

On Wednesday Hu and Biya signed agreements for two loans to Cameroon worth 30 and 40 million yuans (US$3.86 and 5.15 million) covering economic and technical projects, and a preferential loan of 350 million yuans to finance a telecommunications scheme.

They also signed a draft agreement on scrapping Cameroon's debt to China, whose amount was not revealed, and a series of health and educational accords, Cameroon national radio said.

Beijing is to build a mother and child hospital in Cameroon's economic hub, Douala, as well as two rural schools, and will supply medical equipment to a hospital in the capital, Yaounde.

After the ceremony, attended by large Chinese and Cameroonian delegations, Biya announced that talks with the Chinese were under way for further schemes to provide drinking water and build cheap housing.

China's trade with Cameroon was worth 338 million dollars in 2006 -- double its value in 2005 -- Beijing's ambassador to Yaounde, Wang Sifa, recently told government newspaper Cameroon Tribune.

"I think we can make further progress in deepening and widening our relationship," Biya said at state banquet for Hu, hoping it could be an example of a "balanced relationship between an advanced country and one that is developing."

Hu, who is in Cameroon for the first time, visited a Chinese-funded hospital and a sports complex being built by a Chinese firm.

He said at the dinner that cooperation between China and Africa was going to "rise in volume and size to reach the highest levels and make a greater contribution to the well-being of the Chinese and African people."

The Chinese president is due to leave on Thursday for Liberia and then travel on to Sudan, Zambia, Namibia, South Africa, Mozambique and the Seychelles.

Rights groups hope Hu will use his visit to Sudan to back international calls for an end to the civil war in the Darfur region, a conflict the United States has called genocide.

Beijing, by far the biggest foreign economic investor in Sudan, is thought to be in a position to persuade Khartoum to accept UN peacekeepers in Darfur and hopes are high that China will flex its diplomatic muscle in order to burnish its international image.

Chinese officials visiting Sudan had until recently said Beijing would pursue its economic interests on the continent without delving into politics.

But before Hu's tour, Deputy Foreign Minister Zhai Jun told journalists: "I believe this visit will not only boost bilateral ties but also peace and stability in this region."

However, the primary goal of Hu's trip is to foster even deeper economic ties with Africa.

China argues that its economic policies are helping to lift the continent out of poverty.

At a historic summit in November last year that brought leaders from 48 African nations to Beijing, Hu pledged to double aid to the continent and offer five billion dollars in loans and credits by 2009.