Sowing the seeds of success in Tanzania
Updated: 2013-03-26 08:00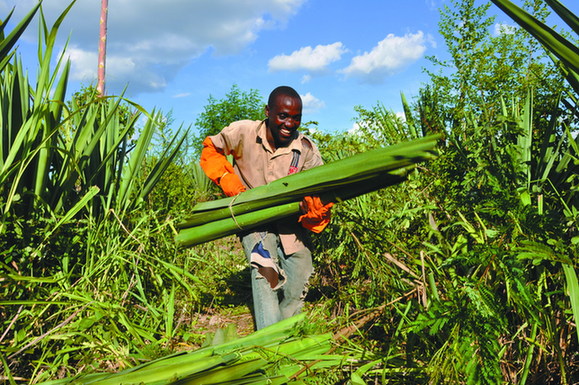 A Tanzanian farmer lays out sisal fiber to dry in the sun. Sisal, a plant that yields a stiff fiber, is widely used in construction and manufacturing industries. [Photo/China Daily]
Chinese agricultural techniques help Tanzanian farmers realize better crop yields, reports Zhao Yanrong in Dar es Salaam
Though infrastructure still remains the top draw for China in Africa, agriculture is fast emerging as a viable investment option for several Chinese companies and institutions.
More importantly the seeds of the Sino-African agricultural alliance are being sown in Tanzania, the first African nation to get support from China for infrastructure projects.
Unlike most of the conventional agricultural alliances, the Chinese engagement in Tanzania is rather unique in the sense that it is a collective arrangement.
Most of the agricultural projects involve Chinese professionals and Tanzanian farmers working collectively to raise agricultural yields, using modern techniques and practices.
Knowledge transfer
The positive influence of these alliances is best reflected in two farms operated by Chinese professionals in Morogoro region in the southern highlands of Tanzania, about 300 kilometers from Dares Salaam, the capital of the country.

Xiao Wei, a doctoral student from the Chongqing Academy of Agricultural Sciences and a rice specialist at the Center for China Agricultural Technology in Dakawa in the Morogoro region, says that he believed initially that success was something that could only be created in the laboratories.
"My opinions changed after my experiences in Tanzania. I was surprised to learn that Tanzanian students were not only adept in learning the new rice-growing techniques, but equally fast in utilizing the technologies commercially," he says.
"We were equally surprised to discover that many of the basic techniques that we use in China makes a big difference in boosting yields in Africa."