GM reshuffle to test Opel CEO's turnaround skills
Updated: 2013-12-23 11:26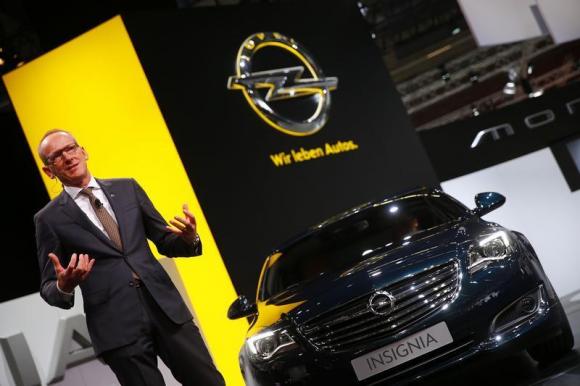 Karl-Thomas Neumann, CEO of Adam Opel AG, presents the new Opel Insignia car during a media preview day at the Frankfurt Motor Show (IAA) September 10, 2013. [Photo/Agencies] 
A management rejig at General Motors and the scaling back of its alliance with PSA Peugeot Citroen have created fresh uncertainty over the US carmaker's strategy for Opel, just as the European business seemed to have secured a settled future.
Karl-Thomas Neumann, Opel's sixth boss in the past decade, has made a big splash at the loss-making business, helping to land a multi-billion euro investment from bosses in Detroit.
The 52-year-old German also appeared to win an important victory when GM said it would drop its Chevrolet brand in Europe and instead focus resources on Opel and sister brand Vauxhall.
But some Opel staff worry these advances are in doubt after the appointment this month of new GM chief executive Mary Barra. Outgoing CEO Dan Akerson said Barra had been chosen because she had "brought order to chaos" in global product development, and tasked her with making vehicle development even more efficient.
Such words spark concern at Opel, which feels constant pressure to use global platforms and to minimize the level of expensive customization for the European market has handicapped its ability compete, a former Opel executive told Reuters.
The management reshuffle at GM will also see Steve Girsky, who successfully campaigned for more investment in Opel, leave his position as GM vice chairman.
A GM spokesman in Detroit said there was no change in its stance on Opel.
In a further blow for the European brand, GM also said this month it was paring back an alliance with France's PSA Peugeot Citroen after it failed to reach cost targets.
Opel was relying on that partnership to develop a common platform to help revamp its range of small cars, some of which like the Corsa have been on the market since 2006, and drive its market share back above 6 percent in Europe, compared with a high of more than 10 percent a decade ago.