Volvo: Fate rests in China, not Europe
Updated: 2013-12-23 07:44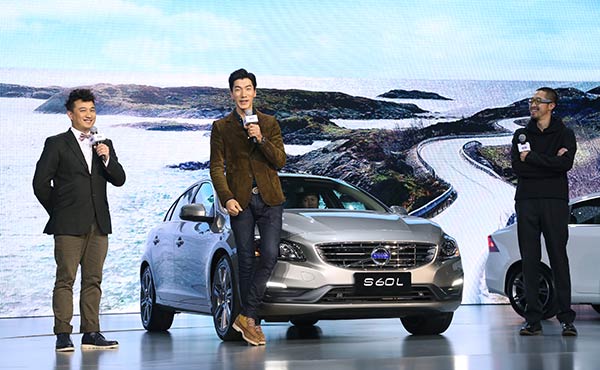 Television entertainers help introduce the new S60L in Beijing.
China will play a pivotal role in Volvo Car Corp's global revival plan, said Alain Visser, senior vice-president of the automaker headquartered in Sweden.
Volvo has set a goal to almost double its annual sales worldwide to 800,000 units by 2020. Its sales this year are projected to be about 420,000.
"If you would like to sort the 420,000 by country, you will immediately see No 1 in growth is China and No 2 is the United States," said Visser.
"So for us, the growth and the focus are going to be on those two markets where we believe have the biggest potential," said Visser.
He noted it is very difficult to envision big increases in Volvo sales in Europe where the premium car market is dominated by the three German giants Audi, BMW and Mercedes-Benz.
Visser's remarks came during a news conference in Beijing on Dec 13 following the launch of the carmaker's new S60L, its first locally built model. Made at its new Chengdu plant, Volvo's first model produced outside Europe is more than simply a new product, said Visser.
Calling the S60L a "landmark" in his speech at the launch ceremony, Visser said it is a sign of how important the Chinese market is to Volvo.
Although the automaker has not set a sales goal for the model, he said it will be an important component in its global transformation plan.
Statistics from its website show that Volvo sold 5,995 cars in China last month, a nearly 70 percent rise year-on-year, bringing the total figure in the first 11 months to 54,461, a 44.7 percent increase from the same period last year.
Visser said he is proud of the Chinese sales team's performance and attributed its success to a series of factors including strong collaboration with the dealers.
"For me, one of the most underestimated elements in the auto industry is that the results of an automaker are the sum of the results of the dealers," he said. Local media have reported that Volvo plans to increase the number of its dealers in China to 170 in 2014 and to 220 in the following year. Now with a larger portfolio of models and growing dealer network, Visser expects even stronger growth in the Chinese market.
He also noted the differences between the premium car market in developed countries and in China, where brand loyalty is lower, which he said will help boost Volvo sales.
"Many customers are changing brands, which is a good thing for us. Because if we want to grow, we need to win customers from other brands."
And Volvo has a better chance as "Chinese premium car consumers are moving from a show-off attitude to a more rational attitude", said Visser.
"It is a clear trend in China that those who have money want good-quality products that don't necessarily shout loud. And we are such a brand, a brand that focuses on people and technology, a brand that wants to be heard but does not shout."
Local plants
The S60L made in Chengdu will also be exported to countries including the US.
Volvo also has a new auto production facility in Daqing of Heilongjiang province, an engine plant in Zhangjiakou, Hebei province, and an R&D center in Shanghai.
The Daqing plant is reportedly set to start trial production at the end of the year, while the Zhangjiakou factory is designed to provide engines for the two car plants in China.
Both the Daqing and Zhangjiakou plants are operated by a joint venture between Volvo Auto Group and Zhejiang Geely Holding Group. The Chengdu plant is affiliated with Zhejiang Haoqing Carmaking Factory, which is wholly owned by Geely Group.
Volvo Group has a 30 percent share in its joint venture with Geely that was formed after the Chinese automaker acquired Volvo Car Co in 2010.
lifusheng@chinadaily.com.cn