Ssangyong in bold bet on US market
Updated: 2013-12-12 17:10
Ssangyong Motor Co, a small, Indian-owned, South Korean sport utility vehicle maker, says it expects to invest nearly $1 billion on its line-up as part of a new strategic plan to break into the United States and Asian markets.
The company, founded almost 60 years ago and which was recently Chinese-owned and in receivership, plans to develop four new SUV models, CEO Lee Yoo-il told Reuters in an interview, hoping to launch one new product a year from 2015.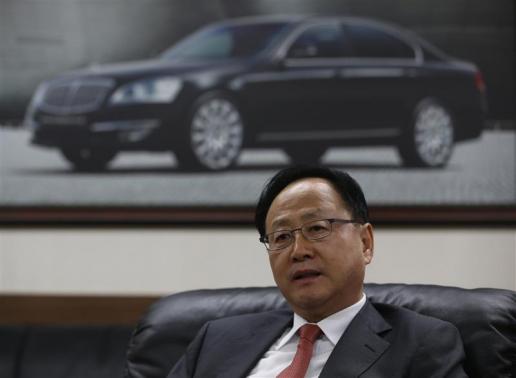 Lee Yoo-il, President and CEO of Ssangyong Motor Co, speaks during an interview with Reuters at his office in Seoul December 10, 2013. [Photo/Agencies]
The new models aim to position Ssangyong as a value-for-money SUV brand, say knowledgeable people close to the company, and target, by as early as 2016, a US market where the company - now 70 percent-owned by India's Mahindra & Mahindra (MAHM.NS) - has never sold cars on its own. China and Indonesia are also on its radar, as are Australia and South Africa.
Lee, 70, said Ssangyong may even change its "Chinese sounding name" in a bid to boost its brand appeal.
He said the plans have not yet been finalized.
Industry experts say it's a very ambitious goal given Ssangyong's limited resources and technological prowess. Even parent Mahindra last year gave up trying to crack solo a fiercely competitive US market with a small, $25,000 pickup truck called the Appalachian.
"We know we can't afford failure in the US If we fail in the US, we would go bankrupt," said Lee, who was US sales chief for Korean rival Hyundai Motor in the 1990s. Lee is also considering developing a one-ton truck.
A breakthrough into the United States would cap a swift turnaround at Ssangyong, where many of Lee's management team are also former Hyundai executives with decades of experience.
"The United States is a scary market ... very difficult to break into," he said. "At Hyundai, I learned the hard way that we cannot succeed there unless we are fully prepared."
Lee said it was "commercially viable" for Ssangyong to sell as many as 100,000 vehicles a year in the United States, though he gave no timetable for that. He added Ssangyong would consider building cars in the US if sales topped 150,000 vehicles a year. The company currently has a single assembly plant and one engine factory in South Korea.
While it's a tough ask, Ssangyong insiders believe they have attractive products - including a subcompact SUV code-named the X100 - to compete against General Motors' Buick Encore and Chevy Trax. The people close to Ssangyong also said the company plans a slightly bigger compact SUV that may replace the Korando C, and possibly a redesigned Rexton mid-size SUV.
"Everybody wrote off Ssangyong a few years ago ... (but) Mahindra has done a pretty incredible job turning it around," said Ashvin Chotai, the head of London-based consulting firm Intelligence Automotive Asia. "Now we're talking about the next step, which is very, very challenging. Ssangyong has done a good job developing new products, but it's still quite an ambitious plan. It's going to be tough."