'Fast and Furious' actor dies in car crash
Updated: 2013-12-01 15:30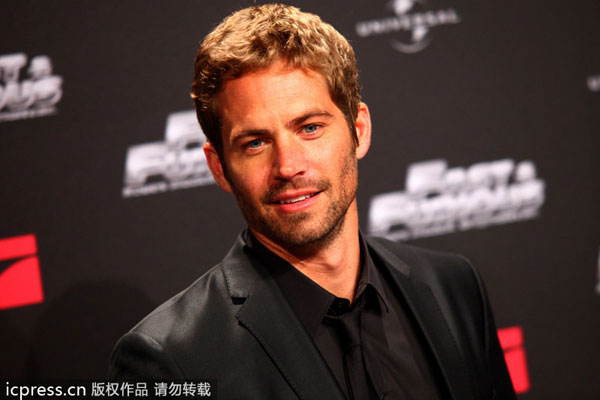 Paul Walker attends the German premiere of "Fast & Furious" at UCI Ruhrpark Kino cinema. [Photo/icpress]
LOS ANGELES - Actor Paul Walker, best known for his roles in the "Fast and the Furious" action movies, died on Saturday in a car crash in Southern California, his publicist said.
Walker, 40, who was in five of the six films about illegal street racing and heists, was a passenger in a friend's car and was attending a charity event, according to a message linked to his Twitter account.
"Sadly, I must confirm that Paul did pass away this afternoon in a car accident," Ame Van Iden, Walker's publicist, said in an email.
The Los Angeles County Sheriff's Department said in a statement that two people were killed in a car accident in Valencia, a community in the city of Santa Clarita, at about 3:30 pm (6:30 pm ET).
Deputies arriving at the scene found the vehicle engulfed in flames. The victims were pronounced dead at the scene, the statement said. The office did not provide the identities of the dead, and said the cause was under investigation.
In the "Fast and Furious" pictures, the blond-haired, blue-eyed actor played Brian O'Conner, a law enforcement official.
The first movie in the series, which stars Vin Diesel, was released in 2001, and a seventh was in development at the time of his death, Universal, the studio behind the franchise, said in a statement. The most recent film, released in May, was one of this year's biggest box office hits.
"Brother I will miss you very much," Diesel said in a post on Instagram, adding "I am absolutely speechless. Heaven has gained a new Angel. Rest in Peace."
According to the IMDb.com movie website, Paul William Walker IV was born in Glendale, California, in 1973 and began acting at a very young age, appearing in many commercials.
He played Professor Bennet in the 1987 movie "Monster in the Closet" and starred in the television series "Throb," IMDb said.
Walker also made guest appearances on television shows, including "Charles in Charge" and "Who's the Boss?" and had a role in the soap opera, "The Young and the Restless."