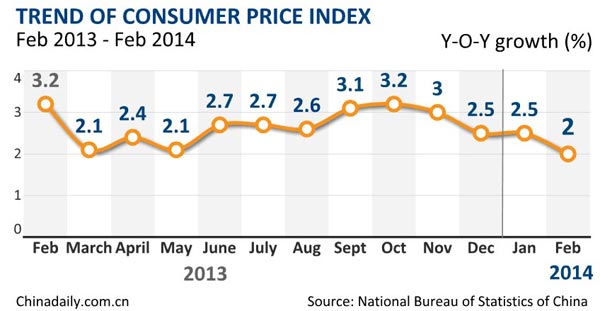 BEIJING - China's consumer price index (CPI), a main gauge of inflation, increased 2 percent year on year in February, down from 2.5 percent in January, the National Bureau of Statistics (NBS) unveiled on Sunday.
Inflation rose 2.1 percent in cities and 1.7 percent in rural areas from the same period of last year, the NBS data showed.
Food prices, which account for nearly one-third of the weighting in the calculation of China's CPI, rose 2.7 percent year on year and contributed to 0.9-percentage-point increase in February's CPI growth.
In breakdown, prices of fruit, aquatic products, vegetables and grain went up year on year in February, with fruit price saw the largest increase of 19.7 percent.
Bucking the trend, prices of poultry and meat dropped from the same period of last year with the price of pork, staple meat in China, down 8.7 percent.
Prices of non-food products climbed 1.6 percent from a year ago, propped up by prices of household services and processing and maintenance services, Chinese medicine, communication tools, tours and outings and rents.
On a month-to-month basis, CPI edged up 0.5 percent last month from January, while food prices rose 1.7 percent and prices of non-food remained flat.
The slowed CPI increase, in line with the market expectation, was mainly attributed to the holiday factor that biased February's CPI downwards.
Lu Ting, economist with Bank of America Merrill Lynch, said the average CPI in Jan.-Feb. period at 2.3 percent was a more appropriate reading and expected low inflation could sustain for several months due to the negative producer price index (PPI) and weak global commodity prices.
China's CPI has slowed its growth pace for four straight months, and the growth rate in February marked the lowest level since February, 2013, the NBS data showed.