SAIC revives Shanghai brand
Updated: 2012-02-06 09:49
By Han Tianyang (China Daily)
| | | | | | | | | | | |
| --- | --- | --- | --- | --- | --- | --- | --- | --- | --- | --- |
|   | | Comments() | | Print | | Mail | | Large Medium  Small | 分享按钮 | 0 |
First model made in '64, production lapsed in '91
BEIJING - With production suspended for two decades, the once-famous Shanghai brand car is expected to be revived by SAIC Motor Corp headquartered in the eastern metropolis of China.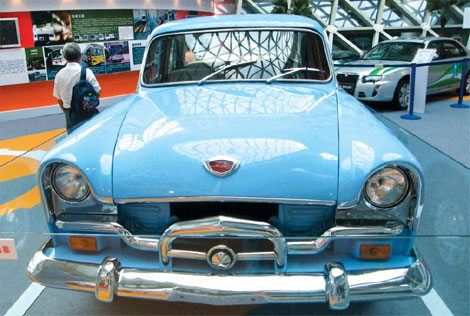 The original Shanghai was considered a more everyday car than the Hongqi - or Red Flag - used by high-ranking officials. Last year SAIC announced it will invest 22 billion yuan by 2015 to further develop its own brands. A Shanghai brand car is listed among new models this year. [Photo/China Daily]
The brand was listed in the latest catalog of new auto models compiled by the Ministry of Industry and Information Technology that was released last month.
SAIC sources said the group plans to resurrect the brand, but declined to provide further information on what models will be made and when.
Shanghai Auto Works, the predecessor of SAIC - now the country's biggest automaker by sales - built its first sedan in 1958 carrying the nameplate Phoenix. It was changed to Shanghai in 1964.
The milestone model was one of the top two car brands in the country at that time along with the Hongqi, or Red Flag, made by FAW Group in northeastern China.
When US president Richard Nixon visited China in 1972, the State guest fleet had 20 Hongqi and 100 Shanghai cars.
But unlike the Hongqi - which was mainly used by government leaders - Shanghai cars were said to be closer to ordinary people as they were more widely used for common official business and taxi services.
After the carmaker formed a joint venture with Volkswagen in 1985, the assembly line for Shanghai cars was moved to a new location.
As more attention went to the joint venture, production of Shanghai cars finally ceased in 1991. A total of about 80,000 Shanghai brand autos were made in its lifetime.
The plan to revive the brand marks the latest effort by SAIC to boost its wholly owned car marques, which also include the Roewe and MG.
The company announced last year that it will invest 22 billion yuan in improving its own brands between 2011 and 2015. They now contribute less than 10 percent of the group's total sales.
SAIC sold more than 4 million vehicles in 2011, up 12 percent over the previous year. Its net income is expected to surge over 40 percent to nearly 20 billion yuan.
But the vast majority of sales and earnings come from its joint ventures with General Motors and Volkswagen.
The Shanghai brand may also help SAIC win more contracts in government procurement, analysts said.
China's government has been calling for governmental officials to use more domestic cars instead of foreign-brand vehicles made at joint ventures.
A policy released in the middle of last year stipulates that general official cars should have engine displacement of below 1.8 liters and be priced no more than 180,000 yuan. The move is expected to benefit more domestic brands, as most of them are smaller and cheaper than joint venture-made counterparts.
Previous standards set the upper limit of engine displacement for general government service cars at 2 liters, with a price ceiling of 250,000 yuan.
Chinese-brand cars now account for less than one-third of the national market.
A consensus among domestic carmakers is that government officials should set an example by using domestic cars, which will boost public confidence.
Audi has long been the most widely used government car in China, a trend that burnished the brand's prestige and in turn boosted purchases by private buyers.