'Premature' for firms to go back into Libya
Updated: 2011-08-30 09:05
By Ding Qingfen and Li Jiabao (China Daily)
| | | | | | | | | | | |
| --- | --- | --- | --- | --- | --- | --- | --- | --- | --- | --- |
|   | | Comments() | | Print | | Mail | | Large Medium  Small | 分享按钮 | 0 |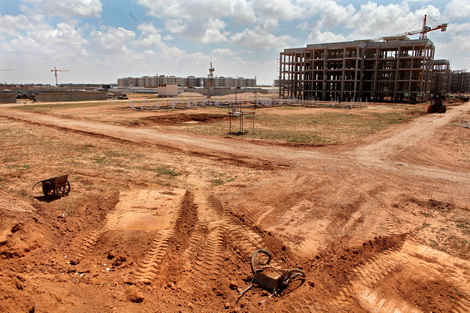 A Chinese construction company's building site in Benghazi, Libya. The project has been suspended because of Libya's civil war. China's Ministry of Commerce said it is not the right time for Chinese companies to make investments now due to various risks.[Photo/China Daily]
BEIJING - Even as an increasing number of countries recognize the National Transitional Council (NTC) as Libya's new government and some Chinese companies consider a return to the market, it's still too risky to make or increase investments there, the Ministry of Commerce said.
But Xie Yajing, commercial counselor of the ministry's Department of West Asian and African Affairs, said there would be vast opportunities for Chinese companies to cash in on post-war reconstruction in Libya after the political situation becomes stable and clear.
As more nations recognize the NTC as the legitimate government of Libya and rebel forces hunt for leader Muammar Gadhafi, some experts said Chinese companies can return to Libya to participate in post-war reconstruction.
But Xie disagreed. "It is true that some Chinese companies are considering exploring opportunities or resuming their business in Libya, but the time is far from ripe, as there are still short-term risks," she said without elaborating.
On March 5, the NTC declared itself the sole legitimate representative of the Libyan people.
More than 40 countries have recognized the NTC, though China has yet to do so.
"For the time being, we are trying to contact the NTC and provide humanitarian aid to the Libyan people," said Xie.
There is money to be made in post-war reconstruction of the water and power systems and other infrastructure projects, but political uncertainties cloud the short-term business prospects for Chinese companies, said experts.
"The unrest in Libya cannot be calmed in the short term, and chaos and disorder will probably persist for a fairly long time. A hasty return to Libya might result in disaster," said Wang Haiyun, senior researcher of the China Foundation for International Studies.
"The Chinese government's priority should be on how to protect the assets of Chinese companies in Libya and pave the way for corporate re-entry, such as by offering humanitarian aid."
Some companies are also wary about returning. Jin Chengsan, secretary of the discipline inspection commission of China Gezhouba Group Corp International Ltd (CGGC), said: "We have not yet restarted our projects in Libya. We are waiting for arrangements from industry associations."
Before the upheaval, CGGC was at work on a project to build 7,300 apartments in Libya worth 5.54 billion yuan ($867 million).
Commerce Minister Chen Deming said in March that China had no outbound direct investment in Libya, although Chinese companies had contracts for 50 engineering projects worth $18.8 billion.
After large-scale protests started in February in Libya, most Chinese projects were suspended and their Chinese employees were repatriated.
Xie said there would be many types of business that Chinese companies could get involved with in Libya over the longer term as stability returned.
"Chinese companies have absolute advantages over their foreign counterparts, providing quality products and services at a lower price," she said.
At a news briefing last week, Shen Danyang, ministry spokesman, said that China expects the situation in Libya will stabilize as soon as possible, and China is willing to play an active role in the reconstruction of Libya with the international community.