BEIJING - Zhejiang Geely Holding Group, China's No 10 automaker, sealed a binding deal on Sunday to buy ailing Swedish luxury car brand Volvo from US giant Ford for $1.8 billion.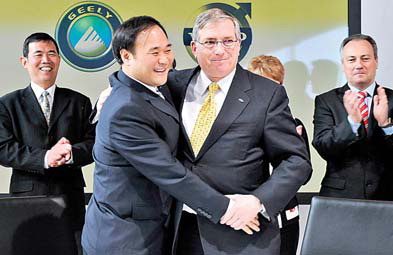 Chairman of Zhejiang Geely Holding Group Li Shufu hugs Ford's Chief Financial Officer Lewis Booth after signing the agreement on Sunday. [Xinhua] 
"Today represents a milestone in the history of Geely," Geely Chairman Li Shufu told a news conference, adding that Volvo will remain a separate company with its own management team based in Sweden.
The agreement was signed between the two automakers in Goteborg, Sweden.
The deal is China's biggest overseas auto purchase and represents the most ambitious move by a homegrown auto brand, said analysts.
Ford has been trying to sell Volvo since late 2008 to focus its resources on managing its core Ford, Lincoln and Mercury brands. The sale deal is expected to free up cash for the No 2 US automaker.
Geely, an independent automaker that has struggled to raise its profile in overseas markets, has long coveted a stronger foothold in Europe.
It was chosen by Ford as the preferred bidder for its loss-making Swedish unit in October 2009.
Li is already planning a factory in Beijing which will make 300,000 Volvo cars, or as many as are now made abroad.
According to the agreement, the acquisition will offer Geely, a producer with lower-end image, access to a high-end brand and technology it needs to compete with much bigger rivals in China.
"The acquisition is a milestone in China's automobile industry, especially when Chinese automakers are considering overseas expansion," said Jia Xinguang, an independent auto analyst.
"Li Shufu has a very strategic target that can be boosted by Volvo's green technologies."
Auto analyst Zhong Shi said he believed that "the deal is worth it to get the world's leading technologies for a reasonable price. The takeover may help Geely take a step forward in competing with other homegrown brands."
As the Chinese company has promised to retain Volvo's brand and operations in Sweden after the transaction, including the headquarters, production facility and research center, Zhong said "the takeover will not have any impact on Volvo's future development and high-end brand image."
Although Geely said earlier that it has enough financial resources - from Chinese and overseas investors, and financial institutions - to execute the deal, analysts worry about its ability.
"It will face huge financial pressure to operate Volvo in
the long run," said Zhong.
According to a Bloomberg report last week citing a Volvo board member, Geely still needs $1.4 billion to revive the Volvo brand, a sum that it may find it difficult to raise.
"Integration and future operations are also key to Geely's Volvo deal. And the different culture poses another challenge," said Xu Changming, senior economist at the State Information Center.
He worries that if Geely cannot address issues such as employee welfare, "it may repeat Shanghai Automotive Industry Corp (SAIC)'s failed acquisition of Ssangyong".
In 2004, China's largest automaker paid $500 million for a 49-percent stake in South Korea's Ssangyong Motors. The latter went bankrupt this January, making SAIC's investment a total write-off. Volvo employs nearly 20,000 workers.
China raced past the United States to become the world's top auto market last year, with sales surging 46 percent to a record 13.6 million units. It is keen to move into Western markets but has so far lacked the technology and brand recognition.
The Volvo deal should help the Chinese carmaker get around some of those obstacles more quickly, analysts said.
Reuters and AP contributed to this story