Harvesting opportunities on foreign soil
Updated: 2012-12-04 10:02
More Chinese companies and individuals are looking for sources of growth in the rich land of Russia's Far East region, as Wu Yong reports from Suifenhe, Heilongjiang province.
Liu Jianping seems totally unaware of the approaching Siberian cold front as he shuttles between this northern Chinese border town and Primorsky Territory in Russia's Far East.
"If only the north wind could be colder and stronger," he said, as that would help him, as well as other Chinese farmers operating across the border, to run their combine harvesters on the frozen-solid farmland.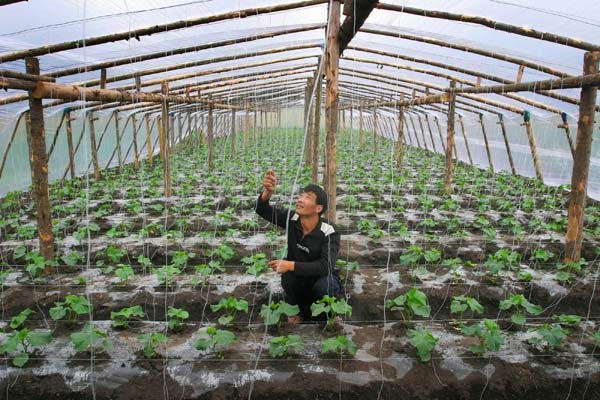 A Chinese worker cultivates vegetables in a nursery in Kemerovo, Russia. [Provided to China Daily]
Liu was among the first Chinese farmers to tap the potential of Russia's Far East as a major global grain producing center.
He currently has 16,000 hectares of farmland in Russia, and he is expecting his grain harvest to exceed 20,000 metric tons this year.
These would sound like impossible numbers for most Chinese farmers, who traditionally operate small, densely packed plots. Indeed, Liu said: "Primorsky is a miraculous land. It offers bountiful harvests at low costs."
For farm contractors in Russia's Far East, the annual land use fee is commonly around 12 yuan ($1.9) per hectare.
Entrepreneurs in northern China have been talking about the agricultural opportunities across the border since Russian President Vladimir Putin set out a plan to develop Russia's Asian areas at this year's APEC summit, held in Vladivostok, the administrative center of Primorsky Territory.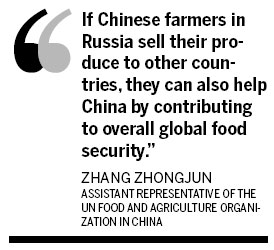 But it's not just talk. In fact, hundreds of companies and even individual farmers, Liu being one of them, are already involved in agricultural projects in Russia's Far East, according to the commerce bureau of Northeast China's Heilongjiang province, which shares a border of more than 2,900 km with Russia.
In addition, the province has similar conditions in terms of geography, temperature and precipitation as Russia's Far East.
Chinese farmers in Russia are mainly involved in grain and vegetable farming, livestock breeding, and the processing of agricultural products.
Zhang Yingshan, assistant general manager of Dongning Huaxin Industry and Trade Ltd, said agriculture is currently one of his company's fastest-growing sectors.
Dongning Huaxin has been working with a local partner since 2004 to develop 40,000 hectares of farmland in Russia over a 49-year period. Since 2006, its yield per unit has ranked No 1 in soybeans, corn and wheat in Primorsky Territory.
"Agriculture is one of most promising areas for Sino-Russian economic cooperation," Sun Yao deputy governor of Heilongjiang province, said in an interview with China Daily. China has capital and grain production technologies, while Russia has abundant land resources. "By combining their strengths, the two countries can contribute a great deal to the world's food security," he said.