Deloitte: China's outbound M&As to keep rising
Updated: 2012-11-15 08:03
Chinese buyers of European targets 'are likely to be challenged by different management cultures'
China's outbound mergers and acquisitions will continue to increase in the next 12 months, according to a report released by Deloitte China on Wednesday.
The company said the value of outbound M&As was $52.2 billion in the first three quarters of this year, despite a slowdown in economic growth.
Up to 90 percent of survey respondents suggested that Chinese outbound M&A flows will increase in the next 12 months, and 66 percent said they believed that the increase will be more than 10 percent.
"Despite a confusing macroeconomic outlook, M&A commentators remain bullish on future Chinese outbound deal flows," said the report, which was based on an online survey.
The survey was conducted by Deloitte China in August and September and polled 69 M&A practitioners with experience or knowledge of Greater China M&A transactions.
"However, more than three-quarters, or 78 percent, of respondents believe that the bulk of outbound deals over the next 12 months are likely to be worth less than $300 million apiece," Lawrence Chia, managing partner and co-chairman of global Chinese services group of Deloitte Touche Tohmatsu Ltd, said during a news briefing on Wednesday.
The first three quarters of this year saw Greater China outbound M&As' value reach $52.2 billion with 133 deals. Compared with the $44.9 billion investment of 145 transactions in the same period of 2011, the number of deals this year fell by 8.2 percent, while the value of outbound investments rose by 16.2 percent to its highest level since 2005, the report said.
Energy and resources deals continued to dominate the outbound M&A landscape, accounting for 29 percent of the total number in the first three quarters and 68 percent of the total transaction value in the same period.
Consumer business and transportation deals were the second-most numerous and valuable, accounting for 26 transactions that were collectively worth $6.8 billion. This equates to a 20 percent market share by deal numbers and a 13 percent share by value, according to the report.
Western Europe received the majority of Chinese investment in the first three quarters, getting 31 announced bids worth a total of $12.5 billion. And the bids were mainly targeted at advanced manufacturing, according to Chia.
"Nonetheless, Chinese investors spent more acquiring assets in North America than in Western Europe, primarily because of CNOOC's $17.6 billion bid to acquire Canada's Nexen, a deal announced in July 2012," he added.
As for deal size, the number of transactions worth $5 million to $300 million accounted for 59 percent of all transactions in the first three quarters, up 1 percent from a year earlier.
"Respondents believed that the continued implementation of the 12th Five-Year Plan (2011-15) will have the most positive effect on Chinese outbound M&A activity, while softening economic growth is unlikely to have much effect on potential outbound deal flow at all," Chia said.
Dirk Haellmayr, partner in Chinese Services Group of Deloitte & Touche GmbH, added: "As China boosts its emerging strategic industries and brings its economy to upper industrial chains, it will look around the world for advanced technology and new forms of innovation".
Chinese investors are likely to acquire technological best practices through investment in North America and to purchase reputable brands and technological best practices by buying European targets, the report said.
South America and Asia were listed as the most likely destinations for outbound manufacturing acquisitions, while South America is likely to witness the majority of Chinese outbound energy and resources acquisitions. Technology, media and telecommunications acquisitions are likely to continue to target North American assets over 2013 despite regulatory obstacles.
Chia warned that domestic regulations that discourage foreign ownership of local assets will be the biggest obstacle facing potential Chinese bidders that target North American businesses in 2013. Likewise, Chinese buyers of European targets are likely to be challenged by different management cultures, while Chinese acquirers of Asian targets could come across reliability issues when dealing with counterparties, according to the report.
Close to one-fifth of the respondents held their own deal as being "not successful" or worse, while 44 percent said that their transactions were successful, the report said.
lijiabao@chinadaily.com.cn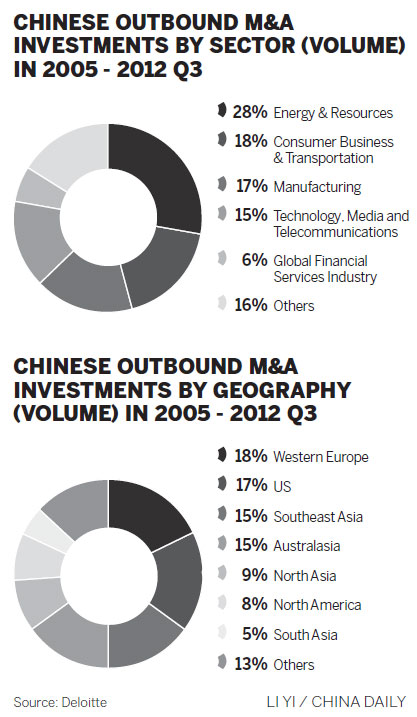 (China Daily 11/15/2012 page14)
Related Links