Japanese automakers' sales in China increased in 2013, recovering from a sharp decline a year earlier.
The slump in 2012 was caused by anti-Japanese sentiment among Chinese consumers following escalated territorial disputes between the two countries.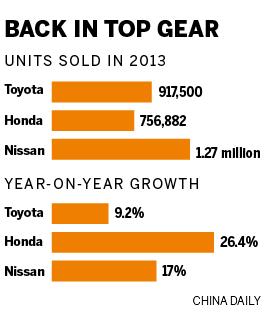 However, analysts said doubts remain for Japanese car producers in the world's largest automobile market because of fluctuating Sino-Japanese relations.
Toyota Motor Corp, Japan's top automaker, said its sales in China reached a record in 2013, with 917,500 vehicles sold, an increase of 9.2 percent year-on-year.
Honda Motor Co reported a sales increase of 26.4 percent year-on-year, with 756,882 vehicles sold.
Sales by Nissan Motor rose by 17 percent to 1.27 million, higher than the company's target of 1.25 million.
But Rao Da, secretary-general of the China Passenger Car Association, said the sales increases, especially the high figures for the fourth quarter, stem from "an extremely low sales base since September 2012".
The dispute over Japan's illegal "purchase" of China's Diaoyu Islands in the East China Sea kept local consumers away from Japanese firms' showrooms, Rao said.
Statistics from the China Association of Automobile Manufacturers show that in September 2012, Japanese producers' combined sales fell by 29.5 percent from August and by 40.8 percent from a year earlier. The low sales continued for months.
Japanese Prime Minister Shinzo Abe's recent visit to the Yasukuni war shrine will probably reignite Chinese consumers' anger over Japanese products, including vehicles.
Qin Bo, a 34-year-old tea business entrepreneur in Beijing, said the recent worsening relationship between the two countries "made me finally decide to buy a German car".
Honda told the media it has not seen any impact from Abe's action and has set a sales target of 900,000 vehicles for 2014, nearly 19 percent higher than in 2013.
Toyota Chief Executive Officer Akio Toyoda said earlier that the company will try to offset the impact of relations between the countries on its sales in China, where it aims to sell 1.1 million vehicles in 2014.
Namrita Chow, a senior analyst at consulting firm IHS Automotive, said: "It's a volatile situation where the calm waters can easily be disturbed.
"In 2013, Japanese automakers saw good results after committing themselves to the local market with new models and technologies. But it's a fragile balance, as the political situation has not yet improved," she added.
Cui Dongshu, deputy secretary-general of the China Passenger Car Association, said that even without the continuing Diaoyu Islands dispute since September 2012, Japanese automakers would lose market share to their German and US rivals in China, as "they lack strategic product offerings in entry-level sectors as well as in lower-tier cities in central and western parts of China".
"If they are not able to develop new products that can compete with lower-end German and Korean models in a short time, the distance between the rivals will widen," he added.
Supported by strong demand for all of its major brands, General Motors and its joint ventures sold a record 3,160,377 vehicles in China in 2013, an increase of 11.4 percent year-on-year.
The US automaker sold an average of one vehicle every 10 seconds — or almost 9,000 a day — in China.
German automaker Volks-wagen, which will release its 2013 annual sales figures on Tuesday, is expected to challenge General Motors' position with a strong market performance last year.