China's October PPI down 1.5 percent
Updated: 2013-11-09 10:09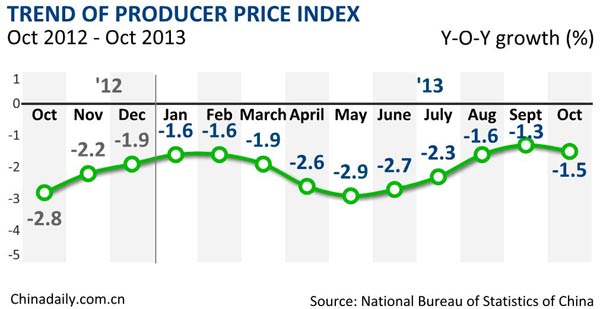 BEIJING -- China's producer price index (PPI) fell 1.5 percent in October from the same month last year, the National Bureau of Statistics said Saturday.
The index, which measures inflation at the wholesale level, has been in negative territory for 20 consecutive months.
The pace of the decrease fastened in October because of a higher comparison base in the same month last year, said Yu Qiumei, senior statistician with the NBS.
On a monthly basis, the PPI remained flat in October, compared to a 0.2-percent month-on-month increase in September, according to the NBS.
The bureau also said the country's consumer price index grew 3.2 percent year on year in October, up from 3.1 percent in September.
China's gross domestic output (GDP) expanded by 7.7 percent in the first nine months, which is higher than the government's full-year target of 7.5 percent. GDP growth in the third quarter accelerated to 7.8 percent from 7.5 percent in the second, showed the NBS data released last month.