Smartphone Shipments to pass 450m in 2014
Updated: 2013-09-25 14:31
Beijing – According to International Data Corporation's (IDC), a provider of market research services for IT indsutry, China Quarterly Mobile Phone Tracker, Q2 2013, China's total mobile phone shipments have reached 110 million in Q2 2013. Smartphone shipments, a subset of mobile phone shipments, reached 86 million, growing by 10% on a quarterly basis.
"The smartphone market has maintained a two-digit quarter-on-quarter growth rate in Q2 due to two reasons. First, the substantial shipments of low-end smartphones at a unit price of less than RMB 800 that support China Mobile's 3G network. Second, the shipments prepared by mobile phone vendors to meet the market demands of students during the summer vacation," says Antonio Wang, Associate Director for Client System Research, Imaging, Printing & Document Solution Research, Research Operation Center, IDC China.
"The sharp increase in shipments of low-end China Mobile smartphones has driven the growth of Lenovo and Coolpad. On a separate note, affected by the sluggish sales of iPhone 5, Apple's market share has declined dramatically, but its performance is expected to remarkably improve with the launch of the new iPhone," says James Yan, Senior Analyst for China Mobile Phone Market, IDC China.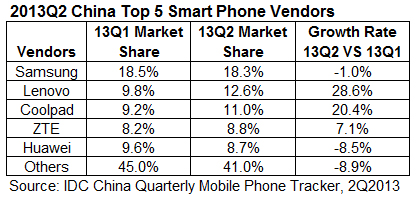 Smartphone Air Interface Analysis
Driven by the subsidies of operators and the strong demand of consumers for upgrading mobile phones, IDC forecasts that China's smartphone shipments will reach 360 million in 2013.
With the issuance of 4G licenses and the launch of Apple's new iPhones by China Mobile, IDC expects China's smartphone shipments to exceed 450 million in 2014, including 120 million smartphones that would support 4G functions and over 32 million smartphones that would adopt China Mobile's TD-LTE air interface.
That would benefit the upstream 4G chip and screen vendors, midstream mobile phone vendors and APP developers, and channel distributors and accessory vendors, which would in turn, accelerate other innovations in the mobile communication and Internet industry.