Smartphone Shipments to pass 450m in 2014
Updated: 2013-09-25 14:31
Smartphone Operating System Analysis
"It is difficult to displace Android's dominant position in the Chinese market within a short period of time, but IDC predicts that its share in China's mobile phone operating system market will reach the peak in 2013, and that the mobile phone vendors and telecom operators will adopt new operating systems with a more open attitude," says Yan.
Thanks to its cooperation with China Mobile and the launch of low-cost iPhone, iOS will see a rapid growth in 2014, and IDC expects its market share to double that of 2013. In addition, the development of Firefox OS, Tizen and Linux-based Aliyun OS will enable healthy competition to be maintained among China's smartphone operating systems, although they are currently not in the leading position.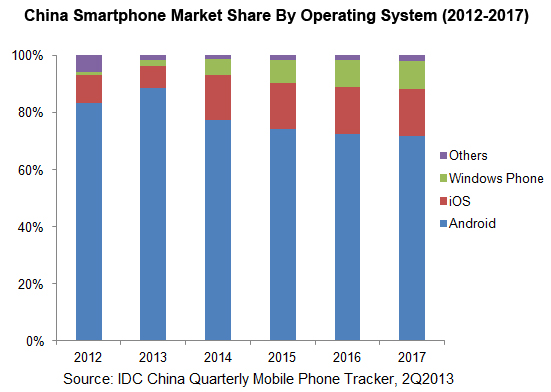 Smartphone Screen Size Analysis
The market share of 5-inch-plus screen smartphones will continue to expand. With the increasing demand of Chinese consumers for large-screen mobile phones and the impetus by telecom operators and mobile phone vendors, IDC forecasts that the market share of 5-inch-plus screen smartphones will increase from nearly 20% in 2013 to over 50% in 2017.