Domestic films set to rule box office
Updated: 2013-11-05 10:50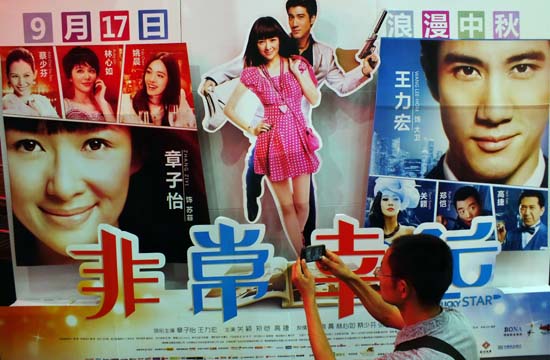 This year, Chinese films accounted for 58 percent of box-office revenue, compared with 48.5 percent in 2012. [Photo/China Daily]
Domestic
movie
s are expected to conquer the Chinese market this year, after being beaten by imported productions for the first time in four years in 2012, industry observers said.
In the first three quarters of the year, China's movie market had total ticket sales of 16.42 billion yuan ($2.7 billion), up 35 percent year-on-year, according to official data released by the film bureau under a new administration formed in March, which falls under the auspices of the State Administration of Radio, Film and Television and the State Press and Publication Administration.
The growth this year was mainly attributed to the solid performance of domestic films.
During the period, domestic productions had ticket sales of 9.56 billion yuan, up 94 percent compared with a year earlier, while imported movies' box-office takings fell 5 percent year-on-year to 6.86 billion yuan.

So far this year, Chinese films have grabbed a market share of 58 percent in terms of box office receipts, while the figure for 2012 was just 48.5 percent.
"The improvement in the quality of the productions is one of the main factors driving this momentum," said Shao Gang, deputy director of consulting for the culture and entertainment industry at Horizon Research Consultancy Group.
Hollywood movies did poorly in the first half and then had a better performance during the summer with blockbusters such as Superman: Man of Steel and Pacific Rim, said Shao.
Pacific Rim ranked fourth in the top-10 list of the highest-grossing movies shown in China in the first three quarters, with total ticket sales of 694.3 million yuan, while Superman: Man of Steel was at the bottom of that list with box-office revenue of 394.6 million yuan.
"I think that for the whole year, domestic movies will dominate the market, because many high-quality Chinese movies have been released, while the number of competitive foreign rivals is far from sufficient this year," said Huang Qunfei, general manager of Beijing New Film Association Co Ltd, one of China's leading theater chains.
Topping the list is the comedy Journey to the West: Conquering the Demons, directed by Stephen Chow, which grossed 1.25 billion yuan at the box office, followed by Hollywood's Iron Man 3 with revenue of 755 million yuan.
The fast expansion of movie theaters in China also contributed to the positive figures.
The country's total number of theaters has risen to 4,305, with 625 theaters added in the first nine months, according to data from EntGroup Consulting, a Beijing-based entertainment consultancy.
"Theater chains are expanding very quickly in second- and third-tier cities these years," said Huang, adding that people in the areas surrounding those cities prefer to watch domestic films.
At the end of 2012, county-level cities nationwide boasted about 1,000 digital cinemas, with more than 3,000 screens, according to the film bureau.
"The Chinese film studios' increasing efforts in the movies' marketing campaigns also boosted the significant box-office growth of domestic productions, which showcases the benefits brought by industrial segmentation," said Shao.
"However, the shift of market dominance between domestic and imported productions is just normal, as it's quite common for domestic movie industries to have their on-years and off-years," said Huang.
Last year, China's box-office revenue totaled 17.1 billion yuan, up 30.18 percent year-on-year, with imported films accounting for more than half of the market share with ticket takings of 8.8 billion yuan.