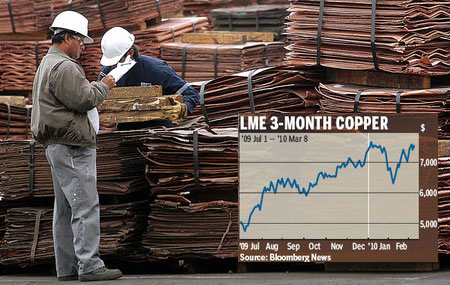 Workers inspecting copper plates at a mine in Antofagasta, Chile. China is expected to use 6 million tons of copper this year, up 7 percent from 2009. [Bloomberg News]

New 50-50 joint venture plans to develop copper mines in Chile
BEIJING - State-owned public utility, The State Grid Corporation of China (SGCC), plans to cooperate with Canadian miner Quadra Mining Ltd to jointly develop copper mines in Chile, to secure raw material supplies for electric cables and to expand its investment portfolio.
According to a statement issued by Quadra on Monday, State Grid International Development Ltd (SGID), a wholly owned subsidiary of SGCC, will form a 50-50 joint venture with Quadra to develop and operate Quadra's Sierra Gorda project, Franke Mine and other copper assets in Chile.
The Sierra Gorda project and Franke Mine are valued at $900 million in assets, said the Quadra statement.
As part of the agreement, SGID will also subscribe for 10.9 million Quadra shares, or a 9.9 percent stake in the company, at C$13.91 ($13.53) per share through the Canadian miner's private placement.
"It is SGCC's strategy to accelerate overseas business development and diversify its investment portfolio," said an SGCC executive who declined to be named.
The project funding will be made in accordance with the Sierra Gorda construction schedule and may spread over two years, said Paul Blythe, president and CEO of Quadra. "The feasibility study is now under way and due for completion in December 2010," he said.
"The strategic joint venture brings together a unique and powerful combination, with SGCC's financial capacity and position as a major end user of copper in China and Quadra's skills in acquiring, developing and operating copper producing assets," said Blythe.
Related readings:


 China's power generation capacity up 10%


 China demand to lift copper futures


 China's State Grids '09 profits down


 Grid operator planning to build mega power carrier
About 60 percent of copper is used in the power industry. However, Wei Jianghong chairman of the nation's second largest copper producer, Tongling Nonferrous Metal Group Co Ltd, said on the sideline of the ongoing National People's Congress (NPC): "Our sales to wire and cable users indicate that the demand is rather weak."
Wei said China, the world's largest copper consumer, is expected to use 6 million tons of copper in 2010, up 7 percent from 2009, but lower than earlier expectations of a 14 percent year-on-year growth.
Although the short-term demand from the electricity industry is weak, the long-term demand is still strong as China plans to upgrade its grid for transmission of new energies like solar and wind power and to improve efficiency.
Last week, Premier Wen Jiabao said in his work report to the NPC that China will actively develop new and renewable energies, and go ahead with the construction of smart grid.
In line with the national strategy, China's two grid operators, SGCC and China Southern Power Grid, have put smart grid construction on top of their agenda.
SGCC, the larger of China's two grid operators, said it would complete the construction of smart grid by 2020, entrenching its position as a major end user of copper, the raw material for electric cable.
As the commodity price rallies, both miners and end users like SGCC are seeking to pile up resource reserves, said Peng Bo, an analyst at Guosen Securities. Copper climbed new highs after an earthquake hit Chile, the world's largest copper producer. The prices adjusted down later on concern that China's demand may decline if the government retreats from its stimulus package.