Editor's notes: China Daily sports reporter Tang Yue is in Abu Dhabi of United Arab Emirates and brings you all about the 2010 Laureus World Sports Awards ceremony.
The latest:
Bolt, Serena win 2010 Laureus awards
Jamaican sprinter Usain Bolt and U.S. tennis player Serena Williams won the Laureus sportsman and sportswoman of the year respectively on Wednesday.
Tiger still roars in the world of sport
Tiger Woods' status in the world of sports and his contribution to golf is still praised by fellow professionals at the Laureus Sports Academy despite his multiple infidelities to his wife.
Federer called 'real champion'
While the winner of Sportsman of the Year of the Laureus World Sports Awards is still up in the air until tonight's awards ceremony in Abu Dhabi, Roger Federer has been considered the best athlete of the past decade by both Edwin Moses, chairman of the Laureus Sports Academy, and Boris Becker, the vice-chairman.
The world's greatest athletes of 2009 will chase the prestigious Laureus World Sports awards titles tonight (Beijing time).
Hollywood stars roll out for Laureus awards
The curtain came down on the Academy Awards on Monday but the Laureus World Sports Awards, dubbed the Oscars of sports, will be well represented by Hollywood notables during its gala ceremony on Wednesday night in Abu Dhabi.
Although China topped the gold medal tally at the 2008 Beijing Olympic Games and won a national record five gold at the just-concluded Vancouver Games, no Chinese athletes appear among the 42 nominees in seven categories for the 2010 Laureus World Sports Awards, which will be announced in Abu Dhabi next Wednesday.
The full list of nominees for the 2010 Laureus World Sports Awards is:
Laureus World Sportsman of the Year
Laureus World Sportswoman of the Year
Laureus World Breakthrough of the Year
Laureus World Comeback of the Year

Laureus World Sportsperson of the Year with a Disability
Laureus World Action Sportsperson of the Year
The trophy: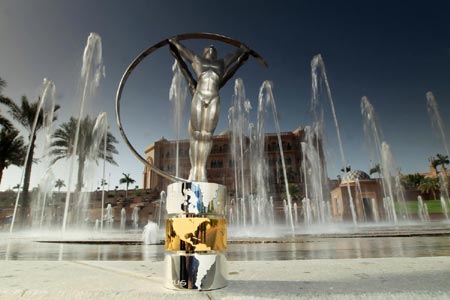 Useful links:

See full nominees archive:
2009 2008 2007 2006 2005 2004 2003 2002 2001 2000