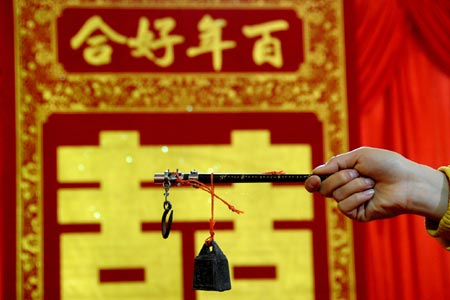 A traditional weighing device in front of a poster with the Chinese word xi, which means happy. The Chinese character is often seen at Chinese wedding ceremonies. The steelyard's name is pronounced like chen, the first word of chen xin ru yi, which means desirable. Young adults now want their weddings to be more creative and eye-catching than those of their parents' generation.[China Daily]  
Associated services compete for a share of the increasingly lucrative business of wedding services
SHANGHAI - Yvonne Yu's dream wedding this month will set her back 200,000 yuan ($29,298.02) after she checked out the prices several top-rated hotels in Shanghai.
Like many who plan to get married soon, Yu confessed that the moment she got engaged to her fiance was also the beginning of a long relationship with a wedding director, photo studio and global platinum miner.
"Those born after 1980 are mainly the ones getting married now and they have greater expectations about their weddings compared with people in previous generations. For example, the super-long wedding motorcade is no longer that special now," said the 24-year-old who works in a media company.
New market trend
China is entering a golden age of weddings in which young adults are becoming smart and picky when it comes to the often once-in-a-lifetime event. They want their big Chinese wedding to be creative and eye-catching.
"People don't tend to have traditional weddings so much anymore. Themed wedding are getting popular," said Michelle Yang, the wedding director at a five-star hotel in Shanghai. "There is also greater flexibility now because people get married whenever they feel like it. We don't really have 'peak seasons' anymore."
The majority of clients are the babies of China's baby-boomers. The demographic bulge shown by those born during the 1980s revealed the biggest population base since the founding of the People's Republic of China. The years between 2007 and 2012 are due to show a huge spike in nuptials, as China's Wedding Market Research and Investment Advisory Report 2008-2010 pointed out.
In Shanghai, around 130,000 couples registered their marriages in 2009 and the figure is expected to rise to 150,000 couples next year, according to He Lina, the secretary-general of Shanghai Wedding Association.
"The year 2010 is a bumper year for getting married and I suggest all of those who have wedding plans spread out their big days instead of having them all together in May and October (generally regarded as the "peak time" to get married in China) to avoid the crowds," she said.
Future brides and grooms enjoy strong spending power. According to a survey run by China Investment Research Consultants, the average expenditure on a wedding grew to 30,000 to 40,000 yuan in 2009 compared with 20,000 yuan in 2005.
"I have a feeling that weddings now include the expectation of fulfilling a dream and showing off. It is not just about a banquet," said Yu.
Wedding agency, restaurant and hotel industries as well as other associated businesses would be more than happy to agree with Yu and enjoy a slice of the increasing market.
The survey also found 88 percent of newlyweds paid for professional wedding photos, 49 percent hired a wedding planning company and 78 percent booked celebrations in hotels.
More people in cities hold hotel weddings. "Almost 90 percent of the weddings I served were held in hotels," said Lin Yile, who runs a wedding agency in Shanghai and who has worked in the business for more than 10 years. "Because of that, hotels are putting their prices up and applying all sorts of methods (to attract clients)."
Competition
Even the conventional business hotel that usually focuses on the meeting, incentive, conference and exhibition (MICE) business has joined the competition for a slice of the wedding cake.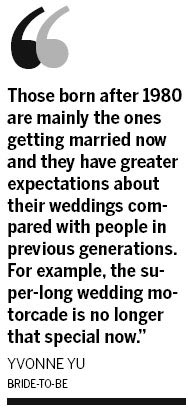 "It's very typical in China because the MICE segment is usually business-focused across the world," said Conny Bartl, MICE director at Longemont Hotel Shanghai. "But it's good news, because after MICE business clients check out on a Friday afternoon, the wedding planner comes in and sets up the backdrop for the ceremony during the ceremony."
For young couple Li Jia and Wu Ping, it was thrilling occasion to hold their grand wedding in the Crowne Plaza Century Park Shanghai free of charge, thanks to a lucky break.
"They won the prize of 'My Dream Wedding by Crowne Plaza' ahead of more than 100 couples. It was a 100,000-yuan free wedding," said Sharona Tao, spokesperson for the hotel. "It was also the first online wedding reality show in China because we filmed their wedding over four episodes and broadcast them at www.tudou.com."
The attraction for weddings at Purple Jade Villas (PJV), the top-end exclusive club in Beijing, is the scenic views and personalized method of payment. With 66 hectares of green land, PJV has the capability of holding themed weddings such as Mongolian-style rites and services on the lake.
Moreover, the company has a new selling point in that it accepts payment by installment with no interest and service charges.
Related readings:


 Couples zero in on the perfect wedding day


 Wedding-themed expos are held in two cities


 Wedding etiquette can be a heavy burden for younger generation


 Adventure race ends with wedding plans for Americans
"We will work with Bank of China to realize more couples' fairy-tale weddings," said sales director Zhou Shuxian. "The new plan came into effect on January 1 and the only requirement is to have had a Bank of China credit card for more than a year."
A person called a "romanceologist" is used at the Ritz-Carlton Sanya to help those who run out of ideas when it comes to romance. "Our professionally trained romanceologist always has surprises for the customers, no matter whether it's proposing underwater with a ring inside a seashell or modifying our oceanfront chapel into a Catholic church or Buddhist temple for a wedding," said Michel Goget, general manager of the hotel.
Other ways of luring custom include the wedding expo sponsored by individual hotels and star-rated hotels' one-stop service promotions.