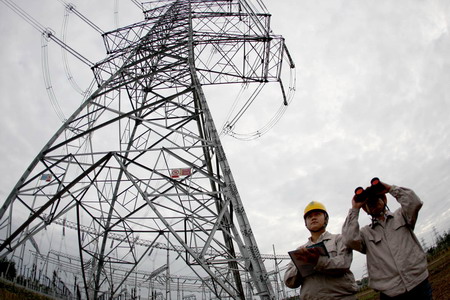 State Grid Corp plans to invest 100 billion yuan ($14.64 billion) to build UHV projects over  the next three to four years. [China Daily]
State Grid Corp of China (SGCC), a major power grid operator, plans to construct next year an ultra-high voltage carrier that will transmit electricity generated by wind and thermal power plants in Inner Mongolia to Jiangsu province, a company executive said yesterday.
Work on the 1,300-km transmission line is awaiting the government's nod, Shu Yinbiao, deputy general manager of SGCC, said yesterday.
"With the use of ultra-high voltage (UHV) technology - the most advanced technology in power transmission - the rich coal mining resources and wind energy in Inner Mongolia can be better utilized," said Shu.
Electricity generated by many wind farms in Inner Mongolia cannot be connected to the power grid at present due to a lack of power transmission capability, causing large wastage of energy. Advanced technology, in the form of a smart grid, is sorely needed, analysts said.
Power transmission lines using the UHV technology can carry up to 1,000 kV.
Compared with conventional lines they can transmit electricity over longer distances, and more efficiently, analysts said.
"More UHV projects are needed for the continued development of China's energy industry," said Shu.
Related readings:


 State Grid seeking approval for 170b yuan in bonds


 China steps up in buliding UHV power line


 China to start building 3 new UHV power lines


 State Grid to invest 31b yuan to upgrade power grid
China's large energy production bases are mostly located in the northern and southwestern areas due to abundant coal deposits and water sources.
Yet, it is the better-developed eastern regions that consume more power each year, he said.
UHV projects can help other industries such as power equipment manufacturing, he added.
SGCC said earlier it planned to invest 100 billion yuan ($14.64 billion) into building UHV projects over the next three to four years.
China's first UHV power transmission line linking Changzhi in Shanxi province to Jingmen in Hubei province began operating in January this year. The line had transmitted nearly 8 billion kWh by Dec 15, according to the SGCC.