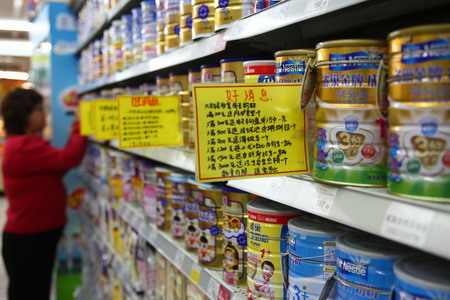 Promotion posters for baby milk are still visible at a Carrefour store yesterday. [China Daily] 
Almost all brands of powdered milk are over promoted in supermarkets, in defiance of a marketing code, the Beijing Consumer Association said.
A survey conducted by the association in July and August of 47 Beijing supermarkets and shops, found 173 of 185 milk powders were "over promoted", including 134 free gift offers, 25 discount offers, and 47 personal promotion offers.
Under both Chinese and international marketing codes, breast-milk substitutes and other substitute products cannot be promoted through advertisements, free gifts or personal promotion to customers.
The association, which strongly recommends that new mothers breast-feed their babies, has called for better regulation of the breast milk substitute market.
Eight supermarkets including Carrefour and Lotus were listed as over promoting substitute products.
A 30-year-old mother surnamed Hu, who is feeding her 10-month-old son with powdered milk, said: "These major brands always provide gifts for customers if they buy more than one."
"Sometimes, they give away a baby walker for free, which is worth hundreds of yuan," she said.
"I always buy a lot of product when they have a big promotion."
The survey also found that 17 medical institutions were selling or promoting milk products, which is also forbidden under the marketing code.
Related readings:


 Dairy industry recovers as sales pick up


 Dairy sector seeks succor from govt


 China's dairy farmers getting over tainted milk scandal


 Compensation lawsuit over tainted milk postponed
Hu said she was first given milk powder samples from medical staff at her pre-birth classes.
"After my son was six months old, milk powder salespeople kept calling me and asking me to buy their product," she said yesterday.
"They said they were pregnancy experts and told me that my breast milk lacked nutrition six months after I gave birth, and so I should buy their milk powder for my son."
Hu said she discovered that the salespeople were lying after checking medical text books.
"I was very angry, but my husband believed in them and brought their products, which makes me very sad," she said.