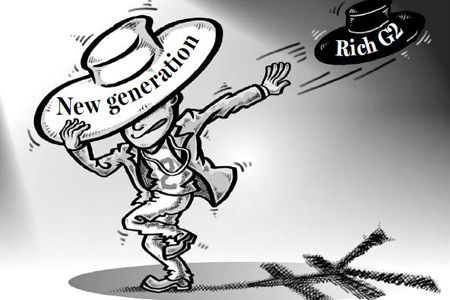 It's midnight and three Lamborghinis are parked in a row outside a nightclub at the Workers' Gymnasium in downtown Beijing. Their owners are nearby, drunkenly saying their goodbyes after a big party.
Pretty girls, luxury products and extravagant parties - these are things that typically come to mind when we think of the lifestyles of the children of China's nouveaux riche. But it's not always the case.
Dressed in simple sportswear, 27-year-old William Li is struggling to rid himself of his addiction to luxury products and parties and build up his own business.
His recently-discovered ambition emerged when his father, a former coalmine owner in Shanxi province, was forced to seek business opportunities in Beijing because of a government policy to merge small coalmines in the early part of last year.
Li, his 61-year-old father's only son, obtained a management degree from a London business school and returned to China in 2003. After his graduation, he concentrated on partying with friends and never put his mind to more serious matters.
"As the government policy started to take effect, my father had to sell his coalmines which used to be the only source of income for my family", he said. "I believe my father needs my supports and I cannot continue squandering his money and also my own life anymore."
Li spent about 1.5 million yuan creating a restaurant in a commercial building in Beijing's central business district.
In his view it was an ideal site for a catering business and he didn't bother with a market survey or any other analysis.
By his own admission he was a spoiled boy, familiar with a Gucci umbrella and Prada keyring, and totally unprepared for consorting with waiters and cooks in a kitchen every day. However, despite putting in plenty of hard work, after the opening ceremony at the restaurant, he experienced one failure after another.
"My first mistake was that I paid at least 30 percent more on the decoration of the restaurant than I should have for one of the same size and quality," he said. "That was a direct result of my ignorance of the decoration market. I also used to buy everything without proper research and bargaining over prices."
On the opening night of Li's restaurant only two customers dined and he made 300 yuan in sales, far less than his costs.
He said: "The location and menu were based on my own personal feelings but I have since discovered that running a business is not like children playing house," he said.
"I intended to make my restaurant a high-end venue but I didn't realize there were some brand-name restaurants nearby. Also, the menu was mostly Sichuan dishes and was not creative enough to lure the picky gourmets in the commercial district who have tasted different cuisines across China and many foreign countries. Lots of management knowledge and experience were needed but my only background in the area was in organizing a nightclub party."
Initially, Li, a member of China's post-80s generation, thought running a restaurant would be a piece of cake. Now, sitting in his quiet restaurant with its postmodern style, he frowns as he talks about it still running at a deficit.
"I have to start from scratch and I will be very much committed," he said, determinedly. "I don't want to sleep on the money I inherit from my father but make best use of his money and experience."