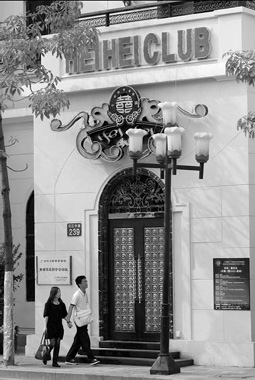 The building at Whampoa Military Academy's Guangdong alumni association is now a flashy nightclub. The plate on the left of the door reads: "The building is a protected relic by Guangzhou municipal government," while a notice on the right seeks to recruit staff for the club. [China Daily/Zou Zhongpin]
GUANGZHOU: A recent move to turn a building at the historic Whampoa Military Academy, the cradle of China's modern revolutions and military reforms, into a nightclub has sparked public outrage.
Located in downtown Guangzhou's Yanjiang Road, the building at the academy's Guangdong alumni association has been converted into the Hei Hei Nightclub, which opened its doors to the public after the Spring Festival.
The three-story building, where the academy's first headmaster Chiang Kai-shek once worked, was listed as a protected relic by the government of Guangzhou in 1987.
"It is outrageous. Such an important heritage building has been destroyed," said Li Xianheng, former director of Guangdong Provincial Museum of Revolutionary History.
The academy, which was set up by China's pioneer revolutionary Sun Yat-sen in 1924, is one of the country's most import landmarks. Almost all senior earlier Kuomingtang and many Chinese Communist Party generals were trained there.
"The internal flooring and historic structure of the building have been totally changed," said Li, adding that the construction of the nightclub had seriously damaged the historical site.
An "urgent" notice to recruit staff for the nightclub today hangs beside a plate that says the building is a protected relic.
Lots of people visited the nightclub since it opened after the Spring Festival, a security guard said.
The building was used as the office of a local telecommunication company for years before it was turned into an entertainment venue, according to Liu Xiaoming, an official with the Guangzhou cultural authority.
He said the nightclub started operating before the government inspected the project after its completion.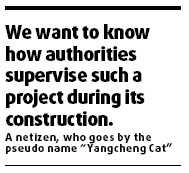 The site, which was built in 1924, was once a gathering spot for students and masters of the academy, according to Liu.
"So, we approved the nightclub project," Liu told China Daily on Friday.
However, he said the authority has issued warnings to the owners of the nightclub to rectify the project as "some internal structures were seriously destroyed during construction".
"We have clear guidelines governing the use of protected relics," Liu emphasized.
A netizen, who goes by the pseudo name "Yangcheng Cat", wrote on a forum on dayoo.com: "The internal structure of the building has been totally destroyed. We want to know how authorities supervise such a project during its construction."