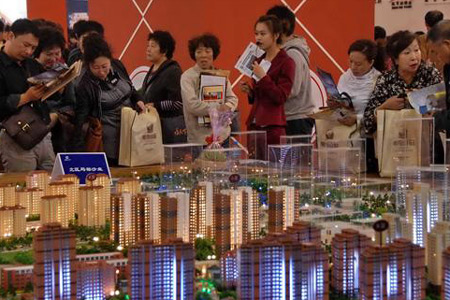 Customers inspect a residential project model at the 2009 Dalian Autumn Housing Exhibition. Property prices in 70 major cities nationwide climbed 1.5 percent year-on-year, lastest figures from the National Bureau of Statistics showed. [China Daily]  
When company executive Zhang Lan read the property news on Friday in Jiangsu province, he could not believe what was reported.
Property prices in 70 major cities nationwide climbed 1.5 percent year-on-year, with the price of new apartments rising by 1.3 percent and those of resale ones increasing 2.4 percent, latest figures from the National Bureau of Statistics (NBS) showed.
"Only a 1.5 percent increase? Shouldn't it be 15 percent?" Zhang asked in disbelief.
"An increase of 20 percent from last year for property prices in a common, small town in my province is quite ordinary, let alone major cities like Beijing and Shanghai where the price could have soared by at least 50 percent," he said.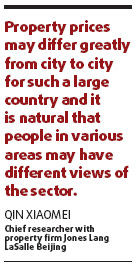 Zhang is one of many people, including industry analysts, who say the latest figures on property price increases are understated.
"Property prices may differ greatly from city to city for such a large country and it is natural that people in various areas may have different views of the sector," said Qin Xiaomei, chief researcher with property firm Jones Lang LaSalle Beijing.
"But based on the latest figures, which make the industry look pretty healthy, the government will then not find it necessary to issue such intensive measures to cool down the sector," Qin said.
Since the end of last year, the central government launched a slew of policies to curb the excessive increase in property prices, amid fears that an asset bubble was building up.
The growth rate of property prices in 70 major Chinese cities was positive in June last year and peaked at 7.8 percent in December, the highest level since April 2008.
But on Jan 19, a report from the NBS showed that the country's average contracted home price last year was 4,695 yuan per sq m, up 24 percent from the previous year. Shanghai, Shenzhen and Beijing recorded the top three growth rates, standing at 27.56 percent, 18.32 percent and 16.38 percent, respectively.
"As the accuracy of such statistics is key to policy making, the NBS could publish the pricing details of each city and how calculations are made, to convince people," said Carlby Xie, associate director at property firm Colliers' North China division.
Related readings:


 Property price drops 1.2% in February


 Corruption leads to high housing price


 China tightens control on residential housing price


 Beijing housing price tops 20,000 yuan per sq m inside 4th Ring
Besides property figures, expert opinion on the trend for property prices this year was also divided.
"Sale prices are likely to fall from mid-2010 as slower demand, higher supply and various government initiatives could dampen market sentiment. However, we do not expect developers to find 2010 as severe as the downturn in 2008 or as volatile as 2009," said Bei Fu, associate director of corporate ratings at S&P.
For Eric Chan, general manager of Synergis Asset Management Services Limited, property prices may pick up in the second half of the year, as mounting inflation pressure will make real estate an ideal channel to hedge risks.