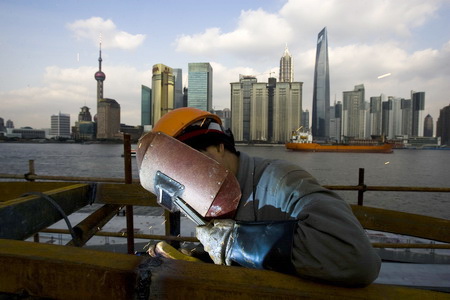 A worker atop metal scaffolding at a construction site in Shanghai. Global investors have played down fears of overheating in China's property sector and said they would continue their investments. [CFP]
International investors do not anticipate any burst in the property bubble for now and continue to remain bullish even as the government is taking steps to cool the sector.
Noted investor Mark Mobius, who oversees $34 billion of developing-nation assets at Templeton Asset Management Ltd, said in Singapore on Friday that he plans to increase holdings in Chinese stocks by purchasing shares that benefit from consumer demand, including developers and raw-material suppliers.
"Property prices are high, but I don't see a crash," said Mobius. "The Chinese are watchful and they are not going to let things get out of control. They want the growth to continue at a measured pace and there's nothing wrong with that."
China's property prices climbed in November at the fastest pace since July 2008, fueling concerns of asset bubbles. Residential prices in 70 major cities rose 5.7 percent from a year earlier, compared with a 3.9 percent increase in October.
The State-owned Assets Supervision and Administration Commission on Thursday asked enterprises under its supervision to be careful while venturing into the real estate and stock markets amid the complicated and fickle economic conditions.
Meanwhile, the central bank on Thursday raised the auction yield of its three-month bills for the first time since mid-August and is set to drain 137 billion yuan ($20 billion) from the market this week, as it intensifies the pace of quantitative tightening to curb excessive market liquidity.
The China Banking Regulatory Commission may further increase the down payment from the existing 40 percent to 50 percent for second-home buyers to curb speculative purchases, said sources.
Andrew Mattock, who manages the $342 million Henderson Horizon China Fund, said he would stay "fairly aggressive" on property stocks as the risks of curbing loan growth are already priced in.
The Shanghai index of property stocks has dropped nearly 28 percent in the year through Jan 7 after reaching a one-year high in July. Shenzhen-based Vanke, the country's biggest publicly traded developer, and Guangzhou-headquartered R&F Properties Co are among the worst performers on the MSCI China Index in the last six months. The measure has climbed 23 percent during the period, lagging behind a 35 percent gain in the MSCI Emerging Markets Index.
Related readings:


 Property market growth not bubble


 Property market recovery strong


 A property market asset bubble 'may be inevitable'


 Rush to buy real estate despite high prices


Govt fights to reel in real estate prices

Manop Sangiambut, head of China A-share research at CLSA Asia-Pacific Markets, feels that property stocks will rebound as policy changes have already been factored into share prices.
International real estate funds are also changing their modalities of investment in China's property sector.
Grant Ji, director of Savills (Beijing), a UK-based real estate service provider, said many foreign investors are now keen on joining hands with the developers from the development stage itself.
"That in turn would be easier for the investors to get returns of 20 to 30 percent, which they can never achieve through investments in completed office buildings or shopping malls," said Ji.
The traditional mode is also losing luster for foreign investors as yields have declined due to surging prices and lower rental income, he said.