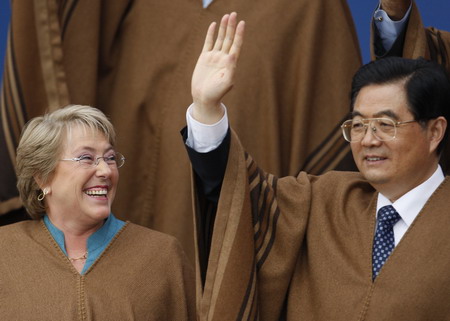 Chile's President Michelle Bachelet stands next to Chinese President Hu Jintao while wearing typical ponchos from Peru for the group photo at the Asia-Pacific Economic Cooperation (APEC) summit in Lima, November 23, 2008. [Agencies]
"We are convinced that we can overcome this crisis in a period of 18 months," the leaders said at the summit.
US President George W. Bush, on his last scheduled foreign trip before leaving office in January, held bilateral meetings with the leaders of China, Japan and Russia.
He tried to use the meeting to revive global trade talks before handing off to President-elect Barack Obama, who has expressed more caution about free trade than Bush.
A senior US official told reporters in Geneva he saw a "very high probability" that trade ministers would return to Geneva next month to try to get a breakthrough in the so-called Doha round of trade talks.
Major economies have slashed interest rates and spent hundreds of billions of dollars to help struggling banks after the meltdown in the US housing market sparked a worldwide credit crisis.
Now countries are looking at stimulus plans that include boosting government spending and cutting taxes.
Obama said on Saturday he was crafting an aggressive two-year stimulus plan to revive the country's troubled economy.
Canada could dip into a technical recession later this year or early next year, and will use fiscal stimulus if needed, Canadian Prime Minister Stephen Harper said.
APEC meetings over the last eight years have often been marked by anti-Bush protests and demonstrations against free trade, but protests were muted in Peru, perhaps because Bush is so close to leaving office.