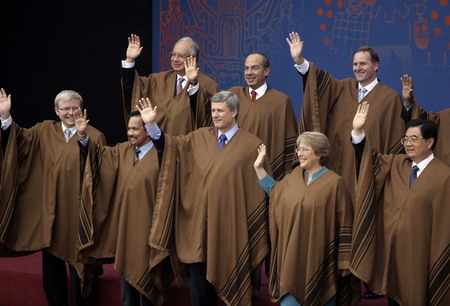 Leaders of member economies pose for a group photo while wearing typical ponchos from Peru, during a break in the Asia-Pacific Economic Cooperation (APEC) summit in Lima, November 23, 2008. [Agencies]
Lima -- The United States, China, Japan and 18 other economies in Asia and the Americas promised fast and decisive action on Sunday to prevent a severe global economic downturn.
With recession gripping parts of the world and financial markets in chaos, leaders at the 21-member Asia-Pacific Economic Cooperation forum, or APEC, said the slowdown is "one of the most serious economic challenges we have ever faced."
They said free trade and higher government spending were key to resolving the crisis and supported a big push to revive long-stalled global trade talks by seeking agreements in the contentious sectors of farming and manufactured goods. The leaders promised to "take all necessary economic and financial measures to resolve this crisis."
Their declaration at the end of a two-day summit in Peru echoed measures called for by the Group of 20 major economies at a meeting in Washington a week earlier, and widened support for drastic action to stimulate lending and spending.
APEC members account for more than half of the world's economic output and also include Canada, Indonesia, Mexico, Chile, New Zealand, Singapore, South Korea and China's Hong Kong. Nine of them belong to the G20.
They pledged at the summit to work together to ease the turmoil, agreed not to adopt new trade barriers for a year and called for better regulation of the financial industry.