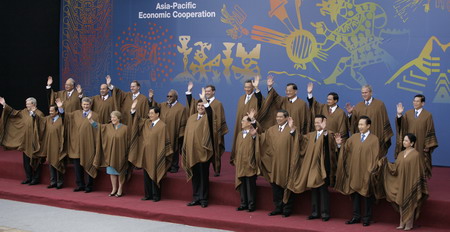 Leaders of member economies pose for a group photo while wearing typical ponchos from Peru, during a break in the Asia-Pacific Economic Cooperation (APEC) summit in Lima, November 23, 2008. [Agencies]
They also supported overhauls of the International Monetary Fund and World Bank at a time when more countries need emergency bailouts to avert economic disaster.
"The global political and economic architecture is undergoing the deepest and most complicated changes since the Cold War," Chinese President Hu Jintao told Russia's Dmitry Medvedev at the summit.
Medvedev said the non-binding declaration might still allow countries to help domestic producers.
"On the one hand we took an obligation not to resort to protectionism, but of course we will draft measures to help our producers survive, help them with credits and some reasonable measures," he said.
Japan reiterated an offer of $100 billion in funding for the IMF.
Trade Deadlock
APEC, which groups some of the most open economies in the world, warned that countries should not be tempted to use protectionist measures even if job losses mount.