Xi's speech called boost for US businesses in China
Share - WeChat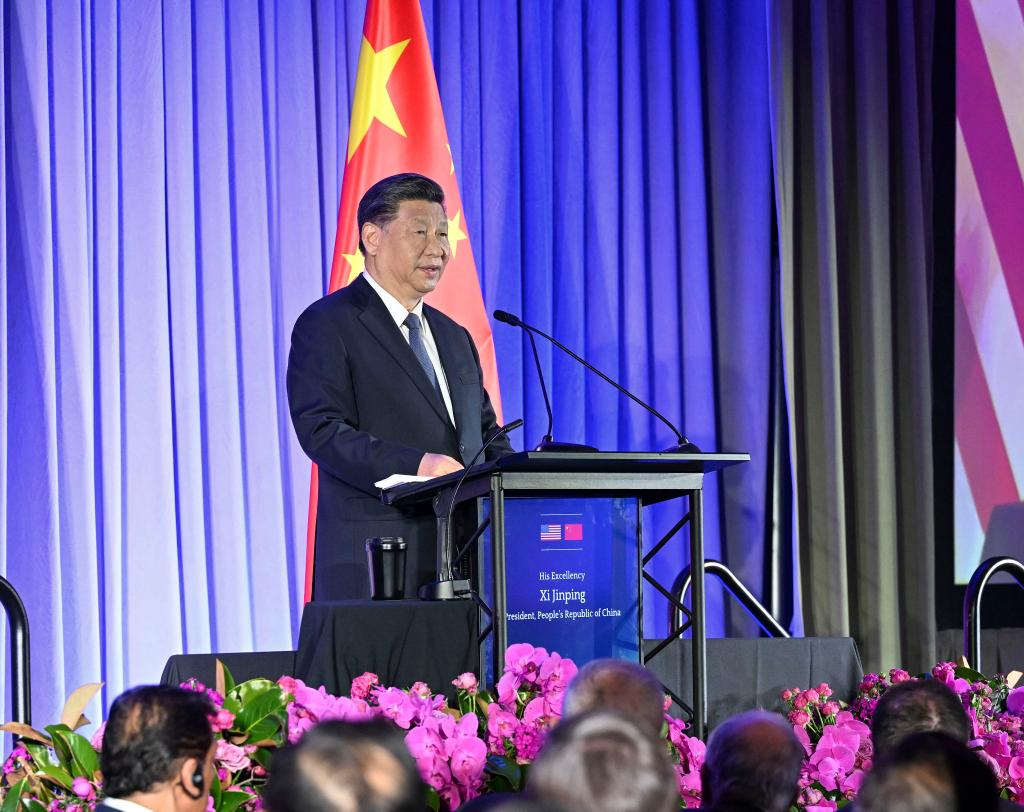 Attendees also praise efforts to expand exchanges, tourism and overseas study
The speech made by President Xi Jinping to friendly organizations on Wednesday was lauded by the audience as a historic policy address that will chart the direction for China-US people-to-people exchanges and bolster the confidence of US businesses operating in China.
The ballroom of the Hyatt Regency in San Francisco was immersed in a warm and friendly atmosphere as the Chinese president delivered his speech to business executives and US citizens committed to promoting bilateral friendship.
Xi's speech, which lasted more than 30 minutes, was interrupted by more than 10 rounds of applause, and the president was welcomed with a long standing ovation upon his arrival at the banquet.
Gary Locke, a former US ambassador to China and also chair of the Committee of 100, said the president delivered a "very welcoming message", and "his speech was very well-received".
"It was really great to hear President Xi talking about the importance of people-to-people relations as the foundation for government cooperation, the foundation for economic growth, and that the relationship was founded by people, whether it's Ping-Pong Diplomacy, and that the future of (a) stronger US relationship starts with the people," he said.
"And I was impressed that President Xi said he welcomed foreign direct investment in China, and that these are win-win opportunities for both the Chinese people and American companies," he said.
Locke said there's a need for more Congress members to visit China to learn more about the country and for more exchanges of students.
US Ambassador to China Nicholas Burns described Wednesday as a "good day" for bilateral relations after the meeting between leaders of the two countries and the warm banquet in the evening.
He echoed the view from the Chinese president that people are the ballast in the relationship between China and the US.
"We need more American students in China," he said, adding that more tourists and flights also are needed.
Burns gave the example that the number of Chinese tourists had reached several million every year in California alone, but now that number is much reduced. "I think it's an appropriate theme that people should be connected, and that our two countries need to be connected."
Stephen Dorrough, vice-president of Amphenol, a provider of high-technology interconnect, sensor and antenna solutions in the US, said the Chinese president's speech helped build up business confidence in China.
"I hope that we can see more concrete actions that can help bring the two countries onto a more stable path," he said.
Geoff Martha, chairman and CEO of Medtronic, the global leader in healthcare technology, said he was honored to be present at the banquet "on a historic night".
"We're in the healthcare business, and the Chinese government is very committed to providing access for more Chinese citizens to healthcare. For us, it's a very important market," he said, adding that his company has a strong commitment to further exploring the potential of the Chinese market.
"It's a very important part of our mission as a company to provide healthcare to people all around the world. There are 1.4 billion people in China, and most of them don't have access to our products, so it's very important for us to be in China," he said.