Sprint stars shine on golden night for China
Share - WeChat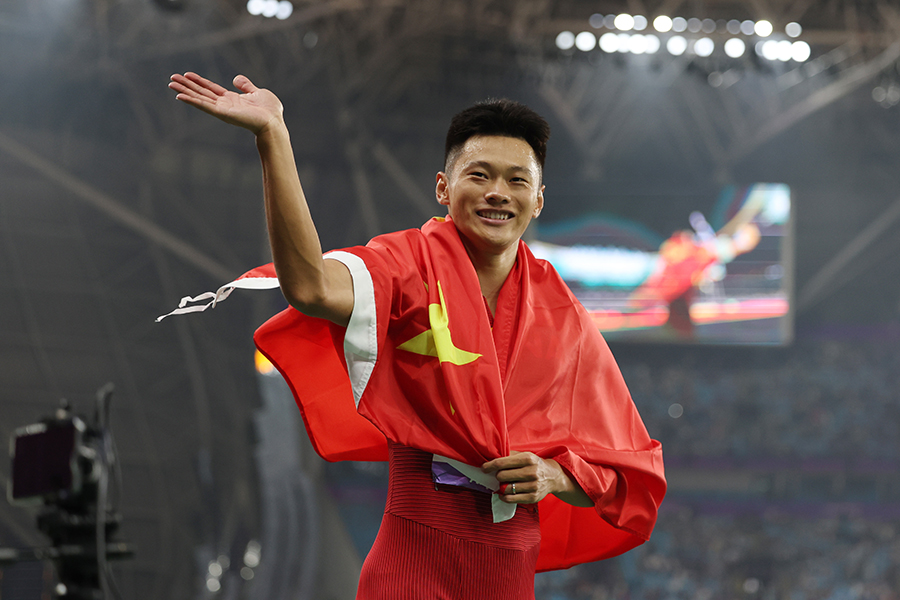 Athletics undeniably stands out as one of the most popular sports categories at the Hangzhou Asian Games.
The diverse array of sports sees the athletes push the limits of fundamental human abilities, with the events' simplicity and easily understandable rules making them highly engaging.
Spectators can also appreciate the distinct physical attributes of the athletes participating in the various disciplines such as sprinting, long-distance running, high jump, long jump, and the throwing sports.
Among all the events, the most eagerly anticipated is the 100-meter sprint. The briefest, yet arguably most intense, race represents the pinnacle of human speed.
This is why the Hangzhou Olympic Sports Centre Stadium was packed with more than 40,000 spectators on Saturday night, as the quickest men and women on the continent gathered to contest the 100m finals.
Amid the deafening cheers of the home crowd, Chinese sprinter Ge Manqi clinched the women's 100m title in 11.23 seconds. Veronica Shanti Pereira of Singapore secured the silver medal, trailing by a mere 0.04 seconds, while Hajar Saad Saeed Saad Alkhaldi of Bahrain claimed the bronze in 11.35.
With Ge proudly waving the Chinese flag during her victory lap, the stadium descended into darkness, accompanied by the melodious notes of the song The Brightest Star in the Sky.
In that moment, every spectator turned on the flashlight of their phones and swayed their arms to the music's beat, transforming the stadium into its own twinkling firmament.
It was the very first Asian Games gold medal for the 25-year-old, and comes on the back of a particularly tumultuous 12-month journey, which has been punctuated not only by persistent injuries, but also the loss of her longtime coach, Liu Zhaoxu, who succumbed to a heart attack in November. His passing left a deep void in her life.