Young explorers find feet with city walks
Share - WeChat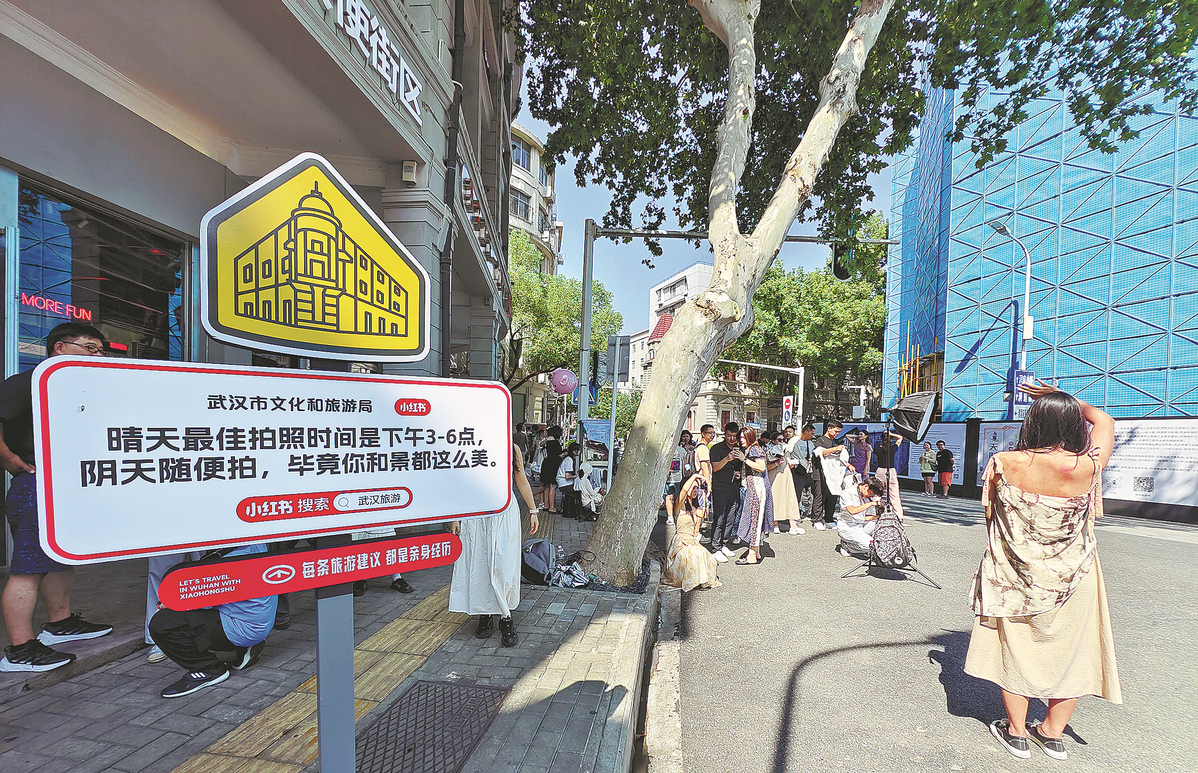 Slow-paced and immersive experience provides fresh perspective on urban life
It's a pleasant and breezy day in Tianjin, as 21-year-old Liang Jieyi strolls through the heart of the city, enjoying the architectural beauty of the old but extremely well-preserved buildings along the route.
"City walk is the coolest and most trendy way to explore a place, especially for young people," she announced.
According to a recent article posted on the WeChat account of the Ministry of Culture and Tourism, "city walk" is the new and leisurely way to explore. The emphasis is on a slow-paced and immersive experience in urban areas rather than the "military-style" travel of yore which meant visiting as many attractions as possible in a very short time.
Liang, who hails from Shanxi province, said she first discovered this mode of sightseeing through the lifestyle platform Xiaohongshu earlier this year. There were hundreds of photographs posted on the platform by users, all taken as they walked along streets with views of myriad attractions.
"I found the pictures very attractive. It was around April or May and the country had just relaxed travel restrictions after the pandemic and I was a little worried about long distance travel. The emergence of the city walk trend was timely for me. It seemed an ideal way to see places," she said.
According to Liang, this is an inexpensive way to be trendy. "I visited Beijing and Wuhan, Hubei province, during summer and got to see traditional Chinese architecture and Western-style buildings as well. I didn't set myself a specific route or very tight schedule, I just walked randomly through districts with beautiful buildings and great food. To my surprise, the photos I had taken to share my 'walks' through Beijing's hutongs have been liked by hundreds of people on Xiaohongshu," she added.
Slow but fashionable
Over the summer break, a wave of fashionably dressed young people flocked to Kaifeng in central China's Henan province to explore the city that was the ancient capital of eight dynasties through a trendy city walk.
They eagerly shared fresh perspectives and travel encounters on various social media platforms, adding new layers of appreciation to the city's rich tapestry.
City walk, or meandering through the urban landscapes, means the act of walking freely along city streets unburdened by exhaustive plans and cumbersome bags. Such a convenient form of travel has emerged as a prevailing trend among young people in China, offering them an avenue to intimately experience urban culture and local traditions.
Nestled in the eastern expanse of Henan and along the southern banks of the Yellow River, Kaifeng's historical roots extend over two millennia.
"Kaifeng is one of China's first national historical and cultural cities, boasting a deep-seated cultural heritage. It's an ideal destination for unhurried exploration, encouraging visitors to take a leisurely pace as they step into Kaifeng's embrace," said Wei Peishi, head of the city's cultural, radio, film and tourism bureau.
After appreciating the bustling ambiance of the Gulou business district, a tranquil shift awaits on Shengchanhou Street where blue bricks, grey tiles and stone pathways form an aesthetic canvas.
Tucked away on the street's northern flank lies the "A Beam of Light" bookstore warmly welcoming book lovers with its eclectic collection and captivating aura featuring calligraphy, paintings and inscriptions.
"During the Song Dynasty (960-1279), Kaifeng thrived with a blossoming commodity economy and vibrant cultural interactions, leading to the rapid growth of bookstores," said Zhou Bing, who runs the bookstore.
"Our aim behind selecting this location is to offer customers a glimpse of the historical era, allowing them to delve into the rich legacy of the Song Dynasty," Zhou added.
The Fuxingfang Block, where Shengchanhou Street is located, is home to more than 10 streets, 163 courtyards, six cultural relics protection units and over 30 historical buildings.
"In recent years, we've undertaken a revitalization drive, transforming aging blocks into a cohesive hub of historical and cultural significance integrating daily life, work and travel," said Xu Wenqiang, who works for the Xiangguo Temple Street in Gulou District.
"The dilapidated streets and alleys have been infused with new life through renovation, and an array of bookstores, studios, traditional handicraft workshops and art galleries have opened here," Xu said.
As evening descends, Kaifeng's streets transform into a vibrant snack market, with numerous trucks orderly parked.
Amidst a medley of enticing aromas and lively vendor calls, visitors can be seen savoring various snacks and delicacies.
"The essence of Kaifeng's cultural tourism lies in the profound culture of the Song Dynasty. Through cultural tourism products with different themes, including architecture, cuisine and opera, we aim to help visitors gain a deeper appreciation of Kaifeng's history and heritage," Wei said.
There has been a surge in searches for city walk destinations and strategy guides, to tell you for instance which route to take, on travel portals and social media platforms.
Travel portal Qunar said the sharing of strategy guides by users with city walk as the keywords skyrocketed by 400 percent when compared to the same period last year. Cities including Beijing, Xi'an in Shaanxi province, Chengdu in Sichuan province and Chongqing are popular city walk destinations among users.
Lifestyle platform Xiaohongshu recently released a report that said that in the first half of this year, searches for posts on city walks surged 30 fold year-on-year.
Ocean Engine, a marketing services provider, said that short videos uploaded under the theme "city walk" on video sharing platform Douyin shot up by 26 times between May and June, compared with the same period last year.
Xiao Peng, from Qunar's big data department, said that young people prefer relaxed and leisurely travel, rather than whistle-stop tours with tight itineraries, which is why the city walk trend is growing in popularity among young people.
"In our daily lives too, we discover a city's history, culture, views and food during random walks. The emergence of city walk has helped balance tourism revenue in peak and slack seasons, promoting the development of the tourism industry in urban areas," he added.
Sun Yilian, a 23-year-old cosmetics salesperson from Beijing, said that going on a city walk is a more affordable way of traveling for her, compared to long distance trips.
"I'm saving money for a five-day trip to Xinjiang Uygur autonomous region next year, so I stay on a budget when sightseeing with my friends during short breaks. That's fine with me because Beijing is a good city for city walks. It has the very old hutongs and traditional palaces and also very modern buildings. It's a big city and my friends and I always find something new and beautiful during the walks," she said.
She added that she sticks to a daily budget of around 100 yuan ($13.7) for every city walk outing.
"My friends and I meet at a cafe and order a cup of coffee, which usually costs 30 to 40 yuan and then we take photos at the cafe. After enjoying coffee, we choose a destination — like the Summer Palace or 798 Art District — to explore," she explained. "Entry tickets in some places can cost up to 50 yuan per person, but the experience is priceless."