COP28 president-designate praises China's green transition
Share - WeChat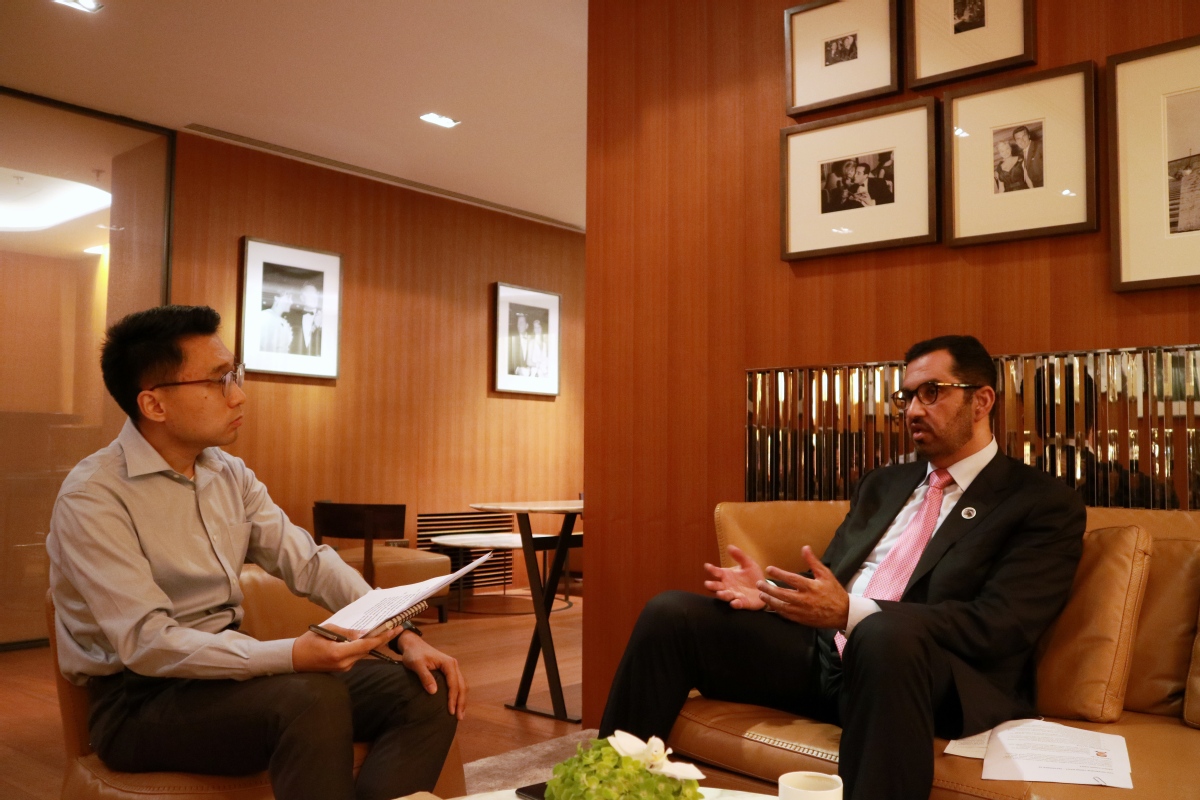 Sultan Ahmed Al Jaber, president-designate of the COP 28 United Nations climate change conference, praised China for its leadership role in facilitating the world's green transition and promoting renewable energy, and said he has received "overwhelming support" from the Chinese government.
Such support is crucial to make the summit a historic one with unprecedented results to be delivered, he said in Beijing on Tuesday in an exclusive interview with China Daily.
"China has always been an active participant in the COP process and a strategic partner to the UAE," said Al Jaber, also the United Arab Emirate's special envoy for climate change and minister of industry and advanced technology.
Al Jaber made the remarks half way through a two-day visit to Beijing, his second trip to China this year in the run-up to the 28th Conference of the Parties of the United Nations Framework Convention on Climate Change, or UNFCCC.
Commonly known as COP 28, the global climate summit will take place from Nov 30 to Dec 12 in Dubai, a constituent emirate of the UAE.
Al Jaber said that fossil fuels will continue to be drilled to ensure global energy security despite "alarmist" calls to end their use overnight. However, countries – rich and poor alike – must fast-track an orderly transition from oil and gas to cleaner energy sources ranging from solar to wind to hydrogen to avoid climate disasters.
"The world cannot unplug from the current energy system before we build the new energy system. Instead, we want to continue to decarbonize the oil and gas sector," he said.
He noted that fossil fuels cannot be eliminated even in the most progressive plan to reducing the world's carbon footprint. "Oil and gas will continue to be needed to meet the global energy requirements."
Al Jaber cited the decarbonization drive targeting the conventional energy sector in UAE – now an oil-producing country with the lowest carbon intensity – as an example to illustrate the more "pragmatic" and "results-driven" approach that he has advocated to ensure the success of the upcoming meeting.
Over the past two decades, UAE made its oil industry more climate friendly through methods such as electrifying operations and adopting carbon capture and storage technologies, and commercialized renewable energy, he said.
"I want solutions. I don't want an alarmist type of approach. I want to strike a balance between passion and realism," he said, adding that the world needs to triple renewable energy supply and bolster efficiency in the conventional energy sector to achieve a "fair, just, equitable and responsible" transition to climate-friendly energy sources.
To make the transition viable, the president-designate said that the climate finance system must be revamped so that the global south can deliver their emission-reduction objectives.
He said he also counts on the developed country to deliver a promise they made in 2009 to give their developing counterparts $100 billion a year to help fulfill their green transition.
"The fact that finance has not been made available, accessible or affordable has delayed progress… and that's why the Paris Agreement has not been implemented very much," he said, referring to the agreement reached by world leaders in 2015 to best keep global temperature increases below 1.5 C compared with pre-industrial levels.
The UNFCCC Secretariat earlier this month released a report on the first Global Stocktake, which measures progress towards meeting the goals of the Paris Climate Change Agreement since 2015.
The report said that the window to raise ambition and implementing existing pledges to limit warming to 1.5 C above pre-industrial levels is narrowing rapidly, and international public finance must be strategically deployed to avoid climate disasters.
Al Jaber said: "Unfortunately, it has been proven that there has not been much progress. We are way off track."
He said he wished to restore confidence at COP 28, and use the event as a vehicle to turn rhetoric into actions and workable timelines, in the hopes of successfully reducing 22 giga tons of greenhouse gas emissions by 2030, which Al Jaber said was his "north star" and the baseline requirement to keep the 1.5 C target within reach.
"We should no longer be pointing fingers at anybody thinking they are the problem. Our enemy is emission," he said.
Li Menghan and Hou Liqiang contributed to this story.