Chongqing forum seeks cooperation in vocational training with ASEAN
Share - WeChat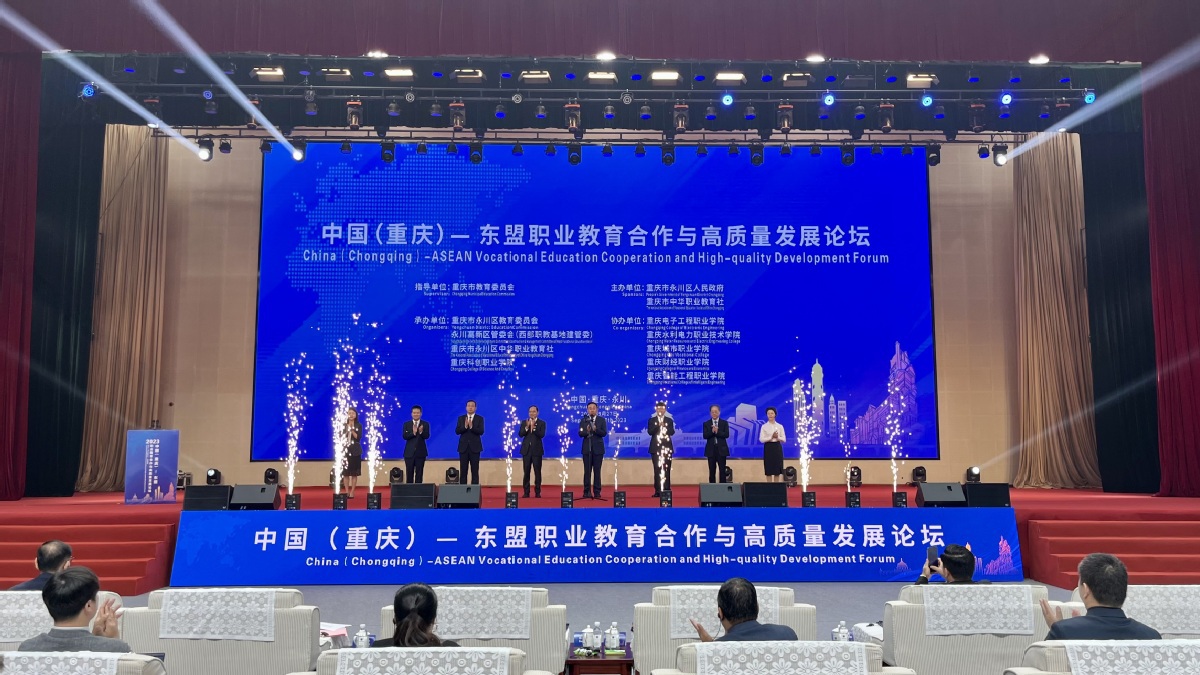 Facing a changing manufacturing landscape and increasing demand for skilled workers, the Chinese government is calling for investment in vocational education with increasing urgency to improve the technical capabilities of its workforce.
In order to fulfill its need, China is looking to its partners in ASEAN to deepen cooperation in vocational training and create a regional development community for vocational training and economic integration.
An international forum got underway in Chongqing on Wednesday, with representatives of vocational colleges and enterprises from the municipality and from the ASEAN countries of Cambodia, Malaysia, Laos, the Philippines, Thailand and Singapore, as well as from South Korea, gathering to discuss ways of working together.
The opening ceremony of the China (Chongqing) — ASEAN Vocational Education and High-quality Development Forum hosted a group signing ceremony for international cooperation projects between six colleges from the Western China Vocational Education Base and six ASEAN colleges like Chiang Rai Rajabhat University in Thailand.
China has built the world's largest vocational education system, emphasizing both degree programs and vocational training, according to a report by the Ministry of Education.
Located in Yongchuan, a hub for modern manufacturing in the Chengdu-Chongqing Economic Circle, and with a total of 17 colleges and universities, the Western China Vocational Education Base has become one of the leaders in vocational education training in western China.
Chongqing Creation Vocational College, the organizer of the event, has cooperated with more than 10 colleges in seven ASEAN countries in multiple programs, said Yin Chaohua, vice-president of the college.
The college, established in 1993, is among the top five private vocational colleges in China.
"Each year, some 30 senior management personnel from Cambodia join the Silk Road Program for the Chongqing People's Government Mayor Scholarship," he said.
To support Chongqing's colleges and universities in implementing niche projects for countries participating in the Belt and Road Initiative, Chongqing's scholarship project has held 61 training sessions focusing on education management, information science, rail transportation, medical care, elderly care, modern logistics and e-commerce.
The program has cultivated and trained more than 2,000 middle and senior managers and technical personnel from 65 countries. Chongqing's higher vocational colleges have organized 22 overseas education projects such as the Panda Workshop and the Luban (a renowned craftsman in ancient China) Workshop, and opened Rural Revitalization Colleges in countries such as Thailand, Laos, Myanmar and Sri Lanka, according to the organizer.
A total of 34 Cambodian students have just finished a monthlong training at Yin's college. The curriculum included digital trade, cross-border e-commerce, artificial intelligence as well as Chinese culture.
To learn smart manufacturing, the students received field training in the Yongchuan workshops of Chinese automaker Great Wall Motor and scooter manufacturer Yadea.
"The program improves collaboration between our two countries in multiple digital platforms," said Cambodian student Choy Reach after receiving his graduation certificate at the event. "I'm planning to study AI in Yongchuan if I'm lucky enough to be enrolled in next year's training."
"China, with its remarkable achievements in technological advancements and a robust vocational education system, stands as an exemplary model for nations across the globe," said Ly Thuch, senior minister in the Cambodian government and head of the United Nations National Committee for Economic and Social Commission for Asia and the Pacific, while delivering a speech at the opening ceremony of the event.