Movie of Volunteer Army to release in Chinese mainland, HK, Macao at same time
Share - WeChat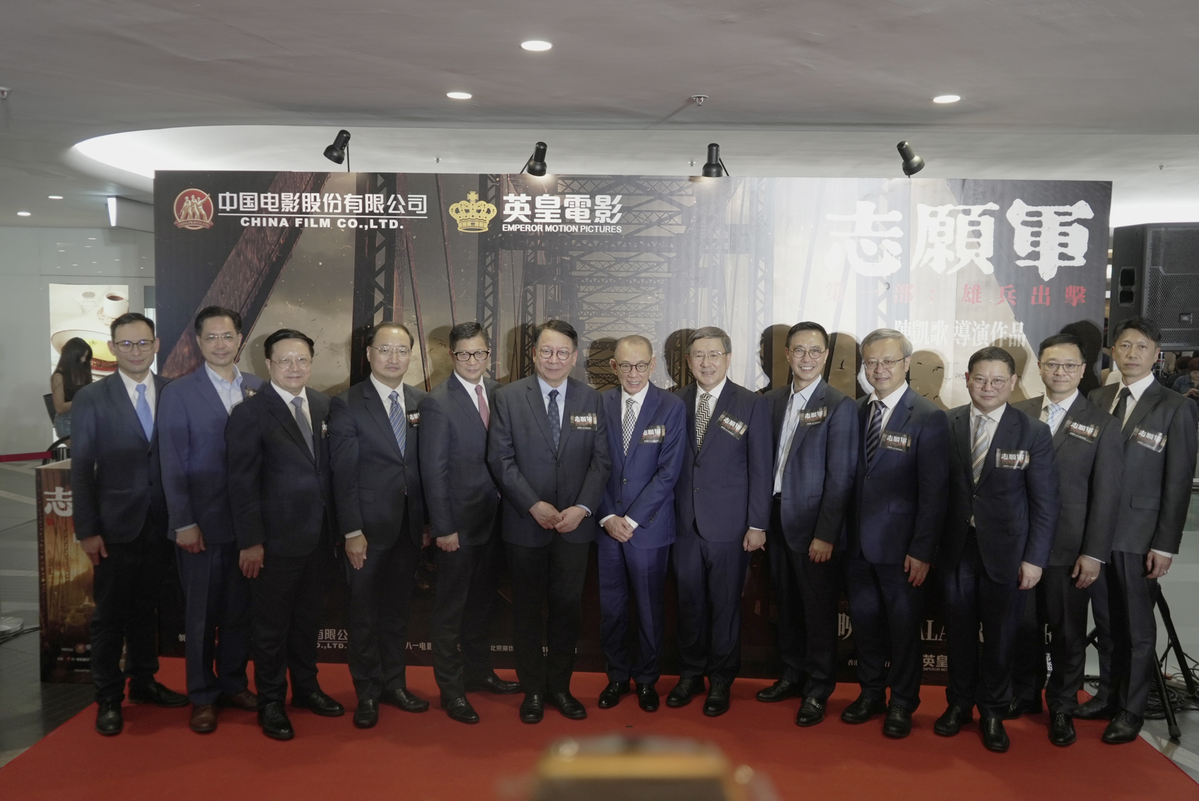 A gala premiere of The Volunteers: To the War, a movie about the Chinese People's Volunteer Army, is to be released on the Chinese mainland, Hong Kong and Macao simultaneously on Sept 28.
At the ceremony in Hong Kong Wednesday evening, Eric Chan Kwok-ki, Hong Kong's chief secretary for administration, noted the special administrative region is also celebrating the 74th anniversary of the founding of the People's Republic of China.
Directed by Chen Kaige, the movie is the first in a planned trilogy about the Korean War. Its cast includes Xin Baiqing, Zhang Songwen, Huang Xiaoming, Zhang Ziyi, Zhu Yawen, Zhang Zifeng, Yin Fang and Wang Chuanjun.
Chan said the history of the War to Resist US Aggression and Aid Korea (1950-53), known as the Korean War in the West, is deeply imprinted in the minds of all Chinese people.
"The movie tells the story of how China made the historic decision to protect the country by helping the Democratic People's Republic of Korea to resist the United States and to send the Chinese People's Volunteer Army to join the war in the DPRK," said Chan. "By doing so, it pays tribute to the nation's heroes, which is of great significance."
Chan said he believes the trilogy will help inspire Hong Kong citizens to strengthen their sense of national belonging and patriotism.
The premiere was also attended by officials from the Liaison Office of the Central People's Government in the Hong Kong Special Administrative Region among others.
Alex Yeung, vice-chairman of Emperor Motion Picture and the movie's executive producer, said he was impressed by delicately designed props such as tanks and fighters, and that scenes such as the Yalu River Bridge were made in a 1:1 scale.
Yalu River Bridge, which was built in 1937 was the only land route connecting China's Liaoning province to North Pyongyang province of the DPRK.
"The whole production team had nearly 2,500 people, with over 100 main actors," said Yeung, noting that the movie was produced on an unprecedented scale. "I believe that audiences will be impressed by the high level of authenticity."
The movie was produced by China Film Co, with the Emperor Film Distribution (Beijing) Company as a co-producer. It is being distributed exclusively by Emperor Motion Pictures in Hong Kong and Macao.
With China's National Day fast approaching on Oct 1, Yeung said he expects to see Hong Kong moviegoers attend theaters in big numbers to watch the film and gain a better understanding of the nation's history.
Contact the writers at kelly@chinadailyapac.com