Bumpy road ahead as Hong Kong strives to regain chips crown
Share - WeChat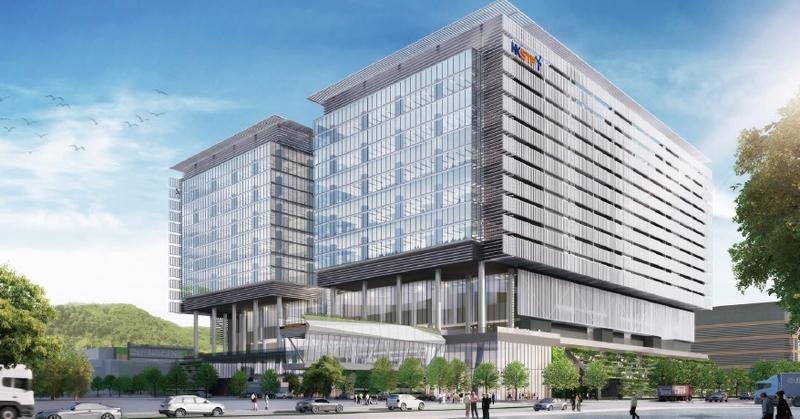 On the fifth floor of an office building at the Hong Kong Science Park, along a hallway lined with other tech startups, is the headquarters of PDL Technology — a young semiconductor company in a city that has experienced one of the world's most rapid deindustrialization drives.
Amid a 500-square-foot (46.5-square-meter) workspace with several employees, computers for research, and tables strewn with spare components and motors, PDL Technology's founder and CEO Alfred Lau had just completed testing the chips they had designed.
The test results were satisfactory to Lau and his team, showing that their invention could achieve energy savings of up to 20 percent, compared with chips used by Foshan-based Midea Group — a leading Chinese mainland manufacturer of electrical appliances.
More importantly, this could be a "bargaining chip" for the money-losing chip designer to pitch an order that would be large enough to secure much-needed funds.
Founded in 2018, PDL Technology has been working on the research and design of motor chips commonly used in household appliances, electric cars, and intelligent robots.
Unlike the conventional design of chips in three-wire, three-phase motors, Lau's patents in motor drives for six-wire applications could significantly improve the chip's performance.
Lau likens his innovation to the advent of LED light bulbs, describing it as a "breakthrough" in the industry that will change the world of electronics.
But, over the past five years, he has had to embrace the harsh reality of tepid market responses and seemingly unreasonable requirements from venture capitalists.
"The company got stuck as we found it difficult to commercialize our ideas, while early-stage funders always ask for an order from big names before making an investment," laments Lau, adding the business has been hinging on "family money" and public funding of about HK$4 million ($513,000).
Just before being interviewed in late July, Lau was preparing for upcoming sales pitches with Midea Group and another mainland-based home appliance firm, Haier Group, due to be held in the coming weeks.
He has every confidence in his innovation, but there is still a question hanging over the market's response.
Lau's entrepreneurial experience offers a glimpse into Hong Kong's semiconductor industry, which is supported by merely a small handful of veterans and reeling from a myriad of challenges in commercialization.
"Times have changed," notes Lau, who began his career in multiple electronics companies after obtaining his master's degree from the University of Hong Kong in the 1980s, when the city could boast of being a leading part of Asia's semiconductor value chain.
According to Lau, Hong Kong was then seen as a hub for internationally renowned electronics enterprises to set up their regional offices, while engineering was one of the most sought-after majors for the young generation, alongside medical science.
Motorola's expansion in the city was a case in point.
In 1982, the US electronics giant inaugurated a multimillion-dollar facility in Kwai Fong. An advanced integrated circuit design center and a fully automated assembly center were added in 1986 and 1988, respectively.
The 326,000-square-foot Silicon Harbour Centre soon followed, opening in 1990 in Tai Po. It housed Motorola's Asia-Pacific headquarters, which includes design, computational, and manufacturing facilities for advanced semiconductors and microprocessors.
Catching up
Hong Kong's chipmaking boom was halted after it repositioned itself from a manufacturing to a services-oriented economy.
Electronics companies in the city, including Motorola, had outsourced their production to low-cost destinations on the mainland and in other parts of Asia.
"The big names have all moved away and my former colleagues have long since left the sector," says PDL Technology's Chief Technology Officer Terrence Li, who was a former engineer at Motorola Hong Kong. "One of them now teaches tennis for a living as there are no suitable jobs in the electronics business here."
But, compared with the decline of Hong Kong's semiconductor industry, the global picture has presented a completely different scene in the past decades.
According to Boston Consulting Group, the semiconductor market grew at a 7.5 percent compound annual growth rate from 1990 to 2020, outpacing the 5 percent growth in global economic output during that time.
As ubiquitous components in modern electronic devices, semiconductors — also referred to as integrated circuits or microchips — are considered a major play in today's economy and future technology, with governments and companies across the globe investing heavily in research and development to maintain competitiveness and innovate.
Lau and Li agree that Hong Kong's chip sector is lagging far behind those of other economies, and should do all it can to catch up.
Yiu Hing-leung, chief corporate development officer of Hong Kong Science and Technology Parks Corp, says the semiconductor business is expected to keep playing a prominent role in the next decade as further advancements in chips will be essential to support a new wave of transformative technologies, including 5G, artificial intelligence and internet of things.
"By developing the microelectronics or semiconductor chip industry, it will facilitate the development of new industries in Hong Kong and promote economic diversification," Yiu says, adding that the goal also reflects the Hong Kong Special Administrative Region government's initiative to develop "new industrialization", which is seen as a driving force to realize industrial-added value and long term economic growth.
In a broader sense, semiconductors determine who has the say in the next generation of technology standards.
This strategic importance has triggered a high-stakes conflict between China and the United States over semiconductor supply chain access, offering Hong Kong huge space to play a bigger role in the global chip race.
Last year, US President Joe Biden's administration toughened controls on exports to China of manufacturing equipment for advanced semiconductors used in supercomputers and artificial intelligence.
The tech battle between the world's two largest economies is escalating after US allies followed suit to keep chip technology out of China's hands.
The Netherlands — home to the world's most valuable chip tool maker ASML — said in June it would restrict sales of certain high-yield chipmaking equipment to China after coming under pressure from the US.
And Japan recently added 23 types of advanced semiconductor-manufacturing equipment to its exports control list, including tools for extreme ultraviolet lithography, and etching equipment for stacking memory devices in three dimensions.
"Restrictions from two of the world's biggest suppliers of semiconductor equipment have dealt a blow to China's chipmaking ambitions, and this makes it even more imperative for the country to become technologically self-reliant," says Linus Yip, chief strategist at First Shanghai Securities.
Amid mounting geopolitical tensions, the HKSAR government has come up with plans to fill the country's technological gap.
In the Innovation and Technology Blueprint issued in December, the semiconductor sector was listed as one of the "strategic industries" as part of efforts to turn the city into a global innovation and technology hub.
Among the chip-tech push is HKSTP's Microelectronics Centre (MEC) in Yuen Long — a 36,000-square-meter facility due to start operation next year.
It will provide pilot plants and infrastructure including clean rooms for fabrication and shared laboratories for testing.
The MEC project, together with the Microelectronics Research and Development Institute announced in Financial Secretary Paul Chan Mo-po's latest budget, is intended to relieve the city's chronic difficulty in bringing chip research ideas to end products.
The government's support is solid, while the exact mechanism of deployment and its efficacy in connecting the dots from research to innovation to commercialization has yet to be proven. Moreover, the potential for semiconductor startups to tap into new infrastructure is hard to evaluate.
According to HKSTP statistics, 10 microelectronics startups and enterprises have so far shown interest in setting up operations at the MEC. Some said they are looking for more space, not just at the facility.
As for the finance chief's research institute, there has not been any substantive progress or relevant plan.
Realizing the dream
To help Hong Kong rejuvenate its semiconductor sector, greater efforts are needed to strike a balance between the government's policy and the industry's business interests, Lau suggests. The administration could find industry experts and set up a separate task force or consultancy group to jointly steer the industry's development.
Besides, a well-planned scale-up of the local electronics ecosystem is a prerequisite for achieving material progress in semiconductor technology, says Humphrey Leung Kwong wai, who founded Solomon Systech — a semiconductor company which provides display chips, and went public on the Hong Kong Stock Exchange in 2004.
Leung believes the HKSAR can do well in all areas in the microelectronics industry chain, including design, manufacturing, application, and channeling. But manufacturing should be the last to be developed.
"Manufacturing is the trickiest part because it relies on a lot of things, such as materials, equipment, and, more importantly, capital," he explains. "The technology window is also very short. You have to utilize your capital in a very short period of time, which means you need to have plenty of customers using this technology. This is what Hong Kong may be lacking," says Leung.
Meanwhile, efforts to boost the chips industry have to be matched by sustained programs in training, retaining, and wooing semiconductor talents, says Tsui Chi-ying, head, and professor at the Division of Integrative Systems and Design at the Hong Kong University of Science and Technology.
Hong Kong's capability in microelectronics research and development is real. Five local universities that offer electrical and electronics engineering courses are among the top 100 tertiary educational institutions globally, according to the latest QS World University Rankings. However, the competition for such talent is fierce, with tech enterprises outside the city offering chip designers with 5 to 10 years of experience jobs carrying an annual salary equal to millions of Hong Kong dollars.
"Some HKUST graduates have left Hong Kong due to poor career prospects, but the supply of talents will not be a problem if there are enough opportunities for research and development," says Tsui.
For better or worse, there is a general consensus among the industry that Hong Kong's chip push will be part and parcel of remaking its economy.
It may succeed in helping the Asian hub reindustrialize itself, creating quality jobs, and serving the nation's needs for technological self-reliance.
It's all a bit reminiscent of Chief Executive John Lee Ka-chiu's inauguration last year — the time he triumphantly said his new governing team would adhere to "the philosophy of being result-oriented".
Now, the administration has clearer feedback, along with a plethora of challenges that need to be addressed. As to how the Asian hub can realize its goals and achieve results, the world eagerly waits to find out.