Yearning for ways to revive the 'golden days'
Share - WeChat Hong Kong is relying on "quality tourism" to reclaim its hospitality crown for visitors by organizing more conventions, as well as cultural and green lifestyle tours. Jessica Chen and Zhang Tianyuan, report from Hong Kong.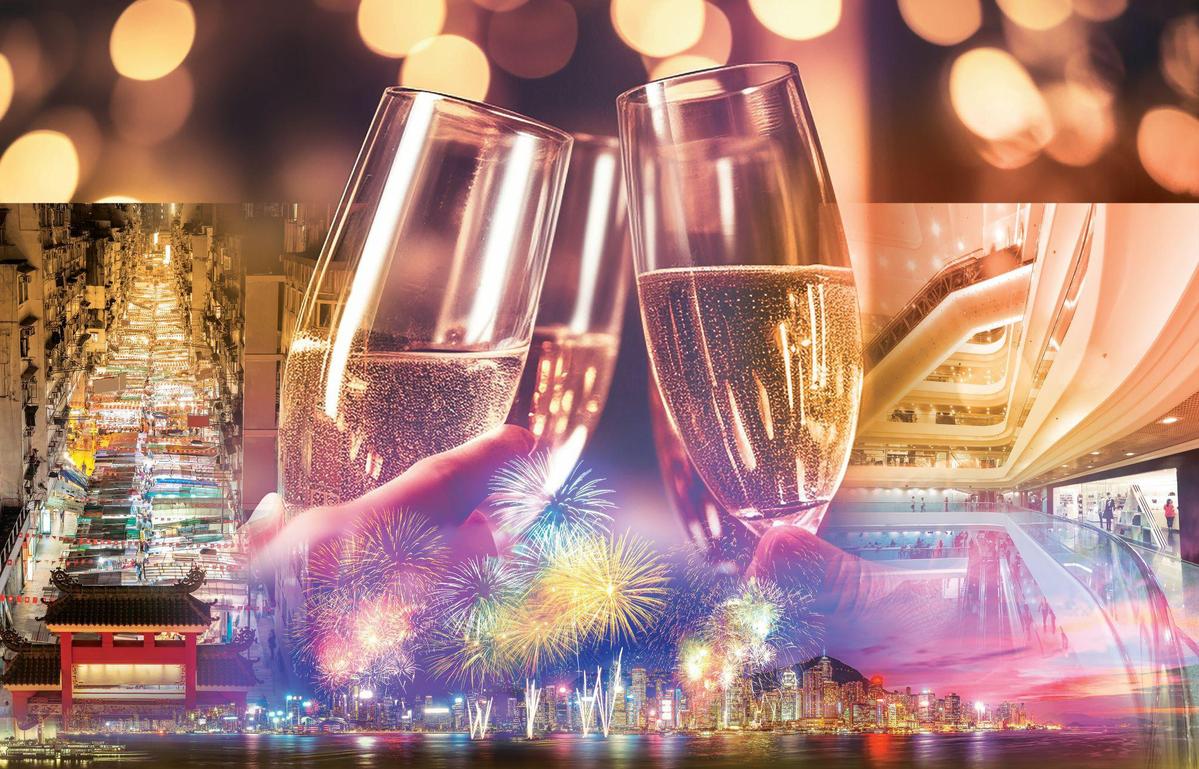 Recent headlines about a city desperate to cheer itself up after years of disruptions by social unrest and the COVID-19 pandemic, do not seem to have paid off. The heaviest rainfall to hit the special administrative region in more than a century soaked it as a typhoon disrupted travel, classes and social life. It was a bumpy restart for the Asia's world city as it attempts to recapture its pre-pandemic glory, and a tourism industry looking to power the city's return as Asia's top shopping paradise.
From spending to saving
June Ye's two-day trip to Hong Kong began with the biggest giveaway ever from Hong Kong Airlines. But the free air tickets offered to travelers between Chinese mainland cities and the SAR failed to generate the expected revenue, as savvy travelers like Ye had their fingertips on the Xiao Hong Shu app — an Instagram-like virtual community of "knowhows" and reviews for mainland tourists to get their best buys, while avoiding spending an arm and a leg on luxuries that can be bought, if not cheaper, elsewhere such as Hainan.
Ye's travel itinerary began with an eight-hour walking tour of Sheung Wan on Hong Kong Island in search of "real bargains" of less-than-HK$100 ($12.8) essential oils, with lower-than-usual prices offered in a small, cramped shop with commodities piled from floor to ceiling.
After snaking through a path packed with ginseng dispensaries and antique stores, Ye and her friend had a taste of "gourmet Hong Kong" in a noisy, overcrowded noodle shop. Their stay for the night was also value-for-money — two narrow beds with a humble lobby at an inn-like hostel converted from a dilapidated building in Fortress Hill. A meager HK$600 per night was enough for Ye to win more followers with her "money-saving, experience-rich" trip in Hong Kong.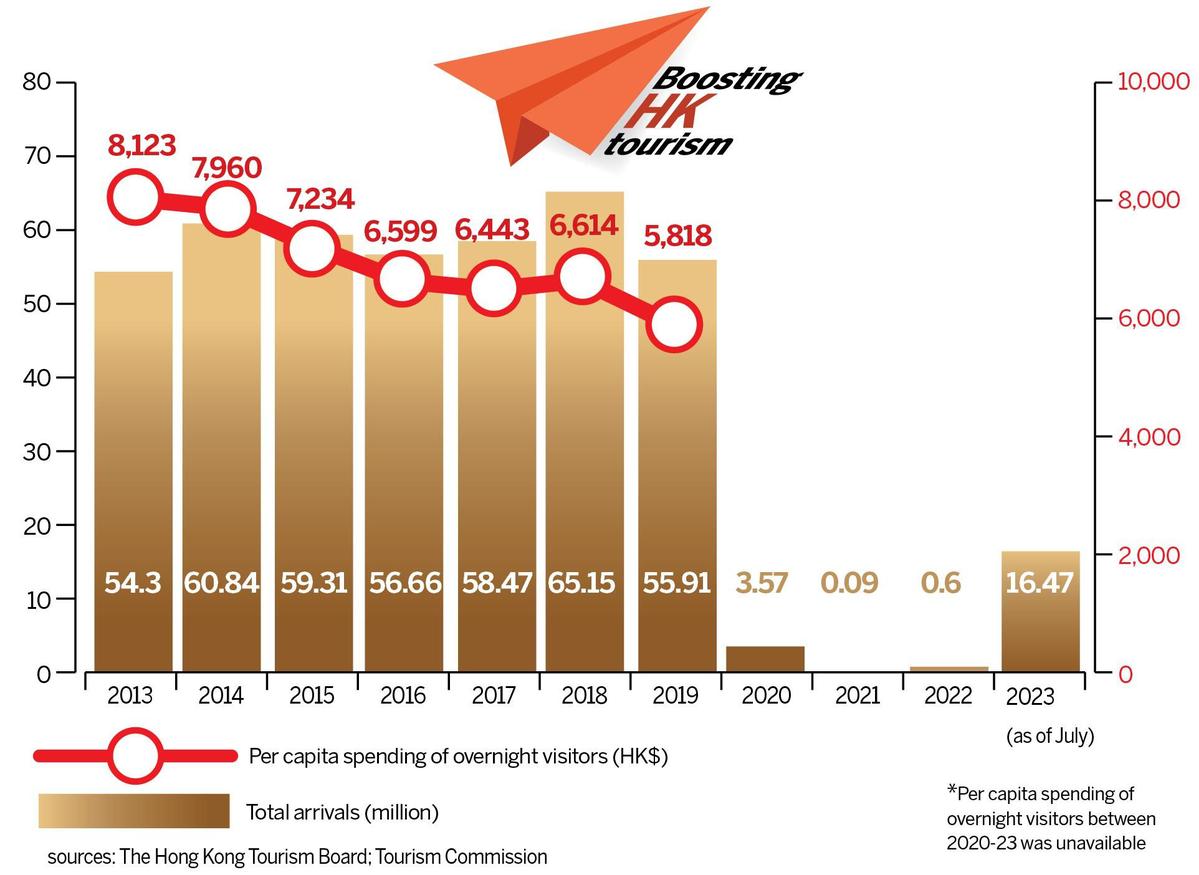 As "military-style" tourism, which involves traveling to as many scenic spots in the shortest time possible and spending the least money, goes viral among young mainland people, it has taken its toll on the city's tourism sector — the spike in visitor numbers in the post-pandemic era has failed to generate the proceeds expected.
What the SAR is experiencing is challenging. The city's tourism industry needs to respond quickly to change and reposition itself to thrive in the future.
Professionals and entrepreneurs with grit and wit, however, see the uncertainties as a "golden time" for structural reform that would allow the free-wheeling economy to turn the situation around and embrace high-quality growth. The hospitality and tourism sector — once the city's pillar industry and image builder — has in the past been able to outwit the challenges and outperform competition from regional rivals like Singapore.
Tourism behemoths have called on the city to focus on cultivating "quality" tourism — luxury facilities and services affluent individuals are willing to shell out for. This shift is a departure from mass tourism emphasizing total number of visitors, as the industry found its revenue slipping even at the peak of the pre-pandemic period.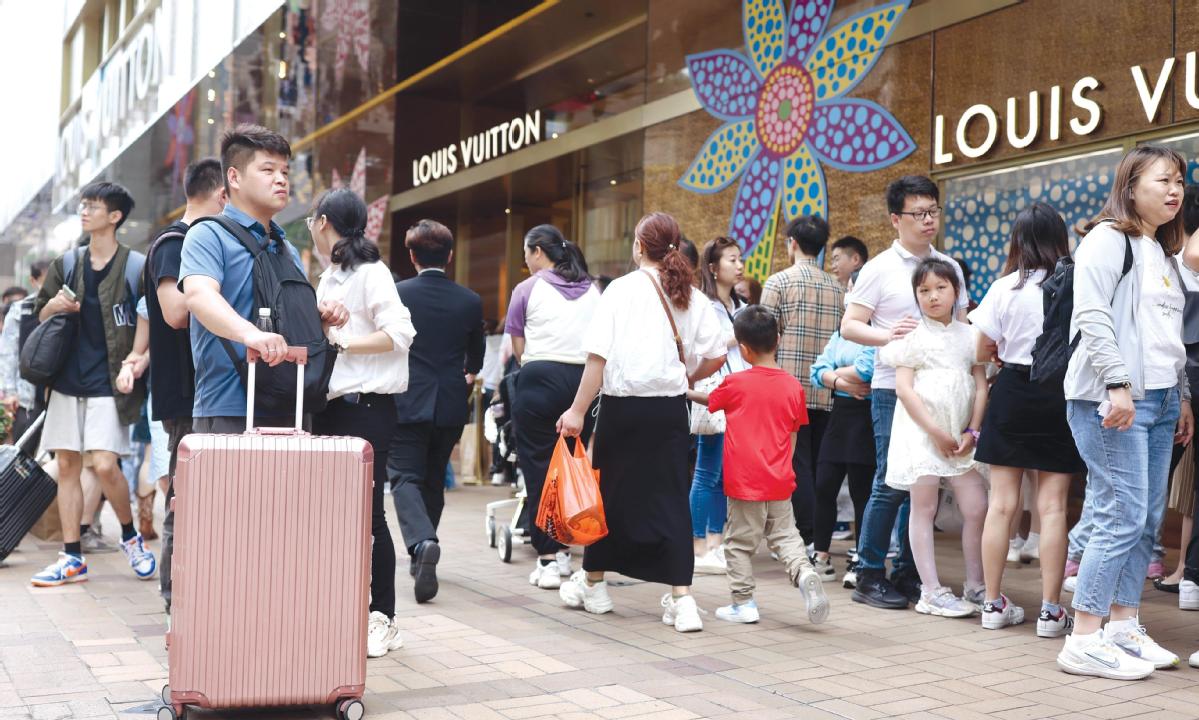 Hong Kong's tourism business endured a roller-coaster ride following 2019 and subsequent lockdowns amid COVID-19. The total number of visitors arriving in July stood at 3.6 million — up 31 percent from that of the previous month, but still 35 percent below the figure for the same month in 2018 — according to the Hong Kong Tourism Board.
Despite the visitor influx showing overall growth in the past eight months since the SAR reopened to the world, consumption power is flagging. The latest retail sales for July were HK$33 billion — down from the HK$34.5 billion recorded in May and HK$33.1 billion in June. The lower purchasing power has dented the city's tourism recovery.
Even during the halcyon days when growing numbers of travelers crowded the streets clamoring for luxury goods, they failed to generate satisfactory income for local enterprises. In the past decade, the international trade hub had seen the highest per capita spending of overnight visitors at HK$8,123 each in 2013. Spending fluctuated before hitting rock bottom in 2019, when the per capita spending of overnight visitors stood at HK$5,818, according to the HKTB's latest data.
Secretary for Culture, Sports and Tourism Kevin Yeung Yun-hung said in April the SAR is striving to lure high-spending visitors, including international travelers and overnight visitors, with measures, such as organizing more conventions and exhibitions, cruise voyages, immersive cultural and heritage tours, as well as green lifestyle tours.
However, the government still emphasizes quantity in terms of visitors, rather than their expenditure. A promotional Hello Hong Kong campaign and night bazaars were launched, while free airline tickets were offered to visitors in an attempt to restore the city's reputation and shore up business.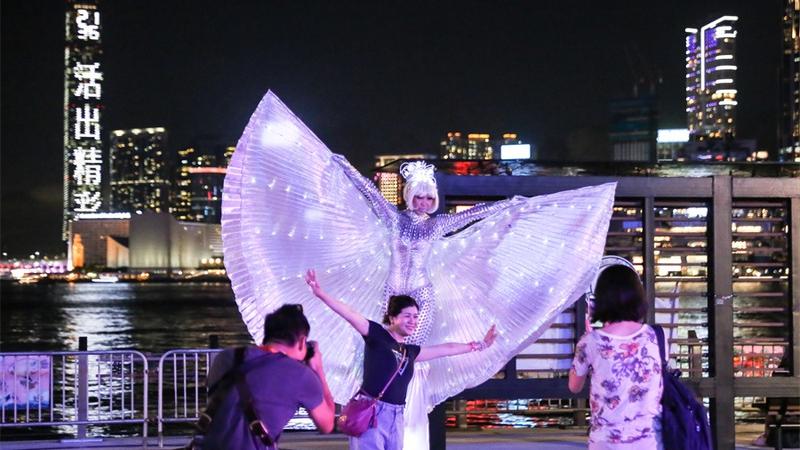 Quality tourism: the way out
Given consistent global inflation and high travel costs, Song Haiyan, associate dean and chair professor at the School of Hotel and Tourism Management at the Hong Kong Polytechnic University, said he expects the relatively low per-capita tourist expenditure to persist for "at least the next three to five years".
"Hong Kong should not rely on mass tourism," he stressed, noting it often involves "package deal" visitors with limited spending. He suggested focusing on developing wellness, medical or sports tourism. "Hosting internationally renowned music bands in Hong Kong would be a significant attraction for younger tourists worldwide," he said.
Song said it's vital to offer high-end accommodation for travelers. "In the past, most hotels primarily catered to businesspeople. To encourage tourists to stay longer and spend more, we should have top-quality hotels with wellness spas and excellent facilities."
Giovanni Angelini, founder of Angelini Hospitality, agreed that the city should focus on and invest in two potential sources of "quality" visitors, or high spenders — one hosting top-class international conventions and conferences that have far-reaching or groundbreaking consequences. "It's not just about prices. It's about people's experiences and values."
"The second source, the other low-hanging fruit, is to make the city home to year-round musical or theatrical performances and high-culture events, as well as sports games, including, but not limited to, sailing and golf," he said.
Allan Zeman, who's known for developing Hong Kong's iconic nightlife spot, Lan Kwai Fong, said high-profile events drawing businesspeople globally will bring substantial consumption to local tourism.
"We need to have at least one big event every month," Zeman said, citing golf tournaments, which are broadcast in numerous countries, attracting tens of millions of enthusiastic spectators each year.
Financial Secretary Paul Chan Mo-po said resources are being deployed to attract a diverse range of global conferences and exhibitions from various sectors, solidifying Hong Kong's position as the region's destination for meetings, incentives, conferences and exhibitions tourism.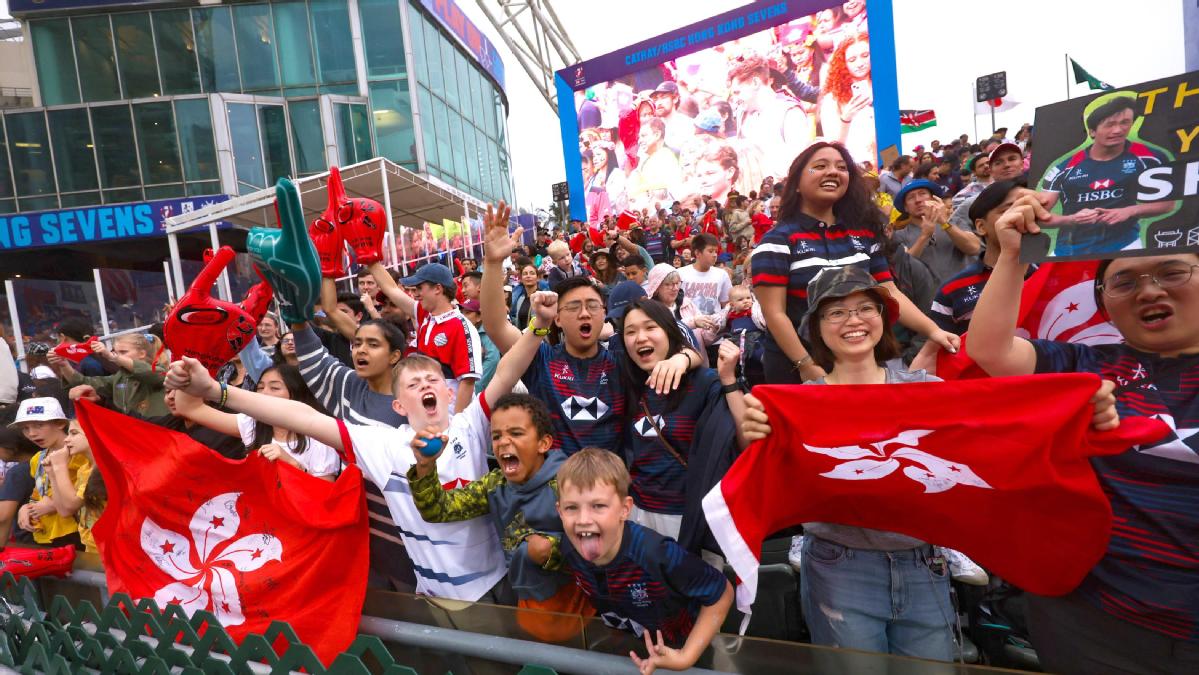 The SAR has allocated more than HK$250 million to launch a host of international events this year as part of efforts to boost the tourism sector. Upcoming events include the Sun Hung Kai Properties Hong Kong Cyclothon, Hong Kong Rugby Sevens, the Wine and Dine Festival and music shows at the Harbour Chill Carnival.
The grand return of Hong Kong Art Basel in March saw multimillion-dollar deals being struck between 177 global top-tier galleries and wealthy collectors.
Tourism pundits point to the success of Dubai's business events. The major city in the United Arab Emirates hosted 143 conferences, congresses, meetings and incentives in the first half of this year — up 44 percent from the previous year. These events are expected to be the driver of Dubai's economic growth, "creating new business and knowledge development opportunities", according to its government media office website.
Geopolitical tensions between the Chinese mainland and the United States are among the critical challenges to Hong Kong's bid to bolster its status as "Asia's world city" and amplify its allure for businesspeople.
Timothy Chui Ting-pong, executive director of the Hong Kong Tourism Association, highlighted the need for extra favorable policies tailored to countries involved in the Belt and Road Initiative, such as Saudi Arabia. These would entice businesses and visitors from emerging markets to invest and consume in Hong Kong.
Chief Executive John Lee Ka-chiu went on a six-day tour of the Middle East earlier this year, during which 13 memorandums of understanding and agreements with companies in Saudi Arabia and the UAE were sealed to hedge geopolitical risks from the West.
To rebuild Hong Kong's international reputation and get visitors back, Zeman suggested the government team up with local writers, film producers and artists who wield significant global influence to share Hong Kong's unique narratives with global audiences.
With the increasing number of high-spending tourists expected from Asian countries, the Middle East and even South Africa in the near future, Hong Kong has set its sights on being "Asia's best" tourist city. The paradigm is shifting, but the profitability is expected to remain the same, if not better.
Contact the writers at jessicachen@chinadailyhk.com