Foreign film makers gather for inaugural Panda awards
Share - WeChat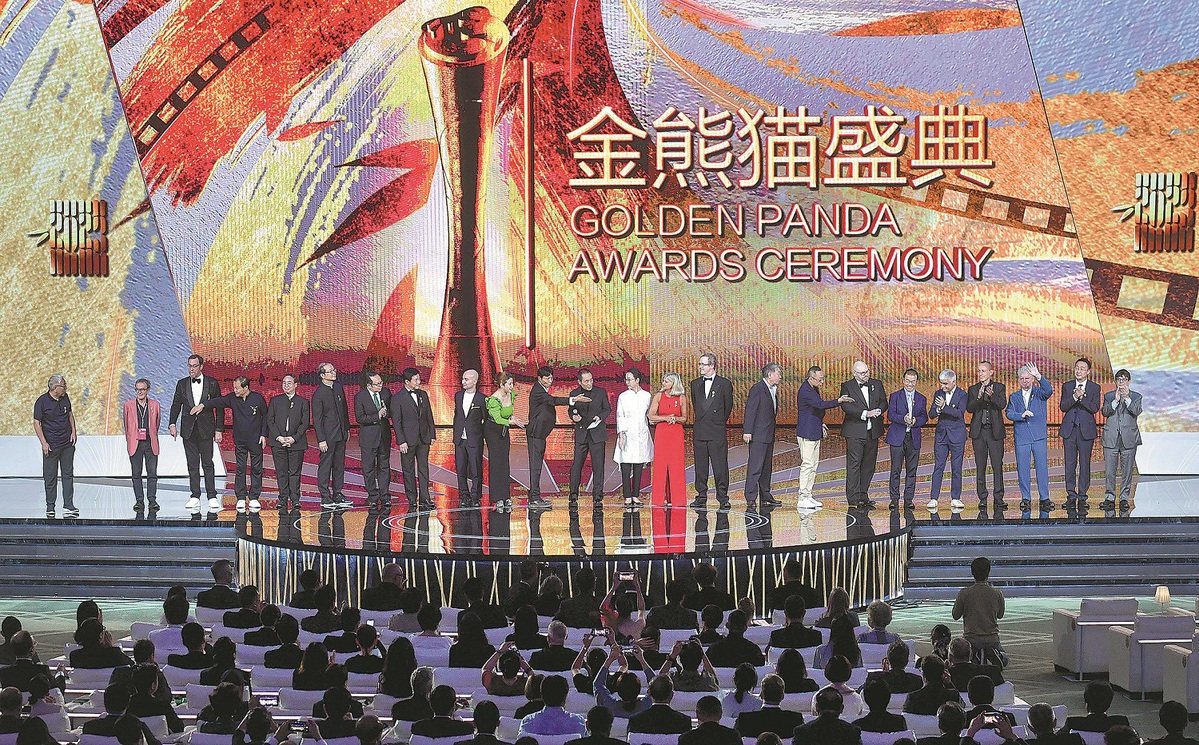 Participants from overseas given chance to learn about Chengdu
Directors, actors and producers from home and abroad strengthened cultural exchanges at the first Golden Panda Awards, held from Tuesday to Wednesday.
The Golden Panda Awards is an international cultural activity that invites TV and film makers to submit outstanding works along a common theme. This year's theme was "Brilliant Civilization, Resplendent Vision".
Baris Gencel, a creative director and digital artist from Cyprus, said the event will help foster cultural exchanges between China and the world and enhance our common shared community.
Gencel made the remarks at the Chengdu Research Base of Giant Panda Breeding while participating in a supplementary activity called "Face-to-Face with Pandas" on the sidelines of the event, which was co-hosted by the China Federation of Literary and Art Circles and the Sichuan provincial government in Chengdu, capital of Sichuan, from Tuesday to Wednesday.
He was excited to see real pandas and learn more about Chinese culture.
Gencel said it was of vital importance for directors to go to different places and to take a look at different cultures. "All the different experiences, and everything I am seeing, is bringing a new perspective into my work," he said.
"China has an amazing and very long history and very deep culture. It's like a gold mine waiting to be unearthed. That's why I am here."
Andre Morgan, who has been working on productions around the world for nearly five decades, said while China is becoming more open in the field of culture, the event offered a great opportunity for Chengdu and China to deepen cooperation and people-to-people exchanges with the world.
Communication, Morgan said, is the most important thing in international cooperation in the film and TV drama industry.
"For producers and directors, they need to study the history, culture and customs of different countries, and what kind of movies or TV series people like to watch," he said.
Gregori Winkowski, a producer from Germany, said he came to Chengdu not only for the event, but also for the pandas and delicious food.
In the past few days, he had tasted Chengdu food, taken the Chengdu subway and seen the life of Chengdu people, which were all brand-new experiences for him.
"It looks so amazing here and we have to come back again to shoot a movie," Winkowski said, adding that he had walked around the city with Julius Nitschkoff, an actor in TV drama Dear Vivi, and seen a lot of locations.
Rao Shuguang, president of the China Film Critics Association, said the event was expected to gather high-quality film resources from around the globe and promote the international development of Chinese films.
The Chinese box office has seen rapid growth in recent years, but there is still a long way to go for the international dissemination of Chinese films, Rao said.
He suggested Chinese film practitioners use internationally accepted languages to tell Chinese stories that convey the concept of a community with a shared future for mankind, to realize people-to-people bonds and to gain empathy from overseas audiences.
The first Golden Panda Awards received more than 7,000 submissions from 104 countries and regions. A total of 25 awards across four categories of film, TV drama, documentary and animation were presented on Wednesday night.
Contact the writers at huangzhiling@chinadaily.com.cn