Xinjiang's pristine lake thrives through environmental conservation
Share - WeChat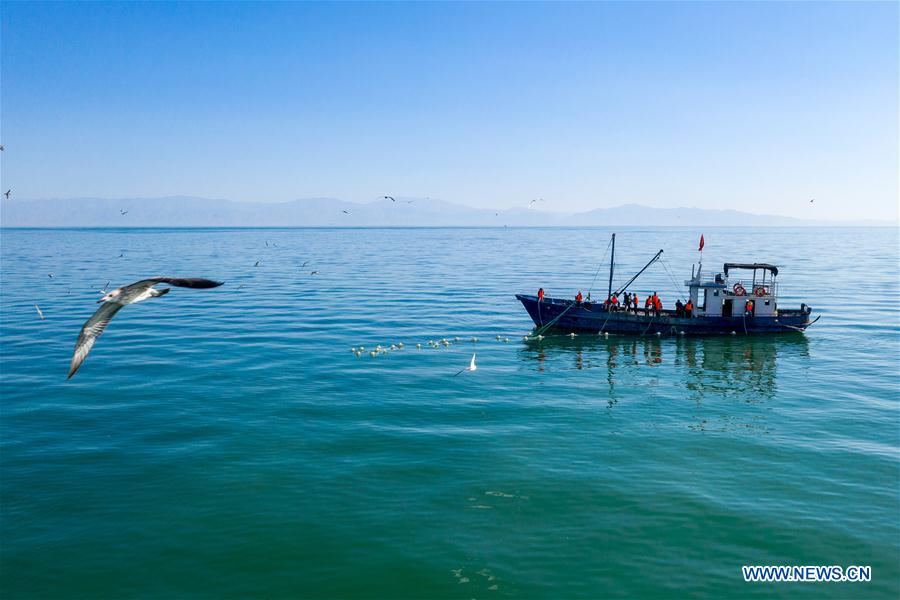 URUMQI -- Under the soft morning glow, Xu Qingshui steered his fishing boat toward the heart of Bosten Lake, gearing up for another busy day.
Located in Northwest China's Xinjiang Uygur autonomous region, Bosten, the country's largest inland freshwater lake, enters its busiest fishing season in August lasting until October.
Upon reaching their designated fishing spot, Xu and his companions worked together to pull up the nets set the previous day.
"This morning's catch was quite good. We had over 200 kilograms of fish, including various big, fleshy carps," Xu said, adding that during a prosperous stretch, he could earn over 1,000 yuan (about $137.46) in a single day.
With 17 years of fishing experience, Xu attributed the good harvests to the improving ecological environment and the strengthened conservation efforts.
To ensure the sustainable development of Bosten Lake's fishery, local authorities have implemented a range of measures, such as managing and controlling pollution at its source, separating pollutants from the water, releasing fish fries into the lake, and imposing seasonal fishing bans.
Since 2018, a total of 807 million cubic meters of water have flowed into the Bosten Lake from the Kaidu River, effectively improving the lake's water circulation and water quality.
"The water is getting cleaner, and that's fundamental to sustainable fishing," said Xu, whose given name literally means "clean water" in Chinese.
Bosten Lake's vast reed beds, covering over 600,000 mu (40,000 hectares), play a crucial role in the ecosystem. They can help filter water and provide habitat and shelter for various aquatic and bird species. The lake is now home to an increasing number of wild birds, with 198 species observed so far.
The flourishing ecological environment has infused new vitality into the lake, making it Xinjiang's largest fish production base. It yields over 4,000 tonnes of various aquatic products annually, including grass carp, freshwater shrimp and crabs.
"Last year, we released 36 million crab fries, and we started harvesting in August," said Yuan Jianhui, in charge of the crab breeding base. "Next, we plan to introduce Australian freshwater lobsters and expand our breeding scale to allow more people to enjoy Xinjiang's aquatic products."
Aquaculture has become a vital industry in Xinjiang, contributing to rural income growth and the region's rural revitalization efforts.
In 2022, Xinjiang's total fishery output reached 173,000 tonnes, ranking second among the five provinces and autonomous regions in Northwest China.