New talent program set to raise standards
Share - WeChat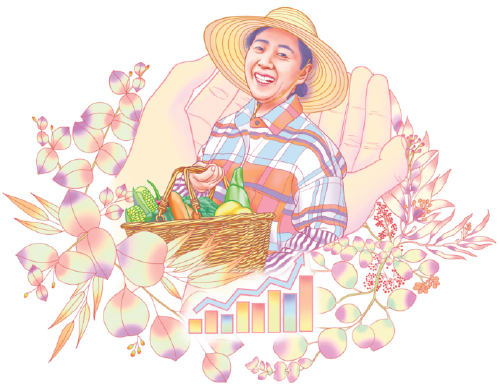 Talent is key to China's rural vitalization strategy, experts said.
So, to cultivate gifted individuals who can assist with industrial vitalization programs in rural areas, the Guangxi Zhuang autonomous region last year launched a five-year plan to train "leading wild geese": that is, talented people who can lead farmers on the path of rural vitalization.
It aims to cultivate 700 national-level talents and 2,000 autonomous region-level talents every year. The individuals selected are usually managers of farmers' cooperatives, operators of family farms, leaders of rural collectives, people in charge of top agricultural companies and farmers who carry out large-scale planting and breeding programs.
They study modern agricultural concepts, team management methods and industrialized operating modes at universities and colleges, and have their own supervisors.
After the first year, many of them began helping local farmers to live better lives.
One standout is Tang Renxi, a national-level talent who runs the Xigengyuan family farm in Guilin's Diecai district.
Tang has introduced new ideas to more than 600 local households, integrating nearly 20 hectares of scattered, unused land to cultivate high-quality fruit such as Thai pomelos and Brazilian red oranges, along with premium rice on a large scale.
He also introduced the rice-fish symbiosis procedure, in which fish live in the water of rice paddies. That not only improves efficiency of land use but also raises rural income levels.
Beyond agriculture, he has diversified into agritourism and rural experiences, creating a harmonious blend of the primary, secondary and tertiary sectors.
His efforts have inspired a wave of young people to return to the rural areas and get involved in agribusiness.
Tang also responded to labor education policies by developing new models for the programs, and by offering related classes to middle and primary school students free of charge.
As such, the Xigengyuan family farm was awarded the status of a "model family farm" and a "labor education base for middle and primary school students" in Guilin.
Meanwhile, Li Jun, who leads the Yuyuan vegetable cooperative in Fengshan county, regards growing vegetables as his career.
The cooperative produces 1,600 metric tons of vegetables from 21.3 hectares of land every year. Working with big companies and wholesalers nationwide, the cooperative of 30 households has made a profit of 1.35 million yuan ($186,130) every year, with each member's net income being 11,200 yuan.
Li also keeps passion fruit free of bugs in five townships. The fruit was one of the industries Fengshan chose to develop to help lift people out of poverty.
Seeing the crops destroyed by insects and disease, Li studied pest control techniques and provided free advice to 106 households on dealing with the problem. The passion fruit yield on 212 hectares reached 5,000 tons, with production value of 12 million yuan and a profit of 4 million yuan. Each household's net income was 8,000 yuan.
Guangxi's training plan was a response to a national program launched by the agriculture and finance ministries last year.
It aims to cultivate 10 leading workers for each county every year to build a sound talent pool for the countryside.
"Our talent training work has been approved by the Ministry of Agriculture and Rural Affairs. The next step is to set up a talent management system and a long-term training program," said an official with Guangxi's agricultural department.