Shutterbugs strive to promote dark night tourism
Share - WeChat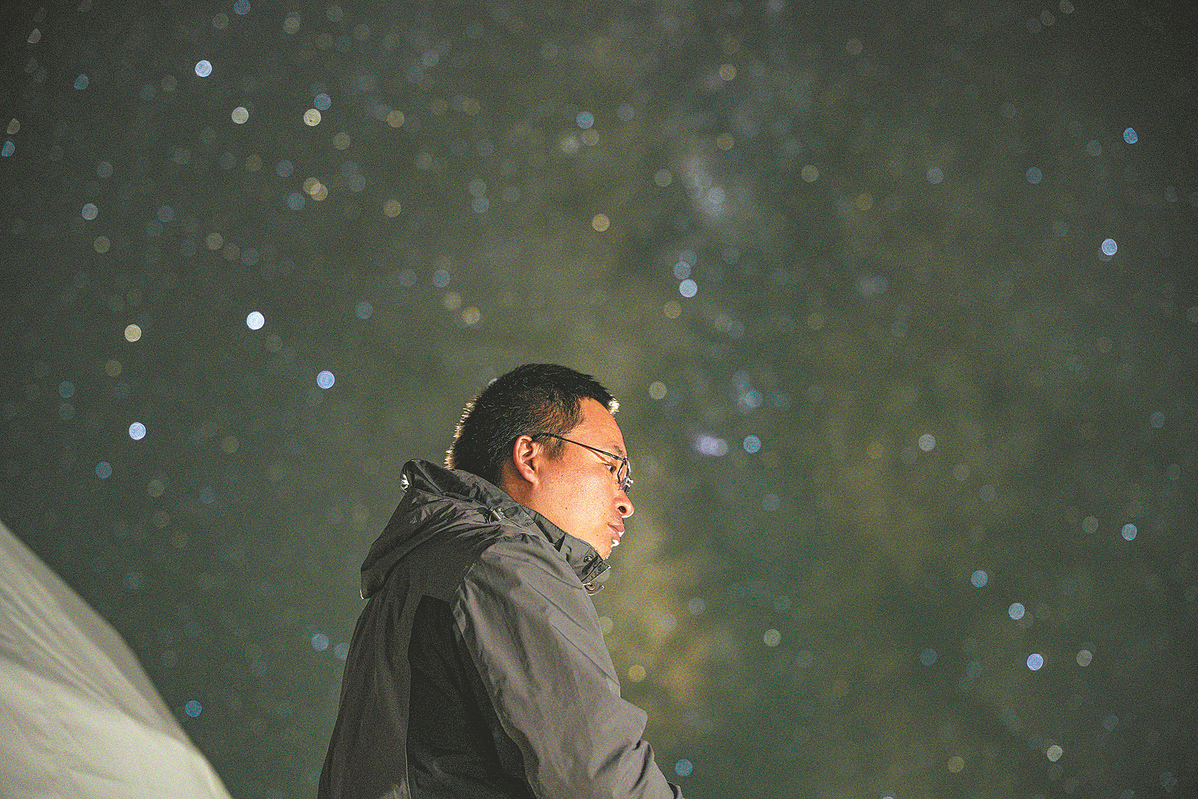 Even though only six astronomy photographers participated in the second session of this year's "Sweet Whispers to the Galaxy" festival held in Hami prefecture, Xinjiang Uygur autonomous region, earlier this month, they are all among the country's best.
Wang Junfeng is known by many stargazing enthusiasts as an "online hot topic maker". Working with China Photo Group, a subsidiary of Xinhua News Agency, the 40-year-old photographer has been taking astronomy photos and promoting stargazing for more than 10 years.
Living in Beijing, he often organizes stargazing activities on the outskirts of the city. Some participants have gone on to become professional astronomy photographers.
Because of his work, Wang is familiar with the country's mass media outlets and is good at turning some small topics into hot ones on Chinese social media.
After Tianhe — the first and central component of Tiangong, China's space station — was launched on April 29, 2021, Wang started looking for the station in the night sky. In June of that year, three Chinese astronauts were sent to Tiangong. On July 4, they conducted China's first spacewalk in 13 years.
Wang checked an app on his mobile phone and found that the space station would pass over Beijing's night sky the same day. He went to a park and used his mobile phones to record Tiangong traveling across the sky. Then he sent his photos and video clips to the People's Daily's Sina Weibo social media account.
"They were then forwarded to the accounts of Xinhua and China Central Television," Wang said. "They instantly became a hit."
The following weekend, he led a group of children stargazing in Beijing and managed to find the space station for them. The People's Daily livestreamed the activity online.
"Over the next three days, my photos or video clips created four hot topics on Chinese social media," he said. "Each garnered more than 100 million hits."
Since then, he regularly visits a park near his home and uses his mobile phones to take photos of the space station. "People soon gather around me and ask me questions," Wang said. "After they learn about what I am doing, they always become excited and happy."
Guiding people to watch the space station has become a "secret weapon" that Wang uses to impress his hosts and promote stargazing in many places. "As an enthusiast, I am truly happy to help more people learn a little bit about astronomy and enjoy stargazing," he said.