Beijing set to promote key role of BRICS
Share - WeChat President Xi to attend group's summit and make state visit to South Africa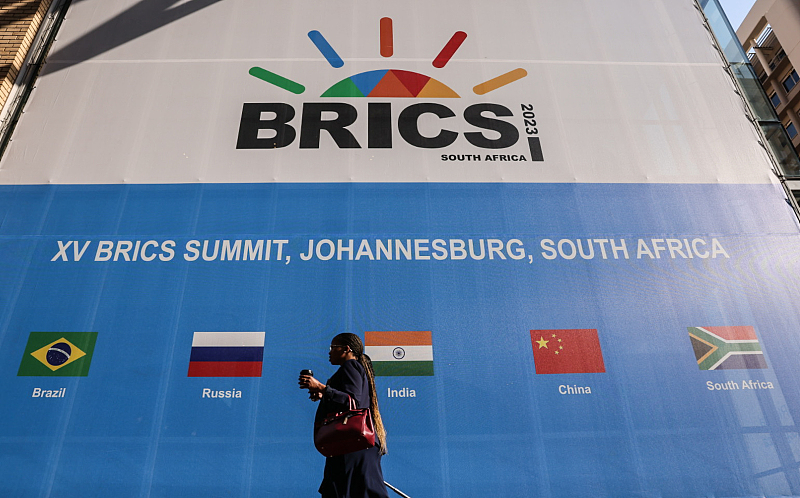 With a host of multilateral and bilateral agendas in the pipeline, President Xi Jinping's upcoming visit to South Africa has given rise to expectations that Beijing will continue to lead the way in improving global governance, and that it will uphold true multilateralism and bolster solidarity with African nations.
The expansion of BRICS, the strengthening of coordination between major emerging economies and the developing world, and a bolstering of Beijing's cooperation with Africa will top Xi's agenda as he travels to South Africa for the 15th BRICS Summit and makes a state visit to the African nation from Monday to Thursday.
BRICS is the grouping of the major emerging markets of Brazil, Russia, India, China and South Africa.
The Johannesburg summit is set to bring together the leaders of Brazil, India, China and South Africa, with Russian President Vladimir Putin expected to participate via video link, according to South African Foreign Minister Naledi Pandor.
Xu Xiujun, a senior research fellow of the Chinese Academy of Social Sciences' National Institute for Global Strategy, said he expects the Johannesburg summit to be an occasion during which Beijing continues to champion better global governance and uphold true multilateralism.
Expansion expected
"BRICS has now emerged as a key force in the reform of global governance, and Beijing will continue to play an important role in enabling the grouping to lead the way in safeguarding the interests of developing nations and promoting South-South cooperation," Xu said.
Expansion of the group is among the key topics to be discussed. "The current geopolitical context has driven renewed interest in BRICS membership, as countries of the Global South look for alternatives in a multipolar world," Pandor said.
As of Aug 7, a total of 23 countries, including Saudi Arabia, Iran, the United Arab Emirates, Argentina, Indonesia, Egypt and Ethiopia, had formally applied to become BRICS members.
"We see this interest as recognition of the voice of BRICS as a champion of the interests of the Global South, particularly our agenda of reform and inclusion of the Global South — true to our founding values," Pandor added.
Ma Zhaoxu, Chinese vice-minister of foreign affairs, told a meeting of BRICS foreign ministers in June that China welcomes and expects new members to join the BRICS family at an early date.
Wang Lei, director of the Center for BRICS Cooperation Studies at Beijing Normal University, said the cooperation among BRICS countries has become a multilateral cooperation mechanism with major influence in the global political and economic systems.
BRICS countries account for around 42 percent of the world's population, almost 30 percent of the world's territory, around 27 percent of global GDP and around 20 percent of global trade.
Through mechanisms such as BRICS Plus, the grouping has maintained close cooperation with emerging markets and developing nations.
"This has expanded the influence of BRICS cooperation far beyond the five nations and their regions and to a global scale," Wang said.
The fact that more emerging economies are applying for BRICS membership demonstrates the openness, inclusiveness and huge attractiveness of BRICS cooperation, he said.
Furthermore, the inclusion of more developing nations in the group could, to a certain degree, serve as a hedge against external pressure and build up unity among the nations of the Global South, Wang added.
The upcoming trip, Xi's second to South Africa in five years, comes a decade after his first overseas visit as China's head of state in March 2013, when he visited South Africa and put forward the guiding principles of China's Africa policy.
During the four-day stay, Xi, together with South African President Cyril Ramaphosa, will co-chair the China-Africa Leaders' Dialogue.
The dialogue will also be a key opportunity to enhance cooperation between China and Africa. A number of leaders of African countries, the African co-chair of the Forum on China-Africa Cooperation, the rotating chairperson of the African Union and representatives of African sub-regional organizations are expected to participate in the event.
"Solidarity and cooperation with African countries are the cornerstones of China's foreign policy and our long-standing, rock-firm strategic choice," Wang Wenbin, a spokesman for China's Ministry of Foreign Affairs, told a news conference on Friday.
Dennis Munene, executive director of the China-Africa Center at the Kenya-based Africa Policy Institute, said he expects Beijing to continue to advance the concept of China-Africa community with a shared future to boost economic growth, reduce poverty and inequality, and promote stability on a fragile continent that is facing traditional and nontraditional threats.
Xi's state visit to South Africa comes as the two sides mark the 25th anniversary of diplomatic relations. Discussions during the visit will "explore further collaboration and partnerships the two nations can leverage on to solidify existing diplomatic, economic and people-to-people relations", according to a news release from The Presidency of South Africa.
China has been South Africa's largest trading partner for 14 consecutive years, while South Africa has been China's largest trading partner in Africa for 13 consecutive years.
Edith Mutethya in Nairobi contributed to this story.