Xi calls for strengthening cybersecurity
Share - WeChat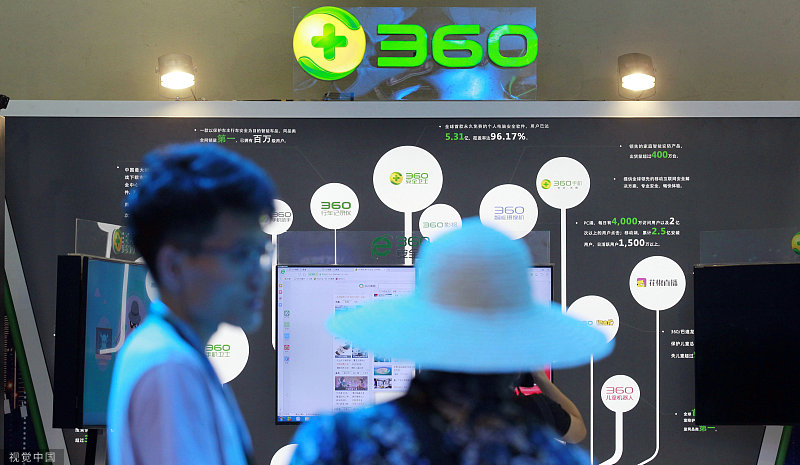 Highlighting the increasingly prominent role of cybersecurity and informatization work in the new era, President Xi Jinping has stressed the need to coordinate development and security, with solid efforts to advance high-quality growth in this regard.
Xi, who is also general secretary of the Communist Party of China Central Committee and chairman of the Central Military Commission, made the remarks in a recent instruction on the work of cybersecurity and informatization. The instruction was conveyed at a national meeting on cybersecurity and informatization that was held on Friday and Saturday in Beijing.
Xi emphasized the importance of strengthening the country's capability to ensure the cybersecurity and promote building a community with a shared future in cyberspace.
He also stressed adherence to several principles, including the Party exercising leadership over cyberspace affairs, developing of cyberspace affairs for the people, and taking a path of internet governance with Chinese characteristics.
Calling for vigorous efforts to advance the high-quality development of cybersecurity and informatization, Xi said that new achievements should also be made in boosting China's strength in cyberspace, thus making new contributions to building a modern socialist country in all respects and advancing national rejuvenation on all fronts.
The country's system and capacity for cybersecurity have constantly been improving, and its efforts to boost self-reliance and strength in science and technology have also been accelerated, while law-based governance of cyberspace has been intensified, Xi said.
Wang Sixin, deputy head of Communication University of China's Institute for a Community with Shared Future, said, "The new requirements raised by Xi in this regard are essential and urgent.
"Summing up the work experience and clarifying current problems are crucial to future development in this field, as well as to benefiting the people and promoting the high-quality growth of our country."
With the Party's leadership, China has seen many achievements in cyberspace governance since the 18th CPC National Congress in 2012. Its technological research, such as that on supercomputers and quantum communication, has been at the global forefront, while its artificial intelligence has been widely applied in many areas.
Xi recalled the significant progress achieved in cybersecurity and informatization since the 18th CPC National Congress, noting that China has put in place a system for integrated cyberspace management, with the Party's leadership in such work having been strengthened across the board.
As internet technologies, including 5G, big data, cloud computing and blockchain, have rapidly grown, the nation's legal toolkit on cybersecurity and informatization has become more complete through the formulation of a series of laws, such as the Cybersecurity Law, Data Security Law and Personal Information Protection Law.
To offer a safer online environment for people, the Cyberspace Administration of China has also issued guidelines and taken measures to prevent online misconduct, such as cyberbullying and rumors, in order to guarantee the healthy development of the internet.
All the moves have helped advance cybersecurity and informatization work, Wang said, adding that those measures contributed to enriching the country's theoretical building of cyberspace and improving the capacity of its cyberspace governance.
Just like boosting the nation's self-reliance in science and technology, the theoretical construction in the field is vital to enhancing China's international voice, he said.
Zhu Wei, deputy director of the Communication Law Research Center at China University of Political Science and Law, said that holding such a meeting to give new instructions on cybersecurity and informatization, following the 20th CPC National Congress in October, was inevitable and filled with profound meaning.
"When we're benefiting from the internet and solving problems on data, cybersecurity and informatization through laws, we must also acknowledge that we're still facing some challenges brought by emerging technologies," he said.
"We need to draw on some good practices from past work, as well as conduct new research to find solutions that can both develop the new technologies and meet the challenges."
Expressing excitement about the acceleration of law-based governance in cyberspace in recent years, Zhu suggested that legislators and internet regulators continue upholding the principle of coordinating development and security in following lawmaking.
"The driving force of high-quality development is scientific and technological innovation, so in the coming period of time, the main task of formulating our policies and laws is to seek a balance between security and development," he said, adding that this is also a must to cope with the international situation.
As development is a key to solving problems caused by technologies, a number of newly released regulations and laws have clarified that the country encourages technological research, requiring internet platforms to fight online misconduct through technical means.
Since the beginning of this year, China has seen internet technologies prosper and also has accelerated steps in cyberspace governance.
As ChatGPT takes the tech world by storm and triggers a new wave of artificial intelligence, a host of Chinese tech giants have begun rolling out ChatGPT-style products. Among them, Alibaba has invited enterprise users to test a self-developed large model called Tongyi Qianwen, and Baidu has unveiled its large language model and Chinese-language ChatGPT alternative, Ernie Bot, which could be implemented in a variety of functions including searches, autonomous driving and smart devices.
To promote the healthy development of the technology, interim measures for managing generative AI services were jointly disclosed by seven authorities last week. The measures encourage the innovative development of generative AI and supervision of AI using methods compatible with innovation and development.
Earlier, the country's top judicial authorities and top internet regulator also solicited public opinion on combating cyberbullying, in order to purify the online environment and protect people's legitimate rights in cyberspace.
Zhou Hongyi, founder of 360 Security Group, said he was encouraged by Xi's instruction and felt more responsibility as head of a digital security enterprise.
"In the era of digital civilization, measures for guaranteeing traditional security are no longer able to meet new challenges, which requires us to strengthen scientific and technological creativity, so as to build a strong digital security barrier for the healthy growth of the digital economy," he said.
As an enterprise that has been fighting on the front line of cyberattacks for years, 360 would like to continue being the guardian of national security, and also to be a builder of digital China, helping companies, governments and cities to address security weaknesses and become smarter, Zhou said.
Cui Jia contributed to this story.