Customers buy into high-tech consumption
Share - WeChat Industrial internet is helping manufacturers, retailers provide tailor-made products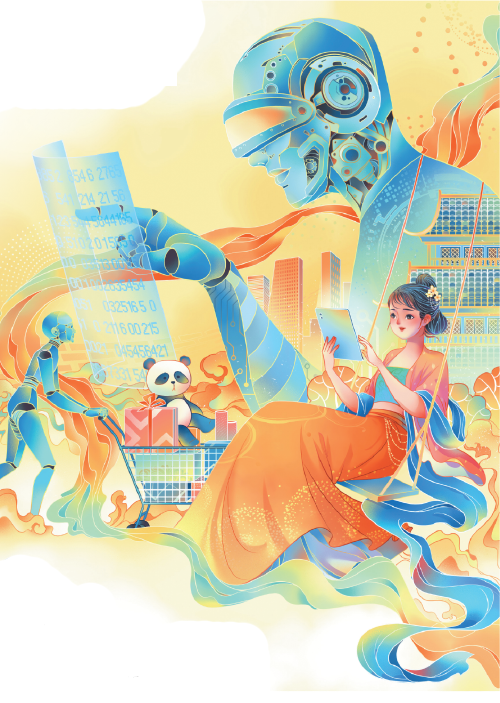 Zhang Jing, 33, a middle school teacher from Taiyuan, the capital of Shanxi province, recently sent a customized air conditioner as a birthday gift to her calligraphy-loving father as a scorching heat wave hit many parts of North China.
With just a few taps on her mobile phone, she chose the functions, appearance and design her father likes.
Zhang said that once she placed the order with home appliance manufacturer Haier Group, the company began making the air conditioner, which also had her father's favorite phrase "Tian dao chou qin", or "God rewards the diligent", embossed on it.
"My father liked this birthday gift so much that he invited his friends over for a look. The price of this personalized air conditioner was about 150 yuan ($21) higher than a regular one with similar functions," she said.
Zhang is among the growing group of Chinese consumers who are driving surging demand for customized commodities and who want to have a bigger say in the design, features and functions of products.
Demand for these new products is being met by cutting-edge digital technologies that are reshaping the operations and strategies of Chinese manufacturers and online retailers.
Among the new products hitting the market are nappies designed to minimize skin rashes and refrigerators that keep food fresh and healthy, a popular customer requirement following the COVID-19 pandemic.
Industry experts said the days when consumers are solely passive buyers are over, with next-generation information technologies creating new intelligent and green consumer goods and fostering fresh consumption growth areas.
"The new consumption model, which centers on consumers' requests and places an emphasis on personalized, tailor-made and experience-based consumption, will play an important role in expanding domestic demand and taking the lead to promote the recovery of China's economy," said Hong Yong, an associate research fellow at the e-commerce research department of the Ministry of Commerce's research institute.
This revolutionary approach is being made possible by the industrial internet — a new type of manufacturing automation that combines advanced machines, internet-connected sensors and big data analysis. The new approach is also bolstering the transformation and upgrading of the traditional manufacturing sector.
The Haier Group has built an industrial internet platform, COSMOPlat, which allows enterprises to customize products quickly, and at scale, by collecting and analyzing data from consumers, suppliers and factories with internet-connected information sensors. The new process also boosts productivity and cuts costs.
Customers can choose the functions, appearance and design of home appliances by using their mobile phones, removing the need to visit a brick-and-mortar sales store.
Once a customer has placed an order, intelligent manufacturing equipment at Haier's interconnected factories automatically reads the information and starts production of the tailor-made item, the company said.
At the company's washing machine manufacturing plant in Tianjin, productivity has improved by about 30 percent, while energy consumption has been reduced by 35 percent. This has been achieved through the application of 5G technology, the internet of things, automation and advanced analysis technology, the company said.
C2M model
China's industrial internet sector has developed rapidly in recent years. According to the Ministry of Industry and Information Technology, China has developed over 240 industrial internet platforms that have strong regional and industry influence. More than 81 million industrial equipment units are connected to the platforms, which serve 250,000 enterprises covering over 40 key industries.
To meet consumers' growing and diverse demand for products, a string of e-commerce platforms have launched tailor-made and new products in collaboration with domestic and foreign consumer goods brands.
E-commerce giant JD is betting big on the consumer-to-manufacturer, or C2M, model, which leverages online retailers' big data and customer analysis to customize products that meet consumers' demands.
The C2M products represent the latest consumption trends, as they are designed based on what consumers want, the company said. For instance, using data analysis of online searches and comments, JD found that users often searched for specific keywords like "diaper rash", and look for diapers that feature better skin care.
Based on big data and consumer preferences, the company cooperated with a baby diaper brand to jointly develop new paper diapers with enhanced aeration and softness that are more comfortable for babies to wear. The new product accounted for more than 70 percent of the brand's sales on JD the day it went on sale.
Since the outbreak of COVID-19, more and more customers are focusing on refrigerators with functions such as flavor preservation, sterilization and the ability to maintain freshness. JD has been working with household appliance manufacturers including TCL, Midea and Bosch to develop C2M refrigerators to meet customers' tailored demands, and also increase the popularity of home appliances that feature innovative technologies.
The new consumption model is pivotal to stimulating consumers' purchasing appetite, bolstering the intelligent transformation and upgrade of traditional industries, and creating more job opportunities for high-skilled talent, said Hong from the commerce ministry.
He said greater efforts were needed to improve the quality and influence of Chinese-made consumer goods by introducing overseas experience and advanced technologies. The application of new digital technologies in more fields should be accelerated, Hong added.
Guan Lixin, deputy director of the Distribution and Consumption Institution at the Chinese Academy of International Trade and Economic Cooperation, said, "The new consumption model will continue to evolve with the in-depth application of new technologies such as 5G, cloud computing and artificial intelligence, mainly driven by a new round of technological revolution."
The new consumption model will also become a key driving force in the dual-circulation development pattern, which takes the domestic market as the mainstay while letting domestic and foreign markets reinforce each other, Guan added.
Gen Z consumers — those born between the mid-1990s and the early 2010s — have developed their own distinct personalities and ideas, and prefer to pursue niche lifestyles and customized products, Guan noted. They are emerging as mainstream consumers who are driving the growth of new products.