Welder recognized for dedication
Share - WeChat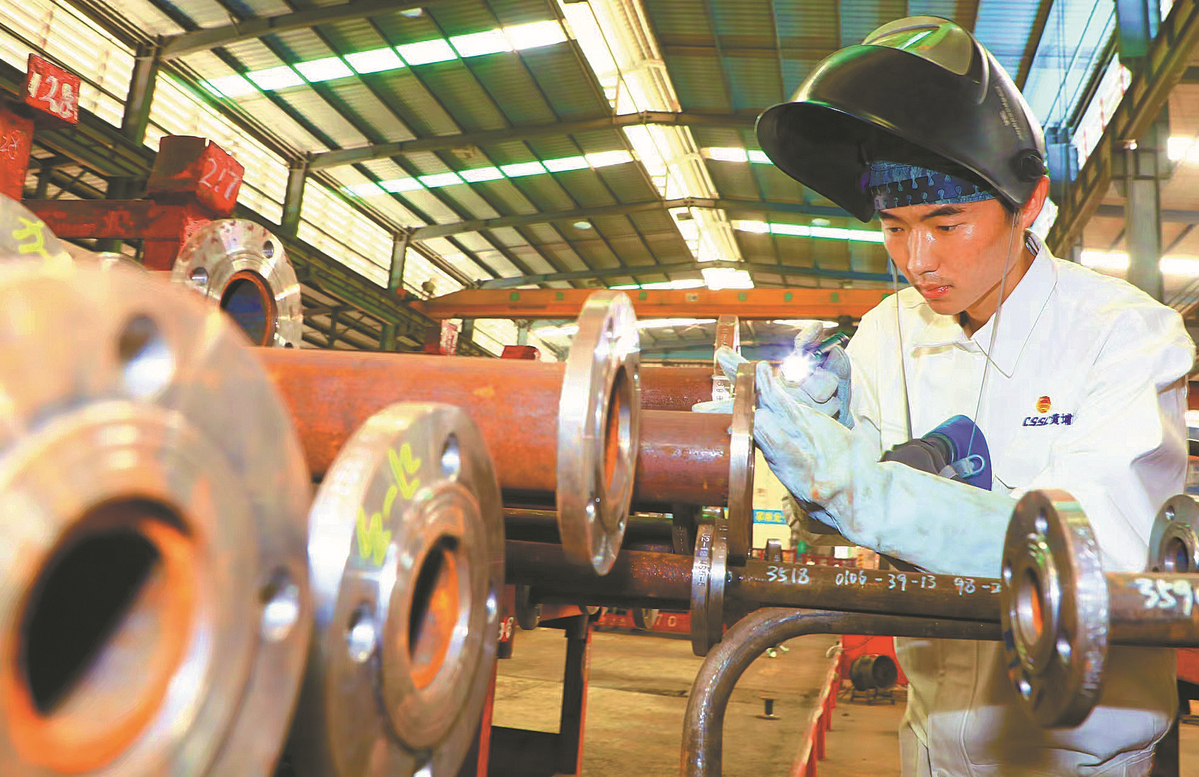 From poor rural family to model worker, Zeng Xianhan's short life already packed with achievement
Zeng Xianhan is always left feeling sweaty after working in the hot, enclosed environment at the shipbuilding factory. And then there's the added discomfort of the occasional spark or bit of molten iron burning his skin through his work clothes.
Most of the time, the 1.8-meter-all Zeng wears white work clothes and a protective mask and has to squat, kneel or even lie between the pipes of a ship for hours at a time as he does his welding.
But the electric welder at the Huangpu Wenchong Shipbuilding Co Ltd, a subsidiary of the China State Shipbuilding Corp, never thinks of this as hard work and has no intention of changing his job, which many people might consider tiring and boring.
The 25-year-old has a passion for the profession, which he has been doing ever since he joined the company when he was just 16.
"After I have successfully welded something together or finished a job, I really have a sense of achievement, which makes me happy," he told China Daily.
Zeng said that his master workers once told him that as a welder, the way to improve his skill is to gather welding rods and squat down to work for seven or eight hours every day.
To master more techniques and skills, Zeng practiced day and night when he first joined the company. In the workshop, he had to endure the pain of being burned by sparks and learn to tolerate the extreme heat as he practiced welding. To develop the strength to do overhead welding, he lifted weights back at the dormitory every day after work.
Through constant practice, Zeng has been able to master many skills, including manual arc welding, carbon dioxide gas shielded welding, argon arc welding and flame brazing.
He describes his job as "building the blood vessels of the ship".
"Almost every step and every link in building a ship involve welding, from segmented construction to final assembly, and from its water tanks to its fuel systems," Zeng said.
The challenge of hull welding is the fact that welds in specific parts of the ships have to be able to function normally at temperatures of — 192 C.
Zeng said that making that kind of pipe takes a lot of practice.
"Particular attention has to be paid to the accuracy of the melt pool and wire feeding, and it also requires physical fitness and manual precision," he said.
To develop arm strength, Zeng did 50 push-ups every day during lunch breaks, not stopping even when he was on vacation.
He said that he does not remember how many ships he had worked on, but said that he has witnessed the rapid development of China's shipbuilding industry over the past decade.
He has become a master welder and has won many honors at different levels of competitions, and is now qualified to teach apprentices.
Zeng is particularly generous with sharing his experience and tells his "post-00s" apprentices that while welding is not easy, it is not complicated.
"The most important thing is that you need to be interested and find ways to reach a certain level, and you should not feel this job is not suitable just because you aren't able to weld well," he told them.
Born into a poor rural family in Leshan city, Sichuan province, Zeng was admitted to a vocational secondary school to major in electromechanical technology, which permitted him to study the skills of lathe workers, electricians and welders.
Although Zeng has won many titles at provincial competitions, he believes that there is no end to learning.
He aspires to win a national championship trophy, and also wants to try out more efficient welding methods and more complex welding materials in the coming months.
For his good performance, Zeng won the title of "craftsman of Guangzhou" and was also made a "national technical expert" last year.
He also won a May Day Labor Medal from Guangdong province and was awarded the title of National Outstanding Communist Youth League Member last year.
Zhang Xiuchao, one of his colleagues, said that Zeng is neither arrogant nor impatient, and that he is diligent and eager to learn.
In addition to his strong hands-on ability, Zeng has a deep understanding of welding, and Zhang said that he feels Zeng is a source of inexhaustible energy in him.
"He is honest and friendly and gets along well with his colleagues," Zhang added.
Wang Han contributed to this story.