National parks protect ecology in Tibet
Share - WeChat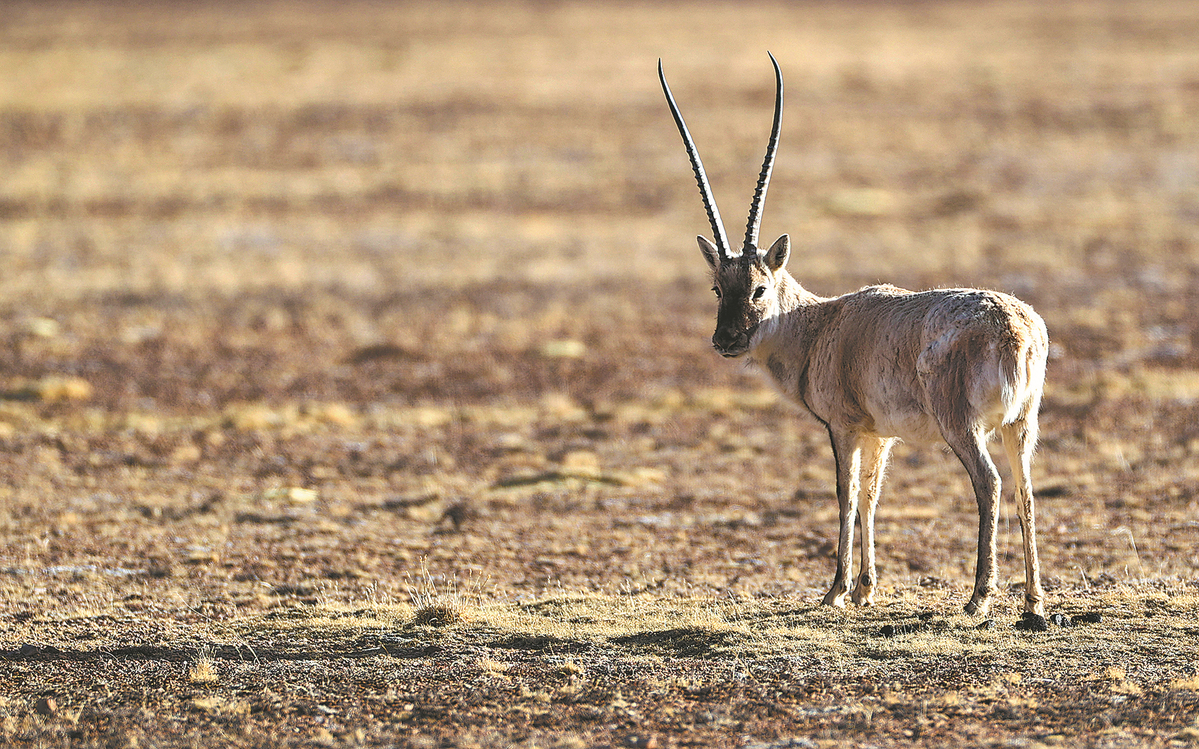 The Tibet autonomous region has been making efforts to turn areas near Qomolangma — known as Mount Everest in the West — into national parks to help protect the integrity of glaciers and local ecological conditions, according to the regional Bureau of Forestry and Grassland.
Qomolangma National Park, covering more than 33,700 square kilometers, has many of the highest mountains in the world and one of the most concentrated areas of glaciers and permanent snow cover. It has a rich diversity of species — both plants and animals — and is known as a repository of rare, endangered and unique life forms in the Himalayas.
In addition, another five sites — Changthang, Mount Kailash and Lake Manasarovar, Yarlung Zangbo Grand Canyon, Gaoligong Mountain and Sanjiangyuan — have all been included in the spatial layout of national parks or have been officially approved for establishment, according to the bureau.
Tibet will establish a national park demonstration zone, becoming the provincial-level region in China with the largest number and combined area of national parks, and the highest proportion of national land area in the country dedicated to such a purpose, it added.
Covering an area of approximately 298,000 sq km, Changthang National Nature Reserve is the main ecological boundary of the Qinghai-Tibet Plateau in the framework of the national ecological security system.
Development of the park has seen major progress and has entered its evaluation stage, a local ecological protection bureau said.
Xie Kunming, an official from the nature protection site management office at the bureau, said the park is an important national ecological security barrier within the desert ecosystem.
"As an inland lake area with the highest altitude in the world, it preserves a complete and unique alpine plateau grassland and desert ecosystem, as well as rare and endangered wildlife resources. It is home to the largest population of Tibetan antelopes and wild yaks in the wild," Xie said.
Zomga, deputy head of the regional Forestry and Grassland Bureau, noted in a recent article on the progress of national park development that the region has allocated more than 500 million yuan ($70 million) for the construction of 92 high-standard management stations in the national parks of Changthang and Qomolangma.
The region has also been implementing a series of policies to support construction and management of the national park. Projects include returning grazing land to grassland status, protection and restoration of wetlands, compensation payments for wildlife damage and improving habitats for both fauna and flora.
"Over the past decade, by working together with multiple scientific research institutes and using more advanced technologies, more than 500 personnel have visited the Changthang area in northern Nagchu to carry out various activities," Zomga said.
"Preliminary research has found the largest breeding area for the Tibetan antelope — with a population of more than 100,000," he said. "An aerial drone captured a scene of 60,000 Tibetan antelope migrating."
Also, more rural residents can be provided with jobs as forest rangers for the national parks.
Thublo, a herdsman from Nagchu, now works as a patrolman in the Changthang area.
Every time he goes on patrol with his colleagues for 100 to 200 km, he takes his binoculars and camera to ensure no one hunts animals or illegally enters prohibited areas.
"I'm proud of my job. Protecting the environment is as important as protecting our own home," the 37-year-old said.