HK's 'secret sauce': Will it work?
Share - WeChat Hong Kong is eyeing nonlocal labor as a "secret sauce" for jump-starting the city's pandemic-battered economy. But unionists and experts hope the government won't neglect local labor rights and innovative technologies when addressing the manpower shortage. Liu Yifan reports from Hong Kong.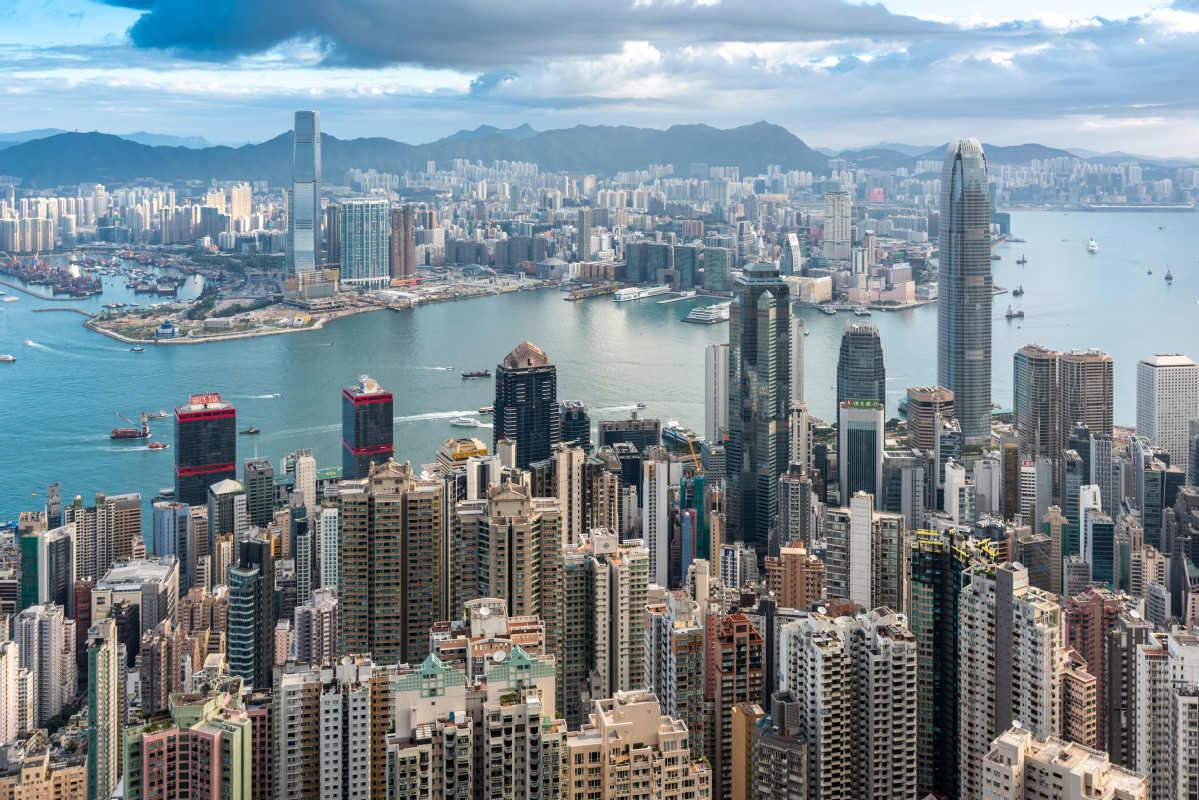 From Victoria Peak to the neon-lit Mong Kok commercial district, Hong Kong's hot-spot destinations have been mobbed by throngs of travelers since the city lifted all its COVID-19 travel restrictions early this year.
According to Chinese mainland online travel agency Ctrip, the Hong Kong Special Administrative Region ranked as tourists' top destination outside the Chinese mainland in outbound air ticket bookings in May.
This should be taken as a sign of confidence in Hong Kong's post-pandemic economic growth. However, a stark contrast can be seen in the SAR's lively downtown areas, where "Help Wanted" posters have gone up at stores and restaurants.
"The number of customers has surged, but the staff numbers haven't," says a waiter at a restaurant in the prime shopping district of Tsim Sha Tsui. "Even part-time workers are hard to come by."
According to the Hong Kong Federation of Restaurants and Related Trades, the local catering sector is still short about 60,000 workers, with the industry's workforce currently standing at 200,000, as many workers have either emigrated, retired, or switched jobs during the pandemic.
"Workers in the catering business now have to perform all sorts of tasks. Thus, fewer people are willing to join the industry, especially the young," says Simon Wong Ka-wo, president of the federation. "The quality of services has also dropped."
Similar stories are everywhere. A Construction Industry Council report released in February forecast a shortage of 4,000 to 10,000 professionals, technicians and site supervisory personnel this year. By 2027, the figures are expected to climb to between 6,000 and 40,000, with workers and professionals seeing a labor shortage rate of 25 percent.
Hong Kong's labor crunch is across the board, and probably has yet to peak, laments Thomas Yuen Wai-kee, assistant professor at Hong Kong Shue Yan University's Department of Economics and Finance.
The SAR last year saw the steepest drop in its working population since 1985, when records began. Data from the Census and Statistics Department show the local workforce fell 2.4 percent year-on-year to around 3.78 million in 2022 amid a talent outflow. The number of workers who had left the labor force in the past four years topped 220,500.
Adding to the woes is the city's rapidly aging population as postwar baby boomers retire, while young people are less willing to have children. The SAR government has tried to coax residents into having more babies, but to little avail. Despite the increase in the allowances offered to families for each child born, and day child-care services, Hong Kong's birth rate has continued to fall. In 2021, the fertility rate dropped to 0.77 — well below the natural population replenishment rate of 2.1 needed to keep the population stable — and was one of the lowest in the world.
Since assuming office in July 2022, Hong Kong Chief Executive John Lee Ka-chiu has made beefing up the economy his administration's top priority. Last year, GDP shrank by a worse-than-expected 3.5 percent as the city struggled to preserve its status as Asia's hub. It was the third time since 2019 the local economy recorded negative growth. To revive the economy, Lee is acting on multiple fronts — from jump-starting the tourism business and proceeding with mega construction projects, to fostering technology strength — all of which are in dire need of workers.
Importing workers
The SAR government announced a string of measures in the past few months to trawl for the brightest minds outside Hong Kong. Under the Top Talent Pass Scheme launched in December, the government had approved more than 10,000 applications as of mid-March, offering two-year visas for high-income workers and top university graduates.
As part and parcel of its efforts to lure more high-quality workers, the SAR government drastically increased the number of job categories on its talent list from 13 to 51 on May 16. The expanded list now covers medical professionals, including nurses, doctors and dentists, as well as construction-related fields, with surveyors, architects and electronic engineers included for the first time. Companies can hire nonlocal professionals without providing proof that no suitable workers are available locally, with applicants being able to obtain a work visa within four weeks, compared with several months normally.
The goal is to lure up to 35,000 nonlocal professionals and highly skilled workers to Hong Kong annually. However, finding a sufficient number of blue-collar workers still remains a thorny issue. For instance, the updated talent list stipulates that applicants need to have at least a bachelor's degree in their field and three years' working experience. This may shut out most construction workers as they usually don't have higher-education qualifications.
Government officials said recently they would prioritize addressing the manpower crisis in the construction and transportation sectors by copying a fast-track program for care homes to import low-skilled carers. The special program for carers, announced late last year, will raise the quota for the hiring of nonlocal carers, and streamline the vetting procedures for applications. The estimated processing time will be reduced from about five months under the Supplementary Labour Scheme to about two months.
According to local Chinese-language newspaper Wen Wei Po, the plan would be formulated by the middle of the year, and the worker quota could reach 10,000.
Lawmakers also suggested adopting Macao's practice of hiring workers from Guangdong province and allowing them to commute between Hong Kong and the mainland every day.
The plan has been welcomed by Guan Manyu, executive director and chairman of CR Construction Group Holdings. "In view of the industry's high demand for workers, I hope the government can accelerate the import of workers," he says. Training will be required for nonlocal workers, while the training period may not take long, he added.
"Although various countries and regions do have their own local standards, styles and habits, the construction know-how is universal. Provided that the workers have been working in the construction industry and have a strong foundation in technical aspects, the training process will not be very complicated. This will alleviate the worker-shortage situation," says Guan.
Hong Kong Taxi and Public Light Bus Association Chairman Chau Kwok-keung also threw his support behind the plan to import more workers, saying the industry desperately needs imported grassroots labor, given the severe lack of minibus drivers and an aging workforce.
The large-scale use of nonlocal labor is nothing new in Asia. About one-third of Singapore's workforce is migrant workers — most of them in construction jobs — who make indispensable contributions to the pleasantness of the city-state's urban fabric.
However, this hasn't prevented a strong backlash from unionists, who argue that the SAR government should prioritize hiring local workers.
Concerns remain
Wong Kwok, chairman of the Hong Kong Federation of Trade Unions, believes there are better ways to address the city's acute staff shortage, such as raising salaries and improving labor rights. He wants the government to strengthen vocational training, employment support and labor protection.
Lam Chi-chung, general-secretary of the Hong Kong Department Store and Commercial Staff General Union, has similar views. He says the median monthly income of workers in the retail business, which stands at HK$13,000 ($1,660) per month, fails to reach the general median income, which exceeds HK$19,000.
In the construction sector, the average daily wage of workers in public-sector projects varies from about HK$1,000 to HK$2,000, according to the Census and Statistics Department.
Lam sees no need to import labor as the problem can be solved by raising wages.
Jenny Tam Kam-lin, vice-chairman of the Federation of Hong Kong and Kowloon Labour Unions, argues that importing workers will not only affect the treatment of local workers, but also depress the desire of locals to stay in Hong Kong, and may even affect the social structure.
Each of these concerns is valid. Importing labor will infuriate protectionism, and there is no cure-all that can satisfy every stakeholder, says Terence Chong Tai-leung, executive director of the Chinese University of Hong Kong's Lau Chor Tak Institute of Global Economics and Finance.
"Importing labor is a very political issue. Workers in the industry may not be willing to accept the reality, but policy design should be based on the overall interest of the city's development," he says, adding that settling the issue calls for great tact.
Generally, a big question mark still hangs over the issue of whether efforts to increase the number of nonlocal workers would solve the labor problem, as high living costs have undermined Hong Kong's competitiveness in terms of salaries offered to attract labor.
The 2020 Global Competition for Talent report, published by the Legislative Council, says that Hong Kong, as one of the world's most expensive cities to live in, offers few jobs that pay more than those of comparable positions on the Chinese mainland and in Singapore after taking the cost of living into account.
Besides monetary compensation, workers also have to consider the quality of living in deciding where to live and work, the report said. Hong Kong has not scored high in various global livability surveys. The city ranked 38th in the Economist Intelligence Unit's 2019 Global Livability Index and 71st in Mercer's 2019 Quality of Living Survey.
Daniel Cheung, head of infrastructure of Northeast Asia at Turner & Townsend, calls for a wider adoption of technological applications to boost productivity while reducing manpower demand as a more-farsighted solution.
"Technology and digital development could play a major role in the future of the construction industry, not least because of digital technology's enormous potential to enhance efficiency in terms of project management, engineering and construction," he says.
Among innovative construction methods is the Modular Integrated Construction model, under which free-standing integrated modules are manufactured in a prefabrication factory followed by on-site installation. Minimal additional work is required to complete construction, resulting in less labor input with much faster delivery times. The MIC approach is adopted by the government in its new temporary housing program, Light Public Housing, with 30,000 units to be built by 2027 as a way to alleviate the city's deep-seated housing problem.
"Experience shows that new approaches can lead to higher efficiency and new capabilities, and help establish Hong Kong as a hub for professionals in the construction and related industries," Cheung says.